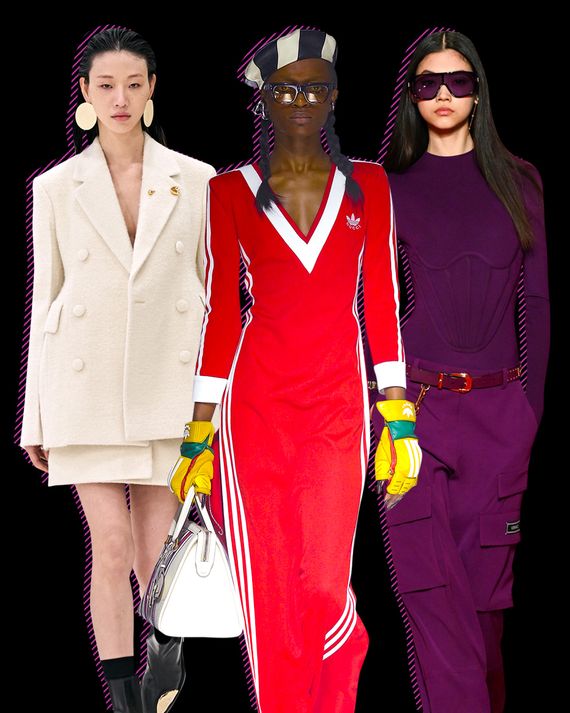 Photo-Illustration: by The Cut; Photos: Courtesy of Jil Sander, Gucci, Versace
The big message of the Milan fall collections is that tailoring is the new streetwear. It is supple, as vividly colored as an athletic jersey, and the Italians, who are the best in the world at tailoring on an industrial level, think it will be the post-pandemic answer to sweatpants. But, as Alessandro Michele of Gucci knows, there's more to the look than that.
What Gucci has in common with Prada this season is extraordinary finesse. Lush wools and cashmere, handcrafted details, and above all, a knowledge of fit. When you look at the many suits at Gucci, or the coats and tailored jackets at Prada, you still have a sense of the body. Gucci's suits are the perfect, agile-looking envelope for the male or female body, while Prada's have a more feminine form, in line with Miuccia Prada's aesthetic. Either way, they bring out the shape of the body, and that's partly why those collections make contact with our sense of how clothes should move and look on the street — that is, energized. Versace, by contrast, lumbered its models with oversize tailoring without shape. Which is funny, since Versace is the brand for showing off the body.
Gucci's collection was also a collaboration with Adidas, with Michele deftly folding in elements of the sports brand — the Adidas trefoil mixed with double G for suiting jacquards in charcoal and kelly green; its three white stripes sometimes played off Gucci's own famous stripes (two red, one green), its jersey separates converted into a long, skinny red dress with white banding or a pale aqua, rib-knit double-breasted suit. In a photo, that suit looks as structured as any suit, but in reality it's as soft and cozy as a tracksuit. The Hockney shade of blue makes you smile.
To me, this collection was visually sharper than Michele's sad-and-drag Hollywood parade in November. He said that an inspiration was an early-'90s photo of Madonna in a dress based on a sports jersey — in fact, created by Laura Whitcomb, who in 1989 founded a label called Label and who, according to her Web site, was the first designer to collaborate with Adidas. A writer and curator, Whitcomb closed Label in 2010.
Sneakers and tracksuits are here to stay. What makes the Gucci show a model for blending two distinct dress modes is that Michele led with tailoring and at the same time proposed a variety of new dandy forms, like a quite slim double-breasted suit in dark purple with wide black lapels (on a model with a Bowie flop of hair) and a suit with a somewhat boxy jacket stripped of lapels. Michele brings something else to Gucci, which this collection makes clear — a sense of culture. You can tell from the quality of the fabrics, the strangeness of many of the colors, and his choice of trimming, including silver metal spikes, that Michele's eye is attracted to a lot, from decadent interiors, to Renaissance art, to punk, to Savile Row–dressed young aristocrats. He gives you far more, then, than an "on-trend" suit.
Donatella Versace seemed to tick off most of the trend boxes. Let's see: oversize tailoring, streetwear (soupy cargo pants, puffers), even a bit of deconstruction (heavily fringed suits in a fat houndstooth check). But none of these styles, and her lackluster handling of them, really offered a new proposition. Versace customers can at least count on bustier looks, chain-adorned minis and vinyl leggings with platform shoes. But, on the whole, the craftsmanship didn't seem up to the old Versace standard.
Given Jil Sander's storied past of minimalist tailoring, I was rather hoping that the brand's designers, Lucie and Luke Meier, would choose this season to drill down on that. There are so many brands, referencing this artist or that concept or virtue, that a respite of beautifully tailored clothes would have been welcomed, even powerful.
The Meiers had other plans. Still, the opening double-breasted suits in lush cream and tobacco brown wool, with mini skirts and black Chelsea boots, were strikingly cool — made for a nice change from all the pantsuits everywhere. Also strong were wool mini dresses with flattened bows at the neckline, and a cream-colored coat and a pullover (worn with a white charmeuse skirt) in a shaggy yarn. The Meiers obviously looked at classic couture shapes and volumes for many of their designs, like loose-back evening dresses in duchess. They were elegant, but why go there, I thought, unless you can advance the form? And they filled the center of their runway with a bunch of classical sculpture, which didn't make a clear connection to the brand. It's great that the Meiers have a toolbox of cultural references, but this season I felt that too many of their effects were pointless (white pilgrim collars?) and obscuring the connection to Jil.
"They have become our ministers of culture," Marni's Francisco Risso declared on Saturday, glancing around at his eclectic cast of models, some with unfinished head wraps made from tying up a jacket, a youthful nomadland. We were standing in bright sunshine in the yard of an old Milanese factory, where two long tables had been set with a banquet of food and the dirt between them covered with blue-stained sand and blankets. The show itself had taken place inside the factory, in the dark. Every model had someone following them with a flashlight as they ascended a rocky knoll in the center or dragged their tattered skirts or long coats over the leaf-strewn dirt floor.
And Risso, who worked with Babak Radboy, the creative director at Telfar, on the show's design, insisted that the scene wasn't meant to be apocalyptic. Once in the brilliant sunshine, I did find his Marni children adorable in their tender threads, and I helped myself to a cookie. But I must admit I miss the days when Marni just made clothes — really great clothes — and you didn't need to be a minister, whatever, to wear them.
More From Milan Fashion Week
See All