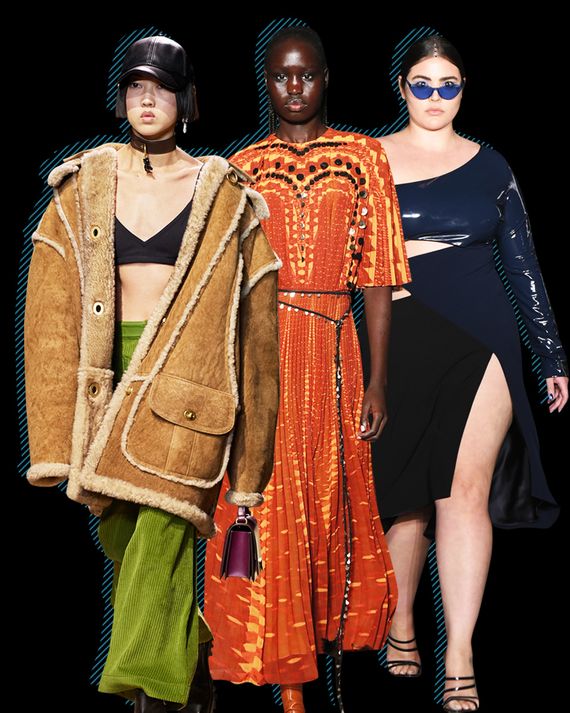 Left to right: Coach, Altuzarra, Christian Siriano.
Photo-Illustration: by The Cut; Photos: Courtesy of Coach, Altruzarra, Christian Siriano
You would be forgiven for thinking the opening sequence of the Coach show Monday evoked Stranger Things. The lighting was the light of nightfall, and the set was a series of small frame houses on a street somewhere in America. A person comes out of the shadows to walk a fancy Afghan dog. Three kids climb out of a second-floor window and crouch on the roof. A lady gets out of her car and goes inside.
But must every small-town scene signal creepiness? Has it come to that? Seriously, in Coachville? To me, the opener was a marvelous reduction of a lot of shared experiences. Coach probably spent more money outfitting the celebs in the front row than it did on those plywood houses, yet the bare-bones imagery — and the street coming briefly to life then returning to silence — was a magical bit of stagecraft from creative director Stuart Vevers. Plus it jibed with the pared-down look of the collection: classic Coach shearlings shown with oversize tees and corduroy pants, baby-doll dresses in a spree of colors, some dark '70s-style leather coats and vests made from reconditioned leather, and, for sheer novelty, a handful of leather and shearling pieces made with the graffiti artists Mint & Serf.
"Stripped down" is not the quality you'd associate with Carolina Herrera or Joseph Altuzarra. The latter brought his collection — based on Homeric tales of sailors and mermaids — to the Woolworth Building, the last gasp of Gilded Age splendor before modernism set in. Altuzarra's coin-embellished outfits, scaly knits, and clacking sequined gowns were certainly of a piece with the ornate decor.
But I kept wondering, Who dresses this way in 2022? Altuzarra had a good thing going with his fleece-collared pea jackets and handsome military-inspired coats. Since the start of his career, he's been a source of great outerwear. And his sweaters this season have a nice, worn, romantic quality like a treasure pulled out a seaman's moth-filled locker. But the collection as a whole seemed weighed down by the many ankle-length skirts, the clunky platforms, and the drowning embellishment.
For a Monday morning, the stars at the Herrera show — including Alisha Boe, Ariana DeBose, and Sabrina Carpenter — were really decked out. In fact, for a moment, I thought I was staring at a movie version of a front row. In a season lacking in big-name talents — no Marc Jacobs, no Tom Ford, no Ralph Lauren (he plans to show next month) — Herrera's Wes Gordon seemed to step into the breach. His collection veered from charming mini coat dresses with embroidered trim to Fauvist florals to flamenco skirts. When a black beaded catsuit with a plunging neckline qualifies as simple, you know there's a lot going on. Still, some of Gordon's big bowwow numbers were pretty wonderful, especially the valentine-shaded gowns in yards and yards of frothy tulle. At the end of the show, Gordon saluted the house patternmakers, Miro Hermes and Francois Bouchet, who are retiring.
Some of the best New York shows are by the traditionalists, designers like Christian Siriano, Victor Glemaud, and Sergio Hudson, who make very good clothes and (thankfully) aren't trying to reinvent the wheel. Siriano had the actresses Susan Sarandon, Drew Barrymore, Alicia Silverstone, and Hannah Waddingham (of Ted Lasso) in his front row at the Empire State Building, a reminder of the days when every big-league designer invited their clients.
But Siriano, who counts as a genuine success story in American fashion, also had regular clients in his front row, not just the VIPs. "You know, some of our women are buying the whole collection," he said. "No store today is going to do that for us. We felt that was important right now."
There's a welcome honesty to the ultrafeminine clothes of Siriano and Hudson, who revived the raised catwalk and included the modeling legends Beverly Johnson, Gisele Zelauy and Veronica Webb. Hudson's show was probably the dream that most women have of a fashion show with models walking out in pairs, strutting and cocking a look at the photographers. But the clothes — cheeky animal-print knits, fitted suits, and dresses in hot sorbet shades — remained contemporary.
The same was true of Siriano, who, though he got a little drunk on the color blue, had some zesty dresses and suits in a sleek vinyl-looking fabric (petrol blue), fantastic dark denim in crisp feminine shapes, and a flowing gown in black pleated silk that was stunning in its simplicity. Also Siriano is the rare designer who not only includes many curvy models — not just tokens— but outfits them in great looks. That's another form of honesty.
Citing Ousmane Sembène's 1966 film Black Girl as inspiration, Glemaud presented an exceptionally polished collection on an all-Black cast, each wearing a chic head wrap that matched the solid color of the outfit — be it black, white, café au lait, or tangerine. Glemaud said he used a new kind of yarn to give his clingy jersey dresses more structure, but my guess is most women will simply notice how flattering they are. And hard to actually find. In keeping with the '60s-era mood of understated, immaculate dressing, Glemaud included a few fur coats by the long-standing Seventh Avenue furrier Pologeorgis, who used to work with Ralph Rucci, among others.
The Khaite show had an urgency that, combined with a hard silhouette and an abundance of black leather — minis, bombers, bustiers — could make you think something cool was transpiring Sunday in the West Village. But no such luck. Many of these urban-sophisticate looks qualify as generic, as did the industrial-looking boom light mounted on a track in the middle of the stark show space. Khaite's Catherine Holstein has moved far away from her soft, eclectic feminine styles, giving the brand an identity crisis. What does the label stand for? If I asked that of Rachel Comey, say, or even Altuzarra, I'd know the answer. It should be clear, and with Khaite, it isn't.
More From New York Fashion Week
See All