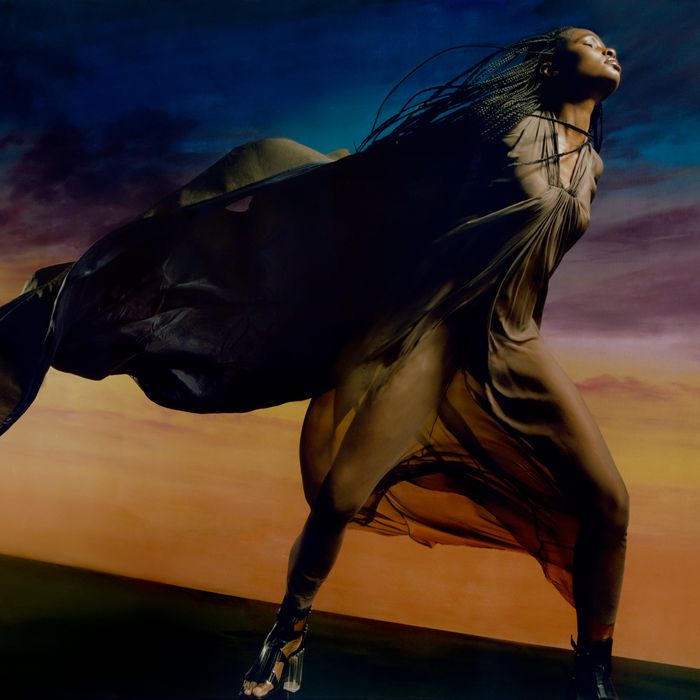 Rick Owens
Fogachine Spring-Summer 2022 Faille Lined Long Peter Coat, Silk Chiffon Fog Robe, and Leather Spartan Ankle Shoes,
available at Rick Owens Stores and on rickowens.eu.
Photo: Dan Beleiu
The world in which spring's fashions were conceived could hardly have been less hospitable to lightheartedness, fun — and freedom. And yet when Jack McCollough and his partner at Proenza Schouler, Lazaro Hernandez, sent out a trio of fluid jersey dresses in yellow as well as saffron-orange and fuchsia — against a backdrop of the Hudson River at sunset — they struck the fresh chord of the season. This is what we wanted, even if we didn't yet know we wanted it. Thankfully, many more designers played along.
Peter Do's long pleated shirtdresses also catch the flow, opening over matching trousers, though you can wear them alone. Do's spring clothes generally have a cool opulence, with a balance of clean lines and just enough volume in the shapes. Rick Owens may be the conceptual king of drapery and architecture, but in Paris this season, in the plaza of the Palais de Tokyo, he offered some elegantly stark, flowy ankle-length dresses in crinkly chiffon (albeit in his favorite mud hues), paired with sweeping coats. The dresses are Rick to a T. In fact, they are essentially T-shirts. You can wear them over a bodysuit while you swing — or float — down the street.
Many of spring's airy styles seem designed for maximum comfort, like Sportmax's drawstring linen dresses, or the loose-fitting tops and caftans in vividly colored taffeta at Valentino, or Issey Miyake's easy, sculptural tops. Others have a quirky, oddball edge, like the decorative smock dresses at Jil Sander. Some pieces are clearly designed for maximum silliness — few more so than Demna's update of Balenciaga's famous dress with a short front hem and a trailing back hem. Demna did his big, billowy version in silver. Talk about levity. At Loewe, Jonathan Anderson's chiffon balloon pants, winglike collars, and jean jackets with asymmetrical swags of denim owe their frivolity to Surrealism.
This look, shaped by good fabrics and a precise silhouette, is sufficiently novel to stand out on its own. However you style it — with sneakers, sandals, or a jacket — it should leave you feeling energized and, dare we say it, optimistic, as if you've just escaped your lockdown cave and aren't looking back.
More From 2022 spring fashion issue
See All