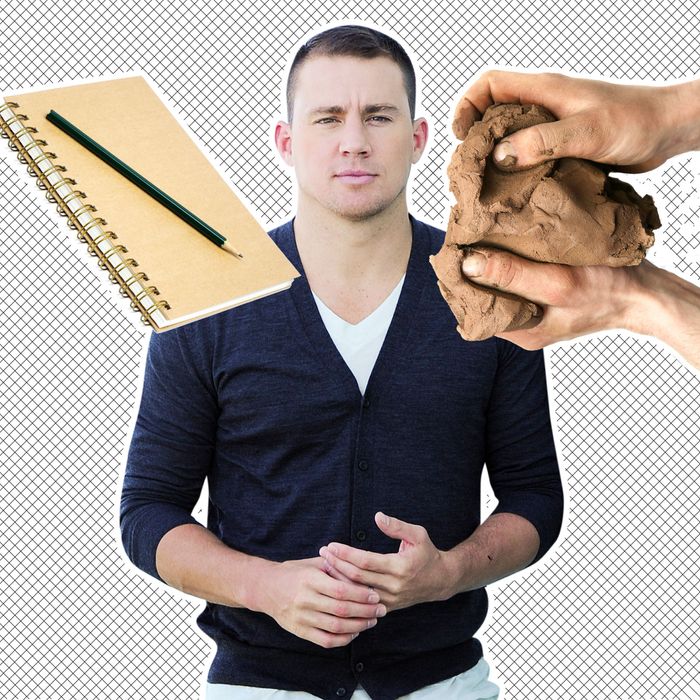 Photo-Illustration: by The Cut; Photos: Getty Images
Have you noticed that Channing Tatum is thriving lately? He's dating the coolest girl in Hollywood and building a male-stripper empire, and he has so much unfettered enthusiasm that he's convinced me to see a movie called Dog. What's his secret? I don't know, but a new Variety interview has shed some light on his process.
In the interview, Chan (as his friends and I call him) reflected on a journey of self-exploration that he embarked on shortly after his 2018 divorce. Think Eat, Pray, Love, but with huge biceps. After splitting from his Step Up co-star and wife of ten years, Jenna Dewan, Chan encountered an existential crisis of sorts, as one does during major life changes. "Do I want to be in the industry anymore?" he remembers asking himself. "I could take a step back and figure out what life is." I think he really figured it out. He took a break from acting and dove headfirst into exploring the fine arts:
I sculpted. I took pictures. I wrote my own stuff, not like a script or anything. Just creating on different levels. I wanted to take a breather.
And boy, did he create! He made a Picasso-inspired sculpture that his daughter then destroyed, presumably to teach him about the ephemeral nature of material goods. He dabbled in poetry. He tried leaving social media. At one point, he even locked himself in his daughter's room to write a children's book. When he emerged, his head was bald and his mind was open, even to the prospect of wearing Crocs.
He also had a whole bunch of projects to develop, having gotten all those creative juices flowing. He tried to get a movie about a high-fashion X-Men superhero off the ground, which was tragically shut down by Disney. He wrote and directed a movie about a man and his dog (and yes, it is called Dog, because Chan knows when to keep it simple). He also, very wisely, decided to do a third Magic Mike movie with even more dancing than the first two. Sounds like this man is truly enlightened.
If Chan has any other ideas for movies, especially ones where he's shirtless and/or shaping clay, he should feel free to run them by me. I, too, spent the last two years doing crafts by myself, so I can probably help.