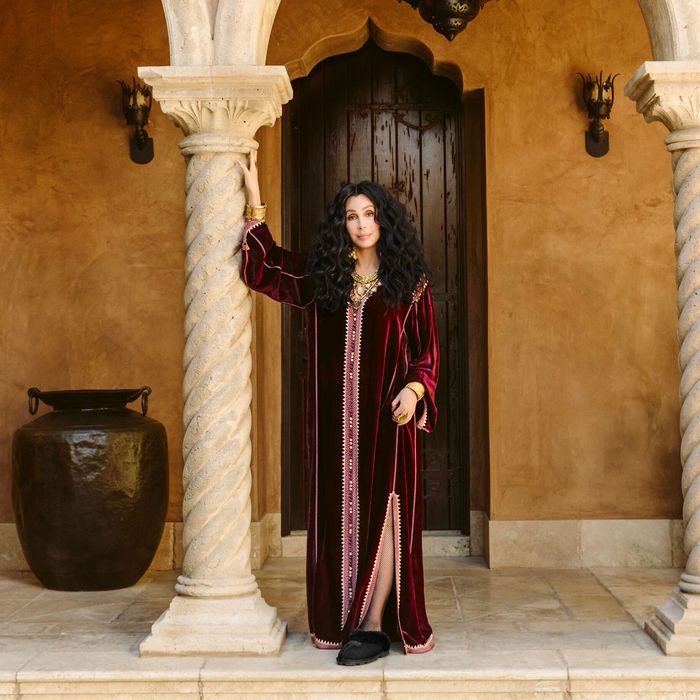 Cher wearing UGG slippers.
Photo: Neil Favila
We figured there's always a reason for an interview with Cher, and as a lifelong fan, I had lots of questions. Below, our brief but roaming conversation about her "five-year rule" (regarding men); what she likes to wear (UGG boots and Prada); and the costumes in Moonstruck, which, it turns out, were not flame-retardant.
Petrarca: Hi, this is Emilia calling from New York Magazine. 
Cher: Hi, this is Cher calling from Earth. Receiving from Malibu.
Amazing. How are you today?
I'm good! I'm fine.
We were originally supposed to chat about your UGG campaign, which came out in January, so let's start with that. I saw that you were wearing black boots and slippers. Is it a color you're wearing a lot these days? What draws you to it?
You know, black is just my go-to color. I don't know why. I just get up and put on sweats and leggings to work out, and some ratty old T-shirt. I'm not much of a dresser when it comes to hanging out. I don't really care all that much, so I just wear whatever I have. And then when I want to spice it up, I have these black rhinestone wedgies that I got in Monte Carlo at a store called Mercedeh Shoes. I think this store could probably live on me. I have everything they have. If any woman in the world who likes fashion — no, who's got a little bit of guts — wants to have their mind expanded, the first time I walked into this store, I almost passed out.
I also have to add — and I don't want to be name-dropping, but I happen to have them, and I love them — but I got these Prada combat boots from my friend Laurie Stark, who co-founded Chrome Hearts. They have the little pouch thing around them that you can put change in or lipstick. That's who I am — I go from combat boots to diamond-studded heels.
I love that you wear Prada. Are you a fan of the brand?
Yes! They make an amazing shoe. They're one of the only shoe brands that I can buy because I have a very, very narrow foot. Christian Louboutin's shoes fit me well, too. I don't think this is what you want to be getting into … but last season's Prada shoes are working really well for me.
What was the last thing you purchased?
Oh crap. I can't even remember. What was it? Oh! A beautiful Ann Demeulemeester jacket. I'm a huge Ann Demeulemeester person. She seems to just know what I want before I know what I want myself. Her things just fit me so well. It's kind of a turquoise green — the coat. And then there's a vest that's wine-colored.
You once tweeted that you're going to be buried in your fishnet tights. Do you still stand by that?
Absolutely. As I've gotten older, people keep asking me when I'm going to stop wearing my fishnets, so that's where my answer came from: I'm going to be buried in them.
I have to ask about Moonstruck because it's one of my favorite movies. There's not much information out there about the costumes. Did you have any direction in terms of what your character wore or the styling? 
Look, I was an accountant. So I am dressed like a woman who pays no attention to what I'm wearing. It's just a way to get from one place to another and not be naked. So I had boots that had really low heels. Really, nothing to write home about. I don't think anyone cared what I had underneath that coat. My eyebrows were messy; I had no makeup — no lipstick, no nothing. Nothing fabulous. So when I made the change for the opera, there was that gigantic difference. I thought that dress fit her and how she would have put herself completely out of her comfort zone. It was like a woman's attempt to just jump off a bridge holding her nose, hoping she would land in a boat.
Well, I thought you made sweatpants look really good. It's one of my favorite sweatpants looks in film. 
Oh, that's right. [Laughs.] I had to run down the hallway and change so that I wouldn't be in my dress, which is what I came home in. We had the idea of just throwing me in the closet, and I would come out in my sweats. I think it worked out well.
I have one question, sort of tangential to Moonstruck: Do you have any thoughts about Lady Gaga not being nominated for her role in House of Gucci? People were saying it could have been her Moonstruck moment, in terms of winning an Oscar for best actress. Did you see the movie?
You know, babe, I don't have thoughts on it. I try not to get involved with that kind of politics because you never win. No matter what you say, you're going to piss off somebody.
If someone on this call happened to be throwing herself a Cher-themed 30th-birthday party, do you have any advice on what she should wear? Or how she should prepare herself for such a life event? 
Well, can you show your stomach?
Yes. 
Great. Anything cropped and low. Anything with color. Anything with studs. Anything with rhinestones. I've always been a strange combination of things, but you can't go wrong with low and high. And a waist chain. I had one my whole life. And just, you know, be big! And have eyelashes on. You gotta have eyelashes on. I never wear bright lipstick because I just don't think it looks great on me, but for some people, it looks brilliant. That's why my makeup guy changed my lipstick in Moonstruck. It was supposed to be bright red, but if you look, you'll see it's kind of dark and a little bit purplish.
I remember that. And the color goes so well with your dress. 
Yes, it did. I almost set myself on fire in that dress.
You did?! How??
Nicky and I were outside. There's a scene outside after we come back from the opera, and we're arguing. I can't remember why we're arguing. But I remember I started crying, and I was really crying because it was so cold that our lips were turning blue. In a doorway, they kept this space heater for me, and I got too close to it and set the back of my coat on fire.
Oh my God. I'm glad you were okay. 
Oh, it was fine. I still have that coat.
Is it burnt?
It's singed. The moment people smelled something coming from where I was, they stepped in. They were like, She can't go up in flames until we're finished with the film.
That's an amazing story. Well, unfortunately it looks like we're at time.
I hope your birthday is great. And can I just tell you something?
Please!
No matter what you think 30 is, it's like being 10. It's so nothing. I didn't make a movie until I was 40. "Believe" came out when I was 50.
That's good to hear. While I still have you: Any advice for people turning 30? 
I don't have any advice. Just balls to the wall. Make sure you do everything you want to do as long as you don't hurt anyone else or yourself. But I'm not kidding: Don't spend a lot of time saving up for vacation, just do it.
Okay! I like that. 
I'm going to give you a piece of information that will really help your life immeasurably. It comes from my mom, which a lot of things do. My mom has this thing called the "five-year rule." She says, "If it doesn't matter in five years, it doesn't matter." So the next time a guy breaks up with you, remember that.
But how do you know?
Just think, Okay, will this matter to me in five years? Like, if some guy dumps me or something, and I'm going to invest in crying and pitying and all that stuff, I just think it out. I just say, "If it doesn't matter to me in five years, it doesn't matter." You'll save yourself a lot of worry.
I see. Okay, that's also something I needed to hear.
It's like the "Mom, I am a rich man" thing. Always think of yourself as a rich man.
That was another one of my questions: Any financial advice for women who spend a lot on clothes, shoes, vacations, and birthday parties?  
You don't need everything to be from a name brand. You don't have to be rich to look good, I'm telling you.
This conversation has been edited and condensed.