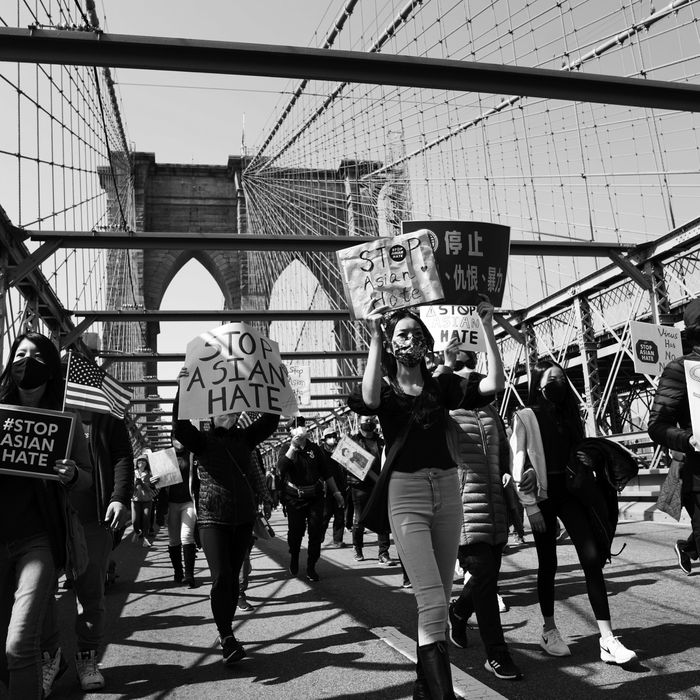 Photo: Xinhua News Agency/Getty Images
On Sunday morning, a Korean American woman named Christina Yuna Lee was followed into her Chinatown apartment and stabbed to death. Lee was a Rutgers graduate and creative producer for the music platform Splice. "Christina is irreplacable," the company wrote in a statement on Twitter, asking people to remember Lee as "the magical person she was, always filled with joy." Lee was 35.
The NYPD has charged a 25-year-old man in Lee's murder. He was reportedly seen on surveillance footage following Lee into her apartment building around 4:30 a.m. Sunday morning. Shortly after, police received a call about a disturbance in the building. When they arrived, Lee's apartment door was locked, and they could hear her calling for help. However, responders say she eventually "went quiet." When they were finally able to break down the door, Lee was found dead in her bathtub with more than 40 stab wounds. The man whom police later arrested was found hiding under Lee's bed.
Police have not yet classified the murder as a hate crime. However, Lee's death is latest in a rising number of attacks on Asian Americans. In the past two months, at least three people of Asian descent, including Lee, have lost their lives after being attacked in New York City. On January 15, Michelle Alyssa Go, 40, was fatally pushed in front of a subway train in Times Square. On December 31, Yao Pan Ma, 61, died from injuries sustained during an April 2021 attack in East Harlem.
This string of violence has extended high-profile members of the Asian American community. In November, Olympic gymnast Suni Lee said she was attacked in Los Angeles by people who reportedly yelled anti-Asian slurs and tried to pepper spray her. In January, Olivia Munn spoke out about a racist Zoom-bombing that disrupted a virtual gathering of fellow AAPI. The assailant interrupted the call with anti-Asian imagery while the group was discussing the recent rise in anti-Asian discrimination. "We were communing to celebrate, elevate and protect the AAPI community and we were subjected to a hate crime in real time," Munn wrote on Instagram following the incident. "It was a cowardly and unconscionable act."
Lee's killing has also reignited a contentious debate among Chinatown residents who have concerns about the area's newest homeless shelter. (The 25-year-old man arrested for Lee's death is currently unhoused, with his last known address a men's shelter in the Bowery.) Some residents say Chinatown is disproportionately oversaturated with shelters, a practice some have called "discriminatory" given the area's minority demographic. Others residents are concerned that more shelters will make the area more dangerous. Mae Lee, the executive director of the Chinese Progressive Association, disagrees with the latter assertion. She told the New York Times the newest shelter's presence "doesn't necessarily mean the community will be any less safe." She added, "Asians are often stereotyped. It's not right to have a stereotype of people who are homeless."
This post has been updated.