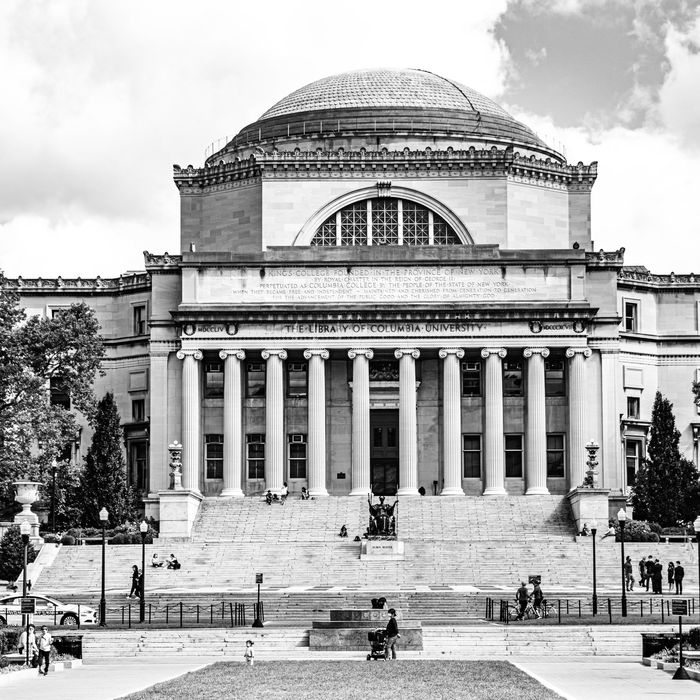 Photo: Education Images/GHI/Education Images/Universal Images
Columbia University suspended Psychiatry Department Chair Jeffrey Lieberman on Wednesday, February 23, after the doctor called Black model Nyakim Gatwech a "freak of nature" on Twitter. On Monday, February 21, Lieberman retweeted a message about Gatwech and commented, "Whether a work of art or freak of nature she's a beautiful sight to behold." The tweet has since been deleted, as has his entire Twitter profile.
After Lieberman received pushback on Twitter, which included people tagging Columbia University for comment, he reportedly sent out an apology email to his colleagues on Tuesday. In the email, as reported by the New York Times, Lieberman said he was "deeply ashamed" by his "prejudices and stereotypical assumptions," adding that his tweet was "racist and sexist." Still, the school moved forward with the suspension, and the doctor, who reportedly specializes in schizophrenia, was also removed from his position as psychiatrist-in-chief at Columbia University Irving Medical Center/NewYork-Presbyterian Hospital.
The original tweet featured a photo of Gatwech along with a caption that read in part, "It is not a work of art made of black stone or granite. She is Sudanese model Nyakim Gatwech." The tweet also claimed that Gatwech was "in the Guinness Book of World Records for having the darkest skin ever seen on Earth" — a claim Gatwech was then forced to deny on her Instagram page in a post on Tuesday.
In reality, Gatwech is a model from South Sudan who has earned the nickname "Queen of the Dark" among her fans for her deep skin tone, not because she has ever been declared as having the "darkest skin ever on Earth," as she explained in an Instagram post responding to the viral tweet. In a post of the tweet on Wednesday, she wrote that she first heard of the Guinness Book of World Records rumor in 2020, and it has continued to persist despite her denials. "Clearly it's still floating around even after @guinnessworldrecords stated that it does NOT monitor skin tones. I can't imagine it's even possible to know who's the lightest or darkest person on the planet," she said.
Gatwech responded more directly to the tweet during an appearance on the local PIX 11 news on Thursday, saying that while Lieberman may have thought he was giving her a compliment by calling her "beautiful," he was "degrading me, saying I am less than a human just because of my skin color." She continued, saying that she's grown a "thick skin" from working in modeling, but wanted to speak up to set an example. "If I'm standing up for myself, if I'm speaking up for myself and saying 'This is not right,' it's showing little Black girls that our voice is the most powerful weapon we have, and we have to use it at all costs."
She added that Lieberman had not reached out to her to apologize, despite writing in his letter to Columbia staff, "An apology from me to the Black community, to women, and to all of you is not enough."