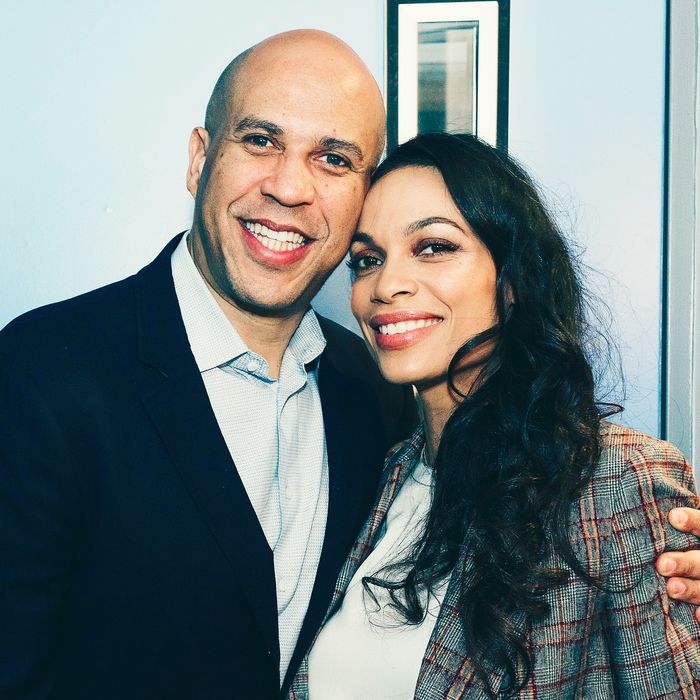 Photo: Bonnie Biess/Getty Images
It brings me no pleasure to deliver this news on Valentine's Day of all days, but Cory Booker and Rosario Dawson have reportedly broken up. A source close to the couple told People Dawson and Booker are no longer dating but remain good friends. Please, read your loved one a 250-page World War II novel over the phone in their honor.
The two met at a political fundraiser in 2018, reportedly started dating in 2019, and moved in together in 2020. "I had trouble asking for her phone number," Booker previously told the Washington Post. "I think I said something really stupid like, 'Uh, how would I get in touch with you?' And she mercifully said something like, 'Oh, you want my phone number?' And my insides were like, 'Hell, yeah!'" If Booker talking about his "insides" wasn't indication enough, Dawson told the Post that Booker isn't "some super-smooth kind of guy." "That's not his style," she said. So how did this goofy man woo Rosario Dawson? His "dad jokes," obviously. Dawson also previously described Booker as the Ted Lasso of the Senate. (You hear that, Mitt Romney?)
It's unclear whether Dawson and Booker broke up recently or if there is truth to previous reports that they actually ended their relationship in November 2021. Neither Booker nor Dawson has publicly confirmed their split.
Regardless, I wish them both the best and am glad Rosario Dawson is no longer subject to WWII read-alouds over the phone.