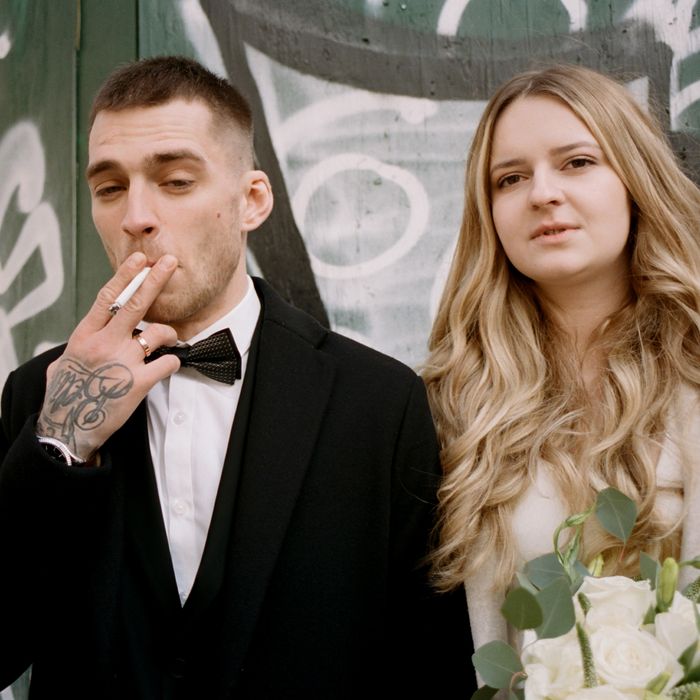 Denis Marchenko and Victoria Zolototrubova.
Photo: Sara Messinger
If you had to guess the most popular day of the year for weddings at City Hall, Valentine's Day would probably be your safest bet — but not this year. Ahead of this week, couples scrambled to book appointments online for "Twosday," the five-digit palindrome date of Tuesday, February 22, or rather, 2/22/22. With 100 marriage appointments scheduled at Manhattan's City Hall, it was double the amount of a normal Tuesday.
On this overcast morning, couples began lining up outside the courthouse steps an hour before it opened. Some wore white dresses and held bouquets of flowers while others gripped umbrellas in anticipation of potential rain showers. Inside, the waiting area was abuzz as the brides- and grooms-to-be excitedly — and nervously — perched on their seats, designated witnesses nearby with iPhone cameras ready, each waiting for their number to be called and their turn to say "I do."
The Cut spoke with eight couples who tied the knot on this most auspicious day. (Oh, and for those keeping track, sorry, but you'll have to wait another 400 years before another "Twosday" comes around.)
Bianca Seynos, 27, and Roberto Rojas, 28
How long have you been together? 
Roberto: Ten years.
How did you meet? 
Roberto: Facebook. She was on the same trip. I went to Mexico, she was in Mexico, and her picture just popped up. I was like, "Oh, I was in that same place." Then I added her as a friend and out of nowhere was like, "Hey, you wanna hang out?" The first time she slacked on me and never showed up.
Bianca: [Laughs.]
Roberto: The second time, it was me, I never showed up. And then the third time, that's when we started talking to each other like, "Hey, let's go out and everything."
What was your first date? 
Roberto: We went out to eat at the Hard Rock Cafe.
Bianca: And then we went to the movies.
What movie did you see?
Roberto: I don't remember.
Bianca: I don't think we were focusing on the movie so much.
First impressions of each other? 
Bianca: He was funny. He's still funny.
When did you get engaged? 
Bianca: September 8, 2019.
Was there a proposal? 
Bianca: We went to Mexico with my family.
Roberto: It was kind of planned out because I was going to ask her grandmother's permission to marry her.
Did COVID affect your wedding plans? 
Roberto: We were going to get married in 2020, and then COVID happened. So then everything got pushed back. We were actually going to have a big party and a big venue — all that.
Bianca: A big wedding will probably be in the summer in Mexico.
Was it intentional to get married today on 2/22/22?
Roberto: Yes.
Bianca: It's a special date. And we could remember it. [Laughs.]
Roberto: It was pretty hard to get the appointment, though. I was checking every five minutes: Is there availability? Is there availability? And then I checked on Friday, and there was one, so I clicked on it, I got it, and that's it.
Is there any other special significance of the date? 
Bianca: They were saying it's about manifestation — like new beginnings, a new chapter. We had a rough year last year, so this is for us. It's our new beginning.
Selin Bilen, 23, and Sebnem Biroglu, 24
How are you both feeling right now? 
Selin: She's nervous. I'm calmer. It was so rapid for us; it happened in a week. We decided to get married a month ago, and we just did it so fast, so we didn't really have time to prepare.
How long have you been together? 
Sebnem: Three years.
And how did you meet? 
Sebnem: On Tinder. [Laughs.]
Selin: We actually met in Turkey. In Turkey, some of the lesbian and gay communities are so small, so everybody knows everybody. I wasn't expecting to meet someone on Tinder and then get married.
So what happened after you met in Turkey? 
Selin: I studied computer science here, in the United States. Then I moved here, found a job, and then she came here with me.
Sebnem: I'm a language student.
When did you get engaged? 
Selin: This happened multiple times. I always asked her to get married, and she sometimes asked me, but we didn't really think about that because in Turkey, it's illegal for same-sex couples to get married. But when we moved here, it was a great time to just get married.
2/22/22 is a pretty special day. Did you choose it on purpose? 
Selin: No.
Sebnem: We didn't know. We just randomly applied.
Selin: We just pushed the button, and when I looked at it, I was like, "Oh my God, it's perfect."
What do you love most about each other?
Selin: She's so patient. Finding a job was hard for me, and she was always by my side, comforting me, supporting me, all of those things. I don't think any other person can do that for me.
Sebnem: She always thinks about our life together as a team. We always say "our life," "our things." I feel so comfortable with her.
What are your plans after the ceremony? 
Sebnem: Actually, I'm working. [Laughs.]
Selin: I'm also working. [Laughs.]
Shruti Shah, 29, and Bao Tran-Phu, 30*
*The first couple to get married that day in the courthouse.
How long have you two been together? 
Shruti: A little over four years.
And how did you meet? 
Bao: In business school.
Shruti: We actually worked for the same company in two different offices, but we had never met each other. It was kind of coincidental. We met at this welcome dinner and were sitting a couple of seats away from each other and then became friends and then eventually started dating.
First impressions of each other? 
Bao: I thought she was super smart. Everyone in our business school class was intimidated by her intelligence.
Shruti: Not true.
Bao: It is!
Shruti: Bao showed up to our welcome dinner 30 minutes late, so my first impression was, Wow, look at this kid strolling in 30 minutes late. But Bao was also very, very smart. He was always well put together. He came to class in tucked-in shirts and button-downs. I was very impressed.
How did you get engaged? 
Shruti: It was on September 8, 2021.
Bao: We both love scuba diving. We had a trip planned to Curaçao, and I had coordinated with the dive guide like, "Hey, I'm thinking about proposing. At the end of the dive, if I give you the GoPro, could you record us so we have video?" So I had this little underwater tablet where I had written out a whole proposal. At the end, the dive guide, just on cue, took the GoPro, and I handed it over to her. Her goggles were entirely fogged up. It took a very anticlimactic five-minute reading of, like, three lines of text, but then she finally realized what it was. I had this prop ring that I had brought underwater just in case we lost it, and so I handed that to her.
Was getting married on 2/22/22 intentional? 
Bao: Oh, yes. Shruti woke up one morning and was like, "What if we get married on 2/22/22 and wear tutus?" So we did.
Shruti: Bao loves puns.
Denis Marchenko, 29, and Victoria Zolototrubova, 25
How long have you been together?
Victoria: It's been five years of dating, and it's been a long trip for us. It's been a long process, but we made it. A lot of tears and a lot of joy.
How did you meet? 
Victoria: We're both from Russia from a city called Oryol, which translates to eagle in English. He was a chef, and I worked as a manager at the restaurant.
What was your first date like? 
Victoria: You know what's funny? We were choosing wallpaper for his apartment. It wasn't a "date," but we realized after that it kind of was a date.
I have to tell you the whole story because I left Russia before we realized we wanted to be together. It started long-distance for six months, I came back to Russia, and we flew to Turkey together. We were crazy. We just met up after being six months apart, realized we can't live without each other, and went to Turkey for five days.
What's the one thing you love about each other the most? 
Victoria: His calmness. In any situation, he is always the one who can be calm and thinks straight. I'm all about emotions.
Victoria (translating for Denis): He said all of me.
Good answer. Why get married today? 
Victoria: Good question. Our first date was February 9, and it happened that my friend who I chose as a witness, I'm not going to say she betrayed me, but she did a bad thing. So it turned out my dress didn't come in time, and we had to switch dates. I just emailed someone from the clerk's office here, and they chose a date for us.
You got lucky! 
Victoria: I got lucky. I was thinking about that date. When we changed the date, there was no date available for the 22nd, so I was like, "Oh, I wish." Boom! That email comes — 2/22/22. We're all happy about it.
Tobias Segal, 38, and Turna Mete, 33
How are you both feeling right now? 
Tobias: Very excited.
Turna: Very excited and relieved because we didn't think we were gonna be here on time.
How long have you been together? 
Tobias: It'll be four years next month.
How did you meet? 
Turna: We did a reading together at a theater in New Jersey, and we had the New Jersey Transit ride back to get to know each other and chat. Then we were friends for a few months before we started dating.
First impressions of each other? 
Tobias: Strong, opinionated woman. She could absolutely take care of herself.
Turna: He reminded me of my grandpa because he was very calm. You made a very safe space for me to just exist. There was no expectation for the first time in my entire life of dating. I felt really calm with you, if not confused. I was like, "This doesn't fit in any box that I know of or anybody that I've experienced before dating." So it was great.
When did you get engaged? 
Turna: End of November … beginning of December of last year? We were in New Orleans visiting my mom.
Tobias: We went to Audubon Park.
Turna: There's an ancient tree — live oaks — the tree of life. He arranged it. He had this big picnic, and he doesn't eat cheese, but he bought out all of the cheese from the store.
Tobias: All for you.
Turna: I know, baby. And it was so sweet and just the two of us.
Tobias: We didn't realize, but there was a small wedding ceremony happening at the tree, so we had to wait. I was waiting for them to leave before I proposed — it was meant to be a total surprise. They had walked away and were having a little reception at a table.
Turna: And they were playing wedding music, which was so funny.
Tobias: I got Turna to walk to the tree and was like, "I'm just gonna get some pictures of you," and I set up my phone to record it. And then when I got down on my knee to propose, the whole park started clapping.
Turna: It was so beautiful.
How did COVID play into your wedding plans? 
Tobias: That was part of the reason why we're here today. My family doesn't live around here.
Turna: It's the unknown factor that made the idea of planning something much more anxiety-inducing: Where do we go? How do we do this? It was an extra layer beyond just budget. I've read about so many wedding superspreaders specifically, and that's the last thing any of us want to do.
Tobias: We'd love to get everyone together, both sides of the family, and have an event when it's safe to do that.
Turna: But I will say that it was fascinating. We have a lot of friends who got married here at the courthouse, and they said it was very easy. You just come, take a number, and wait. But it felt like jumping through hoops, and my belly was filled with a fire of anxiety because we wanted 2/22. So that was a stressful day when they released those slots. And then booking the virtual appointment for the license was like getting the first vaccine dose or getting the hottest concert ticket in town.
Tobias: We thought booking the day of the ceremony would be the hardest part, but getting the license turned out to be a little harder.
What are your plans after the ceremony? 
Tobias: We're going to have a lovely lunch at Freemans Alley. My brother's here as well, although he's not able to come witness.
Turna: Drink water. Calm down. Have some real food. And then I hopefully plan on taking a nap at some point.
Chelsea Havelock, 31, and Cary Havelock, 33
How are you feeling right now? 
Chelsea: Excited and just … complete. That's probably the best word.
Cary: I have to agree completely. This process can be very stressful, and to finally be on the other side of it is a real blessing. Especially in these times, to be together officially is incredible. I feel good.
How long have you been together? 
Chelsea: Five and a half years, going on six at this point.
How did you meet? 
Chelsea: On Coffee Meets Bagel. We talked for about two months before we met in person, and then we've just been inseparable ever since.
First impressions of each other? 
Cary: I knew she was special. A lot of people ghosted me, and she ghosted me for a while and then called me, apologized, and said, "Give me another chance." I gave her another chance, and she hasn't left since. I think the pandemic really put things into perspective. You know, I'm at high risk. I have cerebral palsy, and I'm an amputee. So for me, when you make a decision, who do you want to spend the rest of your life with in a life-and-death scenario? There's nobody I'd rather be with.
When did you get engaged?
Chelsea: April 1 — April Fools' Day. We like to choose memorable dates because we're horrible. We don't know our actual first anniversary of dating, so we're like, let's pick a date we'll remember.
So 2/22/22 was an intentional choice? 
Cary: Absolutely.
Chelsea: Twenty-two is his lucky number, and then in numerology, consecutive twos is very lucky, so we figured that's a good omen to go into marriage — to have all the luck on our side.
What are your plans for the rest of today? 
Chelsea: Our family is meeting us for a little brunch later today, and we're going to have a celebration with 50 of our closest friends on Saturday. It's just to celebrate our time together and hope that everyone can have a safe environment to be in and just celebrate love. Something good in these times.
Janice Sanclemente, 25, and Kelly Pineda, 25
How long have you been together?
Janice: We just made nine years in January.
And how did you meet? 
Kelly: In high school.
Janice: We went to each other's proms and everything.
What was your first date like? 
Kelly: Well, we were young. We were kids.
Janice: We had no money between the two of us. We must have had like $20 and a MetroCard.
Kelly: It was in the mall.
First impressions of each other? 
Kelly: That she is super funny. And generous and kind.
Janice: She was super popular.
Kelly: I was not.
Janice: So I was like, "This is not for me. This is very scary."
When did you get engaged? 
Janice: A couple months ago in Paris.
Kelly: It was magical.
Janice: It was great. We had a photographer. We did it very early in the morning so we didn't have anybody nearby.
Is there any special significance to 2/22/22 for you? 
Janice: I think it's more special because our anniversary is 1/22 and our wedding is 2/22.
Kelly: And the year '22.
Janice: I always said when we first got together, I was like, "Damn, if we ever make it" — because I never wanted to get married — "so if we make it ten years together, we'll get married 1/22/22." But she ended up deciding 2/22.
What do you love most about one another? 
Kelly: Our bond. Our friendship. The way that we care for each other. We make each other first in everything.
Kaheen Small, 35, and Shannon Small, 34
Congratulations! How are you both feeling? 
Shannon: Excited, great, ready to start our life together.
Kaheen: Accomplished.
How long have you been together? 
Kaheen: Since 2019?
Shannon: Yeah, we're going on three years.
What was your first date like? 
Shannon: We went to the Apple store and the taco truck.
When did you get engaged? 
Shannon: We got engaged on February 11, 2021, in City Island at a restaurant. He surprised me. He left and told me he was going to the bathroom, and when he came back, I saw the waiter coming with the phone, and I'm like, "What's going on?" I thought the waiter was taking a picture of us, and when I looked down, Kaheen was on one knee. Then the waiter gave me the phone and all our family members were on a group FaceTime.
Did COVID affect your wedding plans at all? 
Shannon: A lot. We were gonna have a destination wedding, but with all the COVID restrictions, we just decided to do City Hall today. In August, we're gonna go to Jamaica and do another ceremony.
How did you know they were "the one"? 
Shannon: I went through something traumatic, and he was there every step of the way. He never shied away, never left me by myself. He was always there.
Kaheen: I just felt like she completed me. I couldn't see myself without her.