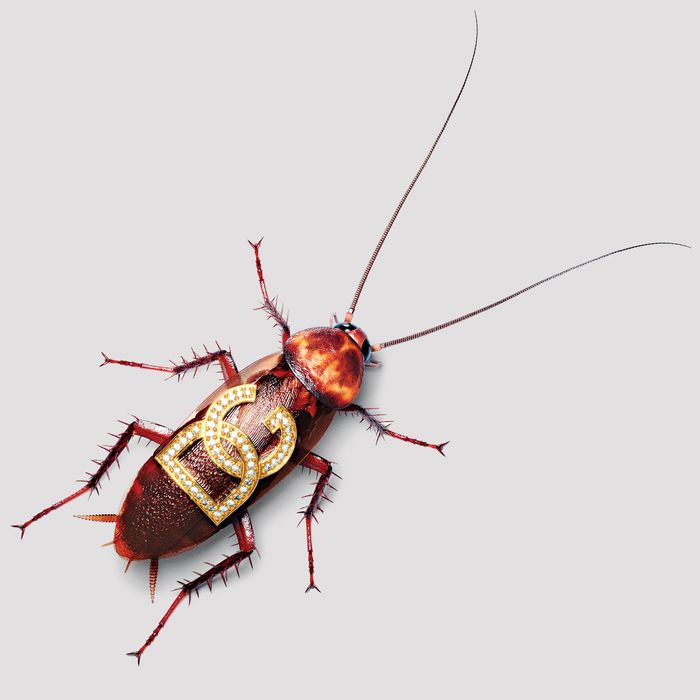 Photo-Illustration: Justin Metz
It was like a karmic message from Mother Nature. Dolce & Gabbana, an over-the-top series of shows in Venice last August, some celebrities — including Doja Cat, Diddy, Jennifer Lopez, and Normani — and a hailstorm. Or at least a moment of Schadenfreude warranted by those in fashion who felt Stefano Gabbana and Domenico Dolce, despite their controversial history, were immune to consequences. In fact, Vogue titled its story covering one of the shows "Even an Apocalyptic Hailstorm Couldn't Cancel Dolce & Gabbana's Alta Sartoria Show." Elle pointed out the aftermath: "a surprise rainbow painting the sky." Harper's Bazaar declared the events "epic." It was just business as usual with a side of ominous precipitation.
But that wasn't all. Dolce & Gabbana was featured in Harper's Bazaar, worn by Nicole Kidman in October and by Tracee Ellis Ross in November; in Vogue, worn by Kaia Gerber in June-July, by Lorde in October, and by Sarah Jessica Parker on the December cover; and in InStyle, worn by Kate Hudson on the March cover and by Lopez and Jennifer Hudson in spreads in May and August, respectively. On InStyle's December cover, D&G appeared again, this time worn by Reese Witherspoon. It was also showcased, repeatedly, in Elle, worn by Lopez in February, by Hailey Bieber in April, by Olivia Rodrigo in May, and by Hudson on a November cover. That's just last year.
Wait, wasn't D&G supposed to be canceled? Everybody in fashion seemed to know that the irascible Italian duo have consistently made questionable decisions that seemed to represent questionable personal values — and have been unapologetic about it. But for a decade now, they have largely been forgiven. How that has happened shows the limits of trying to police fashion labels, whose moneyed clients may not share a progressive worldview anyway. And given that D&G has money to spend — glossy advertisements to buy, tickets for celebrities to come to its events — there are always work-arounds. The company's survival despite social-media opprobrium is something of a case study in corporate crisis management. It shows how D&G, thanks to its deep pockets, has been able to leverage its semi-outlaw status to invite people who otherwise might not be considered by the fashion insiders as worthy of attention into its influencer fold.
Instead of taking what has become the go-to luxury-brand rehab route of Chanel, Gucci, and Prada — hiring a head of diversity and inclusion — D&G opted to hire a new head of worldwide celebrities and VIP relations, Lucio Di Rosa, an industry veteran who spent 15 years working at Versace and, as a result, has built good relationships with celebrities and their stylists.
"In my opinion, they just never left," says fashion writer and designer José Criales-Unzueta. "They're only getting stronger because they have a really good comms strategy, relying less on their founders and focusing on the celebrities. You don't see quotes from Stefano or Domenico nowadays, which is what got them in trouble in the first place. Now you only really see them speak through celebrity and pop-culture moments."
And which celebrities did the company focus on? Often Black ones: Saweetie and Cardi B at the BET Awards, Megan Thee Stallion at the Grammys, Iman at the Met Gala, Halle Berry at the Oscars, and Angela Bassett at the Golden Globes.
"Some in the fashion industry have been known to partner with Black artists and take as much juice as they basically can of their cool, but then they often don't put them in the campaigns or sit them in the front row," says talent manager Kendall Werts, co-owner of the Jeffries. "Whereas Dolce is like, 'Do you want to sit at my show? Okay, I can pay you'; 'Do you want to sit at my show? Okay, you can bring in nine people'; 'Do you want to sit at my show? We're going to treat you like the superstar that you are.' They are being catered to, and they were not at many of the other houses."
To recap: In 2012, Dolce & Gabbana sent Blackamoor earrings down the runway to pay homage to, the founders said, Sicilian culture, never mind that culture could be seen by the rest of the world as at the very least insensitive. But they didn't apologize. In 2015, Dolce made comments against gay parenting ("The only family is the traditional one") and IVF ("children of chemistry"), and Elton John called for a boycott of the brand. Dolce apologized, John granted his forgiveness, and a year later the design duo put same-sex parents on handbags at a time when there was strong opposition to a gay-marriage bill in Italy. In 2016, the D&G website named one of its sandals the "slave sandal"; the name was swiftly changed online. In 2017, the duo tweaked those who condemned their continuing to dress longtime customer Melania Trump after she became First Lady by releasing #BOYCOTTDOLCEANDGABBANA T-shirts.
In 2018, the label found itself in hot water — again — over an advertisement featuring videos of a Chinese model attempting to eat Italian cuisine with chopsticks they'd posted on the social-media app Weibo. The duo said it was showcasing love for China in preparation for a runway show in Shanghai, but it seemed like the latest example of how they were clueless (at best). Many Chinese found it insulting. Gabbana didn't help anything by firing back on Instagram with racist messages about Chinese people (he later claimed his account was hacked). In short order, the runway show was canceled, the brand was pulled from Chinese retailers, and there were calls for a worldwide boycott. This time, both Dolce and Gabbana — the men — apologized and retreated from social media.
But the outrage didn't last. "The reality is that China is vast, and there are many shoppers who will still shop for and wear the label," says Gemma A. Williams, the director of editorial strategy and content at Jing Daily, a news site about the luxury market in China. "It has been working with two international crisis-management companies to rebuild its image and attended China's International Import Expo in Shanghai — although that was not entirely without incident either." But even there, there are signs of a tentative recovery: "During 2021, sales in China rebounded 20 percent from the year before but were still lower overall." Going forward, the problem Williams sees it having is "connecting with new luxury consumers."
Which might be the problem overall. But fashion is by its nature fickle and money-driven. "It wasn't until I stopped working at Hearst that I just said, You know what? I'm not going to the Dolce show, not shooting them, not part of our brand, doesn't make sense," says a fashion editor who asked not to be named. "I don't need it. If they're not advertising, we don't need it, and just like that, it was just very simple to just not have that be a part of it."
Yet others — including some stylists who publicly stated they would be boycotting the brand — have continued to support it. This isn't because they don't care; there are practical considerations. D&G still makes custom for the red carpet and has plus size. And the clothes still ooze glamour.
Social media can be a catalyst for change. What was once something that could be easily swept under the rug has now become the center of call-out culture and internet outrage. It has forced brands to take immediate action and be more transparent, but the verdict is still out on the lasting repercussions and whether it has systematically changed the fashion industry.
"We know how to spot a problem, we know how to call it out, we know how to make sure everybody knows that this thing is a problem, but there is no playbook or road map for a company or a person to make amends," says Fashionista editor-in-chief Tyler McCall. "It's sort of like the bottom line is that for some people, you will just be terrible forever."
D&G shows that just might not matter. "Companies are not in the business of social change; they are in the business of making money," says fashion and culture journalist Eugene Rabkin. "In a way, Dolce and Gabbana are more honest; they are like, 'We're just going to make fashion, and we're going to sell it to people, and that's our business.' We have this ridiculous American belief that we can just shop our way out of all our problems on some level, and I don't think that's how the world works."
More From 2022 spring fashion issue
See All