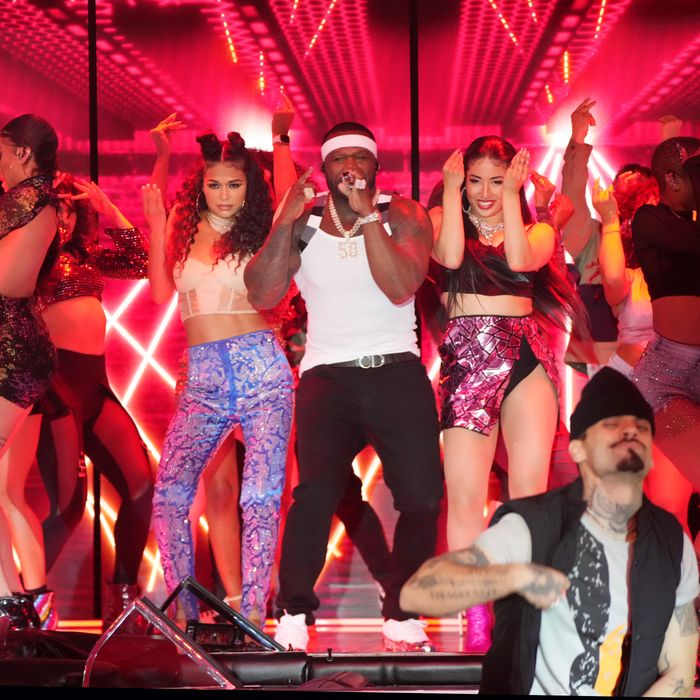 Photo: Kevin Mazur/Getty Images for Roc Nation
If you watched the 2022 Super Bowl halftime show, congratulations, you've just survived time travel. The Dr. Dre-led performance was a true trip down memory lane, specifically it was a trip to the early aughts thanks to appearances by Snoop Dogg, 50 Cent, Mary J. Blige, and Eminem. (Kendrick Lamar also performed, but let's be honest, he wasn't exactly being requested at your middle school dances.)
Dr. Dre and co hit all the early 2000s hits — "The Next Episode," "Lose Yourself," and "No More Drama" — but the real surprise came form 50 Cent, who hadn't been officially announced as a performer. 50 decided to come in full nostalgia mode, appearing hanging from the ceiling in a white tank top to recreate the video for his breakout single, "In Da Club."
And just like that… I was back at my seventh grade dance, requesting "In Da Club" from the DJ who joked, "Oh, the one by half a dollar?" 50 Cent didn't stay upside down for long, but it was definitely long enough for the internet to go wild with praise, and of course, jokes.
But 50 wasn't the only one bringing millennials back to middle school and high school. Eminem appeared to perform "Lose Yourself," his 2003 hit from the cinematic classic 8 Mile, and Mary J. Blige also gave major school dance vibes with her 2001 hit "Family Affair." Basically, if you liked music and you were listening to the radio in 2003, you recognized the songs at the half time.
It wasn't all frivolous millennial fun, though. Earlier in the day, reports emerged claiming that the NFL had specifically told Eminem not to kneel during his performance. But, when he was done with "Lose Yourself," Eminem took a knee anyways, seemingly in solidarity with Colin Kaepernick. The rapper hasn't yet commented on the move.
You can watch the entire halftime show here.