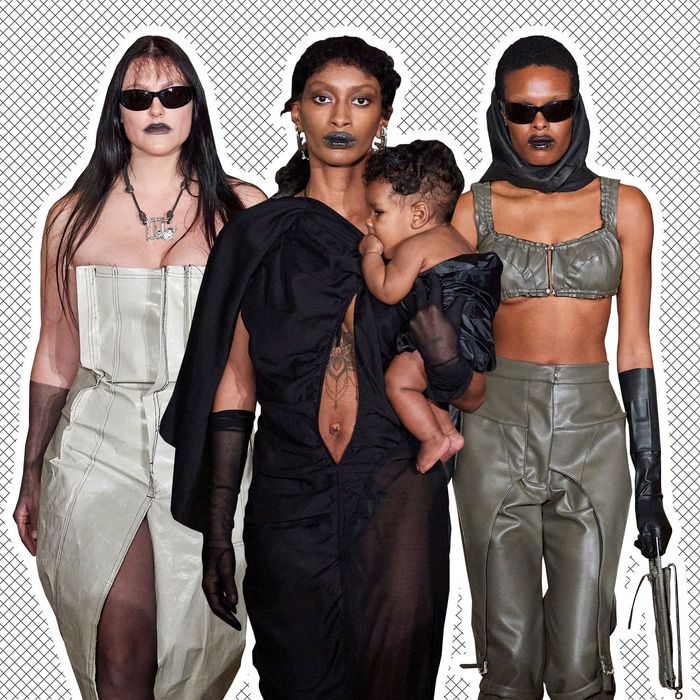 Photo-Illustration: The Cut; Photos: Isidore Montag/Imaxtree
Backstage, after Elena Velez's first runway show, her friend's dad is showing me a photo of her first-ever design: a piece of an olive green blazer held on the body using a metal corset, exposing half of a naked side. The piece showcases a sexual tension in Velez's designs, one that was on full display on Friday night. Her first runway show was a showing of structured leather dresses, military canvas pieces, and deconstructed white pieces, like corsets, with light boning.
We spoke to Velez after the show in the Georgia Room at the Freehand hotel, where she showed her collection.
Tell me about the inspiration for the collection we just saw.
Today, our collection was about women and really exploring the relationship to industrialism and obligation and motherhood. Femininity is something that I'm always in direct conflict with. I grew up the daughter of a single mother — who's a ship captain on the Great Lakes — so my idea of femininity, and what I wanted out of it, has changed. When I was young, it was about beauty and princesses and lightness. Now, with age, I've started to understand femininity in a new way. What I love about it is that it's gritty, burdensome, industrious, and it's painful. There's always kind of this aggressively delicate conflict to these two sides of womanhood that I want to show in my designs.
You've done a handful of presentations, but tonight was the runway debut. I know you do a lot of your work in Milwaukee, your hometown. Why did you decide to show in New York?
I think it is really important to have a foot in both places. My hometown, Milwaukee, is the source of that authenticity I incorporate into the work. But New York really is the place that you have to go to network, to have industry experience and get accolades. You can't really have one without the other just yet, but I really believe that we're getting to a point where physical reality doesn't exist anymore. I want to be a pioneer of that change of just decentralizing where all the creative resources are. Why can't perspectives in the Midwest be incorporated into the national American fashion narrative?
You once said, "This current industry is in such an unhealthy state of transition in so many different ways. I don't aspire to any of that." What does a healthy fashion industry look like to you? 
This is so hard because in fashion you have to pick your struggle. I do really believe that as designers, we're problem solvers, not artists. My mission is the democratization of creative capital in the states and really finding the small-town kids who weren't able to have the privilege that I did, who didn't get to go to Parsons because they couldn't afford it. It's very much a mission statement of diversifying the American fashion narrative.
For the first time ever, your clothes will be shoppable at Ssense, whereas before they were just made exclusively for collections and VIP clients like Solange and Rosalia. Did that change the way you designed it? 
There's a percentage of the collection that is more high concept, that is meant to be a statement piece, that really communicates the art direction and the concept. And then a version of that that is a little bit more diluted, a little bit more practical.
You recently shared an image on Instagram of a design you did at Central Saint Martins. What advice would you give fashion students, based on your time as a student? 
Art-and-fashion school was an important time for me to learn how to articulate my artistic inclination. It was great because I learned how to curate, how to identify the things I love and talk about them. You have to stay a student, and I feel that's how you continue to grow, and New York is great at that. I just had this amazing show and then I'm going to go walk out in this street and step in rat shit. It's so humbling.