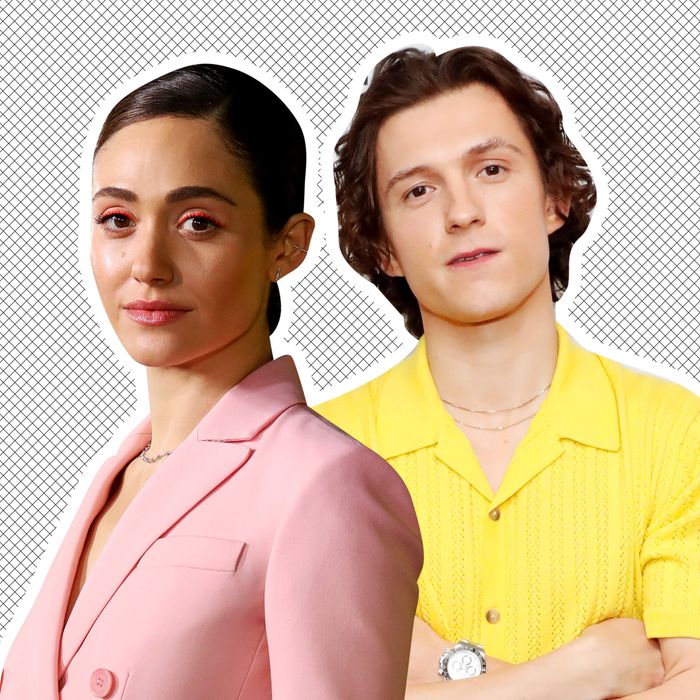 Photo-Illustration: by The Cut; Photos: Getty Images
It's a tale as old as Hollywood itself: A woman hits 40 and is immediately cast as the mother of a full-grown man. Give or take a few years, add in some movie magic, and you've set the stage for Emmy Rossum, 35, being cast as the mother of Tom Holland, 25, in a new Apple TV+ show.
This time-bending casting — the actors are technically less than ten years apart in age — is for The Crowded Room, a new television drama said to be an anthology series about people "who have struggled, and learned to successfully live with, mental illness." The first season, based on Daniel Keyes's The Minds of Billy Milligan, will star Holland as Danny Sullivan, a character presumably based on Billy Milligan, a man famously acquitted on rape charges after being diagnosed with dissociative-identity disorder (previously known as multiple-personality disorder).
It's unclear how big or small a role Rossum, as Danny's mother, will have in the series. Some have suggested that she will only appear in flashbacks, but the character description as reported by The Hollywood Reporter just notes that she is a woman "who is always looking for a man to fulfill her dreams of salvation."
Based on Holland's age and the casting of Amanda Seyfried as a clinical psychologist, it would seem that the show will loosely follow Milligan's 1977 arrest and subsequent trial. At the time, according to multiple reports, Milligan's mother, Dorothy Moore, was actually integral to Milligan's defense. So, despite the claim that Rossum's role will be limited to flashbacks, it seems probable that she — a woman who is definitely not actually old enough to be Tom Holland's mother — will in fact play opposite Holland and not just a younger actor meant to play him in flashbacks.
I think it's time for Hollywood to enact a new rule that every man who plays the son of an actress less than 15 years his senior must, in their next project, play a father to an actress at most 10 years his junior. Fair is fair.