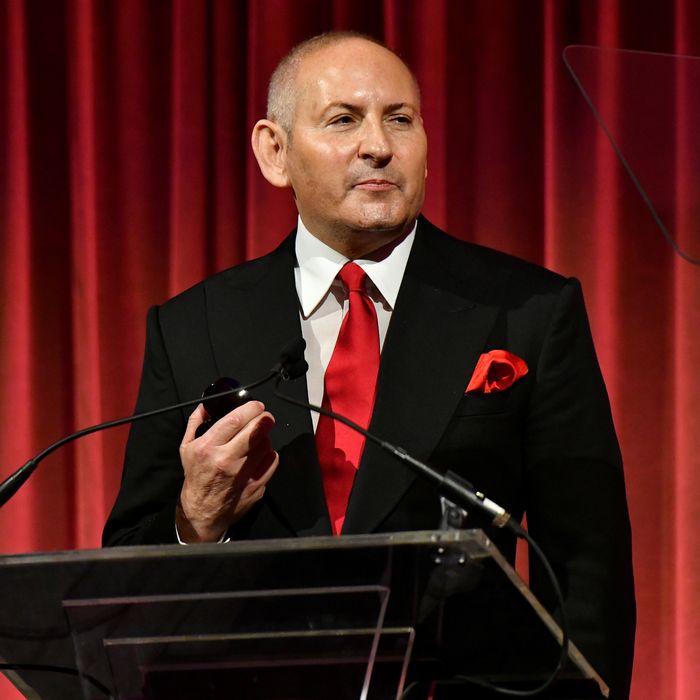 Photo: Craig Barritt/Getty Images for Michael Kors
If you would have told me in 2003 that the guy who did "Right Thurr" would one day be tied to the sudden downfall of one of the most prominent executives in the makeup industry, I wouldn't have even known how to begin to understand. Now that this statement has become a reality, I'm only a little less confused. Estée Lauder's senior executive, John Demsey, was reportedly fired this week after posting a Chingy meme on Instagram.
Demsey, who had been with the company for three decades, apparently shared a meme sometime last week that put a very specific spin on an old Sesame Street book cover featuring Snuffleupagus in bed with a fever as Big Bird looked on. "My n***a Snuffy done got the 'rona at a Chingy concert," reads the meme. (I can only assume it is a warning not to bring our invisible friends to concerts, especially when COVID is "right thurr"?)
It's unclear whether Demsey uploaded the post with a caption or not, as it has since been deleted, but the inexplicable image and racist language definitely speaks for itself. The backlash was swift, and he was reportedly suspended February 22. "The content posted does not represent the values of The Estée Lauder Companies," said chief executive Fabrizio Freda and chairman William Lauder in a memo obtained by CNN. "As a company deeply committed to inclusive actions and behavior, and in line with our company policies, our employees and our leadership are accountable for upholding these values."
On Friday, Demsey posted a written apology to his Instagram, claiming in part that he reposted the "racist meme without reading it beforehand." He continued, "Not only did I hurt many people whom I respect, the terrible mistake that I made has undermined everything I have been working for since I began my career 31 years ago. The meme is the furthest thing from what I stand for and I should have never reposted it."
Despite his public apology, Demsey was reportedly let go Monday. According to a new statement from Lauder and Freda, he has been "informed he must leave the company, effective this week." They said Demsey's actions "have caused widespread offense, are damaging to our efforts to drive inclusivity both inside and outside our walls, and do not reflect the judgment we expect of our leaders."
Chingy has not yet commented.