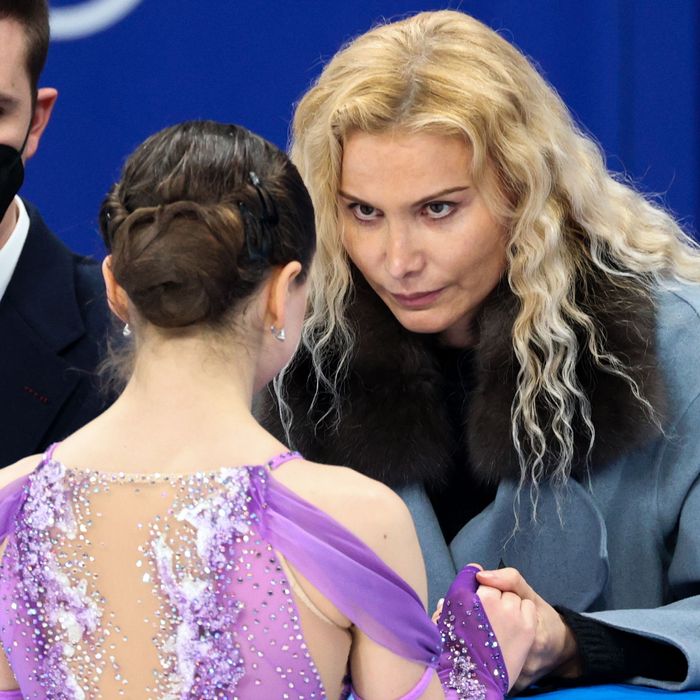 Photo: Sergei Bobylev/TASS via Getty Images
Last week, two 17-year-old Russian girls — Anna Shcherbakova and Alexandra Trusova — swept gold and silver in the Olympic women's figure-skating competition. The outcome marked a shocking upset: Leading up to the Games, another young Russian skater, 15-year-old Kamila Valieva, had been hyped as the clear favorite and a "once in a lifetime" talent — until a failed drug test came to light. Controversially, Valieva was still allowed to compete, though her free skate included a number of uncharacteristic stumbles and falls, and she ultimately finished fourth. Instead of the usual celebration, this year's competition ended in a surreal scene in which no one was happy, not even the two girls who won medals. As Valieva left the ice, her coach was heard berating her: "Why did you let it go? Why did you stop fighting?"
Valieva, Shcherbakova, and Trusova all train with Eteri Tutberidze, a famed Russian coach and former ice dancer who has trained many of the best female skaters in recent memory, including the skaters who won gold and silver at the 2018 Olympics in PyeongChang. Over the past decade, Tutberidze has transformed women's figure skating into a sport of superhuman prepubescence. Yet despite all the accolades, many have observed that Tutberidze's skaters have troublingly little career longevity, and her abusive training methods are an open secret in the skating world. In the wake of Russia's latest doping scandal, Tutberidze appears to have still come out on top — but many are questioning her involvement and wondering if she'll be held accountable. Here's everything to know about the controversy surrounding Tutberidze.
Tutberidze's contributions to women's figure skating have revolutionized the sport, but at great physical cost.
The "era of Tutberidze" began in 2014 when Yulia Lipnitskaya, then 15 and in Tutberidze's charge, made waves at the Sochi Games while skating to the Schindler's List soundtrack. Since then, Tutberidze has ascended up the coaching ranks, training champion after champion, including 2018 Olympic champion Alina Zagitova and two-time World Champion Evgenia Medvedeva. At the Beijing Olympics, Valieva, Shcherbakova, and Trusova were known as the "quad squad" for their ability to land multiple quadruple jumps with seeming ease, putting them leagues above their competition.
But while Tutberidze's exacting methods — such as making skaters redo their entire programs every time they miss a jump — may lead to moments of excellence, they have been widely panned as unhealthy and unsustainable. While competing at the Beijing Olympics, two out of her three "quad squad" girls nursed injuries, likely from overtraining. Before the Olympics, two other "Eteri girls" broke bones and couldn't qualify. Last November, Daria Usacheva, another 15-year-old skater in Tutberidze's charge, suffered a severe hip injury during a warm-up and was sent home in a wheelchair.
Skaters have painted a harrowing picture of the impacts of Tutberidze's coaching.
Former Eteri girls have been outspoken about the impact of Tutberidze's coaching, claiming that it's led to injury, anorexia, and bulimia. The full picture is disturbing: Girls have described collapsing in pain after skating, being subjected to public weigh-ins, and being told not to drink water during competitions to avoid swelling and excess weight. Former Russian figure skaters have recalled being made to consume powdered nutrients in lieu of food and inhale smelling salts to keep from fainting. Particularly unsettling is a former Russian skater's account of being given Lupron, a hormone blocker that can lead to early menopause, as a means of delaying puberty, a practice many suspect could have something to do with Tutberidze's skaters' ability to out-rotate their competition. Tutberidze, for her part, has been open about her preference for younger skaters. "For me, girls are better," she said in a 2018 interview. Critics argue that Tutberidze's dangerous blueprint has turned figure skating into a girlhood-obsessed environment, one in which a 25-year-old skater can call herself "ancient."
Others argue that Tutberidze's training has pushed many girls into early retirements. Lipnitskaya, whose 2014 Sochi Games performance put Tutberidze on the map, announced her retirement from the sport at 19, owing to eating disorders — her strict training diet, she said, led to anorexia. Alena Kanysheva started training on team Tutberidze at 13 and retired at 16, after a chronic back injury from training; after 18-year-old Alena Kostornaia fractured her wrist, Tutberidze said she thought it was "still possible" to skate with such an injury. Medvedeva, one of Tutberidze's Olympic medalists, hasn't competed since the age of 20, after suffering a chronic back injury that makes it impossible for her to turn to the left. Meanwhile, Zagitova, the 2018 Olympic champion, hasn't competed since age 17, when she announced her break from the sport.
Other coaches, like Rafael Arutyunyan, who coaches Olympic gold medalist Nathan Chen, have criticized what's often referred to as the "Eteri expiration date." "I don't really like drinking coffee from disposable cups," Arutyunyan said in a 2020 interview. "Similarly, I don't like onetime champions."
Questions about doping have swirled around Tutberidze even before the Valieva scandal.
At the Beijing Olympics, it was revealed that Valieva had tested positive for trimetazidine, a metabolic agent used to treat heart conditions. While it's a banned substance, there have been debates about how much the drug would have impacted Valieva's athletic performance. Travis Tygart, the CEO of the U.S. Anti-Doping Agency, has said the banned heart drug, in conjunction with two (non-banned) other heart medications administered to Valieva, "seem to be aimed at increasing endurance, reducing fatigue, and promoting greater efficiency in using oxygen."
Even before the Beijing Olympics, Russia had a history of state-sanctioned doping, which led the International Olympic Committee to ban the country in 2017; in recent years, Russian athletes have only been allowed to compete under the Olympic Committee flag. And some have long suspected that Tutberidze's successes might be linked to doping. In 2019, Russian Ukrainian skater Anastasiia Shabotova spoke out about Team Tutberidze's alleged doping on her Instagram Live. "How to perform consistently?" Shabotova said. "Drink a lot of dope." She was subsequently banned from competing for Russia and now competes for Ukraine.
Tutberidze herself has defended the use of meldonium, another heart medication. After Maria Sharapova and other Russian athletes tested positive for the substance in 2019, Tutberidze said that Russian laboratories should have disputed the doping accusations. Meldonium, she argued, does not enhance athletic ability, and "only helps to recuperate the heart muscles."
As Valieva's coach, many want to see Tutberidze held accountable.
Because Valieva is a minor under the age of 16, the World Anti-Doping Agency considers her a "protected person," meaning that, if she can prove her drug use was unintentional (Valieva's team claims the positive test was the result of her drinking her grandfather's contaminated glass of water), she will face a lighter sentence than an adult would. At maximum, that sentence would involve a two-year suspension. Tutberidze has been opaque about Valieva's test result and her potential involvement in it, maintaining that Valieva is "innocent and clean." Because Valieva is so young, many are demanding that the adults around her be held responsible.
The World Anti-Doping Agency is still investigating Valieva's entourage, and the IOC is facing pressure to impose harsher bans on the Russian Olympic Committee in the future. Meanwhile, Tygart is considering bringing charges against Tutberidze and the other adults associated with Valieva — her other coaches and doctors — under the Rodchenkov Anti-Doping Act, a U.S. anti-doping law that allows the U.S. to prosecute other countries for doping at international events with U.S. competitors, which could result in fines up to $1 million and up to ten years in prison. So far, it's uncertain whether U.S. authorities could successfully indict and prosecute Russian coaches — but if it were to happen, it would most likely impact Tutberidze's ability to coach or compete outside of Russia, as well as in any countries with which the U.S. has extradition deals.