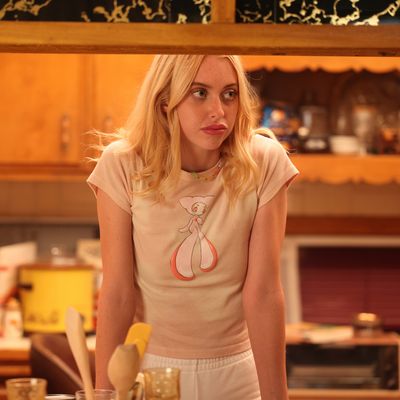 Last night's Euphoria left many of us with the same facial expression that Faye, played by Chloe Cherry, has had all season long — mouth slightly open, slightly aware of what's going on but not entirely clued up.
Faye, like Ashtray before her, transcended her side-character status, making this a breakout role for the 24-year-old actress. Since her debut, Cherry has managed to achieve the Maude Apatow effect, with the lovable nature of her character onscreen translating into IRL fans. Well, that, and her delightfully maximalist fit pics on Instagram and behind-the-scenes TikTok videos. In the midst of the Y2K revival, Cherry has become somewhat of a bimbo icon; however, she's not exactly new to the spotlight. She started her career in the adult-film industry back in 2015 — fun fact: Cherry starred in an adult-film parody of Euphoria before she was actually cast in the show.
The HBO show has propelled Cherry into fashion-girl status: She walked the LaQuan Smith fall 2022 runway show in New York and the GCDS style show in Milan. And we've seen her serve look after look while attending the shows for some of fashion's most promising emerging brands (her Chet Lo moment in London was something else).
Cherry spoke with the Cut about her rise to stardom as "Euphoria Sundays" came to a dramatic end.
It seems like everyone has fallen in love with Faye. What's your favorite and least favorite thing about her?
My favorite thing about her is probably her taste, her style, and also how she's loyal to those around her that are good to her. She's always very loyal and I think those qualities are extremely positive. Least favorite: the way she will overreact to things, which gets her in trouble.
Euphoria has often been described as soft porn, and you've been an adult actress for a while now. How similar is shooting porn and shooting a mainstream TV show? 
Porn is actually shot very professionally, with big cameras and marks. So there are a lot of things professionally and technically that are very similar. All of the technical things I already knew before going on the set, but the subject matter is very different. When the subject matter is raunchy, it's always fun to portray because it's the stuff you wouldn't do in real life.
Last night left us on a Lexi and Fez cliffhanger. Are you a Fexi stan?
For sure. Because I personally know, like Faye knows, that Lexi is a good influence on Fez.
You've become somewhat of an icon on the internet, with people using you as an example of why we should normalize adult actresses venturing into mainstream TV. How does it feel to be the face of that conversation?
It feels necessary. I just think it should have always been a thing. Why not? Let's just see actors as actors.
You're also a signed model now with Anti-Agency. What do you hope your portfolio looks like, say, a decade from now?
I want to work with everybody, especially people that do anything creative. I want to challenge myself and my body to do all sorts of different stuff and hope my portfolio has a ton of high-fashion shoots. I wanna shoot with so many experienced photographers. The best of the best. I also definitely want to do more TV shows. I feel like I could fulfill any different roles, far from my personality in real life. I'm so far from being a heroin addict in real life, but I played that for Faye.