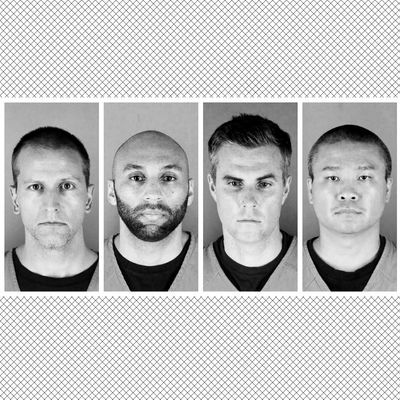 Former Minneapolis police officers Derek Chauvin, J. Alexander Kueng, Thomas Lane, and Tou Thao.
Photo: Hennepin County Sheriff's Office via AP
Almost two years after George Floyd was killed by Minneapolis police officer Derek Chauvin, and two months after Chauvin himself pleaded guilty to a federal charge of violating Floyd's constitutional rights, three of Chauvin's fellow officers who were also present that day have been found guilty of violating George Floyd's civil rights.
All four officers were fired on May 26, 2020, the day after Floyd's murder. One year later, on May 8, 2021, all four were charged with violating Floyd's civil rights. Chauvin and former officers Tou Thao and J. Alexander Kueng were charged with depriving Floyd's right to unreasonable seizure, due to their failure to intervene to stop Chauvin's use of unreasonable force. The three officers, along with a fourth officer, Thomas Lane, were also charged with failing to provide Floyd with medical aid.
The indictment stated that "the defendants saw George Floyd lying on the ground in clear need of medical care, and willfully failed to aid Floyd, thereby acting with deliberate indifference to a substantial risk of harm to Floyd." Chauvin was also indicted in a second case related to a 2017 arrest and neck restraint of a 14-year-old boy.
Derek Chauvin pleaded guilty to violating George Floyd's civil rights.
Chauvin was found guilty on state murder charges in April of 2021, convicted on three counts — second-degree unintentional murder, third-degree murder, and second-degree manslaughter — and sentenced to over 22 years in prison that June.
In December, he pleaded guilty to the charge of violating Floyd's right to be free from unreasonable seizure and unreasonable force by a police officer in December. The former police officer reportedly reached a plea deal with the government, resulting in a 25 year sentence to be served concurrently with his sentence for murder.
Tou Thao, J. Alexander Kueng, and Thomas Lane were found guilty of violating George Floyd's rights.
On Thursday, February 24, per CNN, a jury found Thao, Kueng, and Lane guilty of showing "deliberate indifference to [Floyd's] medical needs," as he cried out for help when Chauvin kneeled on his neck for more than nine minutes on May 25, 2020. Thao and Keung were also found guilttoy for failing to intervene when they saw Chauvin using excessive force.'
"Today's guilty verdicts should serve as the guiding example of why police departments across America should expand and prioritize instruction on an officer's duty to intervene and recognize when a fellow officer is using excessive force," said Ben Crump, one of the attorneys representing Floyd's family, in a statement after the verdict.
The three former officers have not yet been sentenced, but violating a person's civil rights can reportedly be punished by life in prison. Meanwhile, Thao, Kueng, and Lane are also currently face state charges for aiding and abetting second-degree murder and manslaughter, to which they have pleaded not guilty, with a trial expected to begin in June.