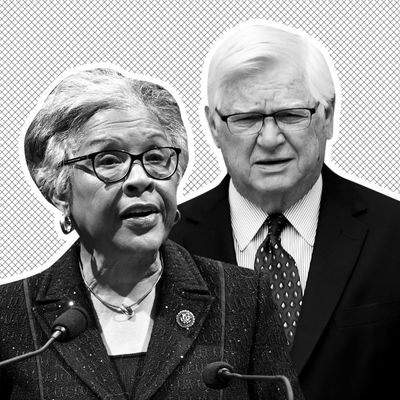 Photo-Illustration: by The Cut; Photos: Getty Images
On Tuesday, Democratic representative Joyce Beatty of Ohio reported that her colleague, Republican representative Hal Rogers of Kentucky, had poked her in the back and told her to "kiss my ass" after she asked him to put a mask on while boarding the U.S. Capitol's transportation system.
Per Beatty's account, after she made the request, Rogers, who is the second-most senior lawmaker in the house, told her to get on the train and poked her in the back. "When I asked him not to touch me," she wrote on Twitter, "he responded, 'kiss my ass.'" In footage presumably taken just after the incident, Beatty can be heard telling Rogers on the train, "I'm a member of Congress, like you, and I'm a woman. You will not disrespect me. I will bring you up in front of ethics and everything else." While getting off, she says, "You picked the wrong woman for that."
Shortly after the incident, members of the Congressional Black Caucus assembled on the steps of the Capitol demanding that Rogers apologize publicly. Rogers subsequently told multiple outlets that he had apologized to Beatty on the House floor and that his "words were not acceptable." On Wednesday morning, Beatty clarified on CNN that Rogers had "mumbled some words" on the House floor and passed it off as an apology, which is what led her to take the issue public.
This incident is far from the first time that members of Congress, particularly congresswomen of color, have found their safety jeopardized in their own workplace. Alexandria Ocasio-Cortez has been the subject of at least three attacks from her colleagues, including Representative Paul Gosar, who tweeted a video depicting him violently attacking her, and Representative Ted Yoho, who called her a "fucking bitch" while accosting her on the steps of the Capitol. AOC is one of the many congresswomen who've been attacked by Representative Marjorie Taylor Greene, who also berated Representative Cori Bush last year in a Capitol Hill hallway, prompting Bush to move her office to a different building for the safety of herself and her staff.
Beatty told CNN that she had now accepted Rogers's apology and was "moving on."