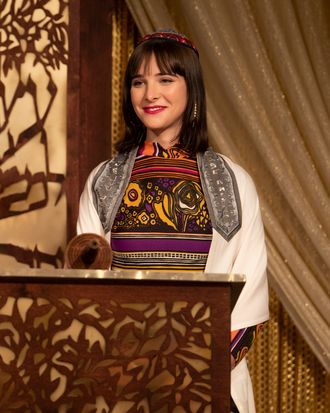 Rabbi Jen!!
Photo: Craig Blankenhorn/HBO
If you think about it, Hari Nef actually has a lot in common with Carrie Bradshaw. Fashion icon? Check. Writer? Check. Bad at walking down a runway? Okay, not so much. Still, the model-actress-writer is a pretty spot-on update to the early-2000s party girl rubbing shoulders with New York's glitterati and typing away about her romantic life. Though she's best known for her roles on Transparent and You, Nef points out that she did write a sex column for Adult magazine while in college.
Even so, I'm a little surprised to hear that Nef — who recently celebrated her 29th birthday at a members-only bar with Chloë Sevigny and Jacob Elordi — has a self-appointed Ph.D. in Sex and the City lore. She says she has watched the series 20 times and essentially ran a one-woman campaign to get herself in the reboot, And Just Like That … "I didn't care what they wanted me to play," she says. "I was there." She texted Cynthia Nixon before auditions started and sent in clips of her recent sex-and-relationships writing, which scored her an audition as Carrie's book publisher.
Instead, she ended up playing Rabbi Jen, the trans rabbi Charlotte hunts down to officiate her nonbinary child Rock's "they-mitzvah." (And, yes, Charlotte utters the phrase "trans rabbi" upwards of ten times throughout the episode.) In a show that has struggled to cram a handful of new characters into its already expansive cast, it's a true delight to see Nef pop in, sample Anthony's sourdough challah, and proclaim, in one of the best line deliveries in this series, "Oh my God, this is delicious!"
The role, Nef tells me over the phone, was created specifically for her after her audition, and with all due respect to Carrie's book publisher (she just wants to get on "Oprah's Book Club"!), it's a lot more fun. Rabbi Jen wears vintage dresses, has cool-girl bangs, and needs to get this "they-mitzvah" wrapped because she's doing a wedding in Bushwick at three. Cool, collected, and pulling no punches, she swoops in to dole out some much-needed friendship advice to Miranda and Carrie.
At first, she says, her character had only a few lines; the addition of her monologue is a testament to her talent. "I made choices with the way I delivered the text," she says of her first reading. "I made the team laugh. When they sent the new script, my character had earned herself a little more time."
Also part of the assignment: picking out her costume. "It could go any number of ways with a rabbi," Nef said, so "I'm just grateful that they made me look cute." She singled out a dress sourced at Beacon's Closet for her first scene: an ankle-length plaid piece layered under a vest and a red pussy bow. She describes the show's set as "a well-oiled machine" and says the cast was eager to make her feel welcome: "S.J. came up to me between takes to compliment and encourage me." Nef says she spent her downtime listening to Sarah Jessica Parker and Nixon "reminisce about the New York theater scene in the '90s."
"It was a dream come literally true," she says. To memorialize her time on set, she brought home and froze two keto challah loaves, a small sample of the ten that were delivered to set (to accommodate her eating regimen) for that sourdough scene. New York glamour at its finest.