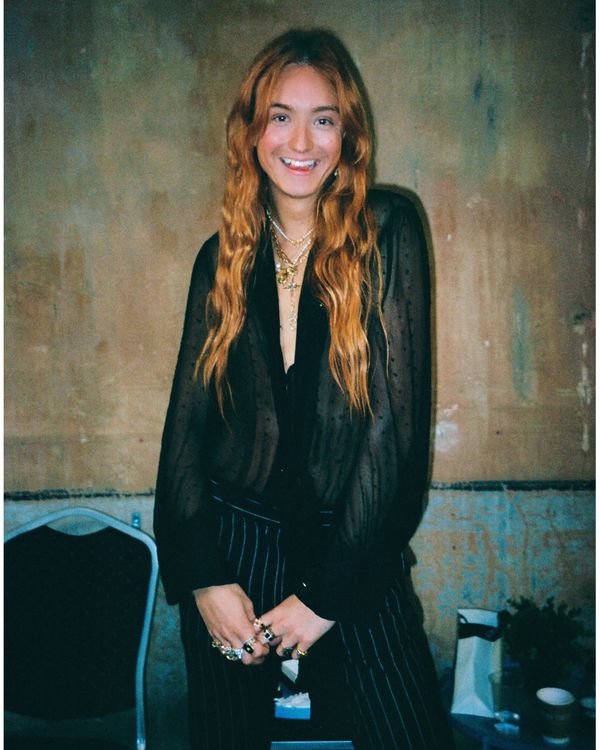 Photo: @thebigmackbreeden
Despite most of his career taking place during a global pandemic, 25-year-old designer Harris Reed has already seen more success than most young designers.
While still in school at Central Saint Martins, where he graduated in the spring of 2020, Reed began to amass a following on Instagram, and his gender-fluid work caught the eye of Harry Styles's stylist, who later commissioned him to design looks for the artist's 2017-2018 tour. "I went from, like, a thousand followers to seventy thousand in a matter of an hour," Reed told The New Yorker of the moment when Styles wore one of his pieces for a concert in Amsterdam. (Yes, he's already been profiled by The New Yorker.)
Since then, Reed has interned for Gucci, walked in one of its shows, and modeled for the brand alongside Styles. Last fall, Vogue called and asked him to design a look for Styles's history-making cover, which he did in six days. He's collaborated with MAC cosmetics and Missoma, selling over a million dollars worth of jewelry on Black Friday. He also worked with Dolce & Gabbana on an Alta Moda couture dress for Iman to wear to the Met Gala. And this was all before he made his debut at London Fashion Week in September of 2021.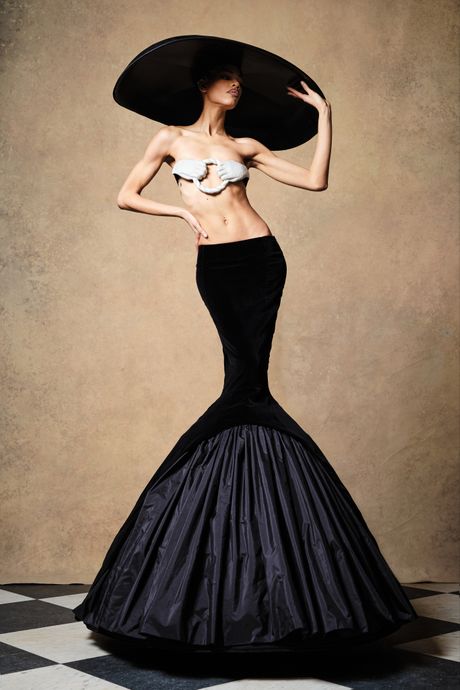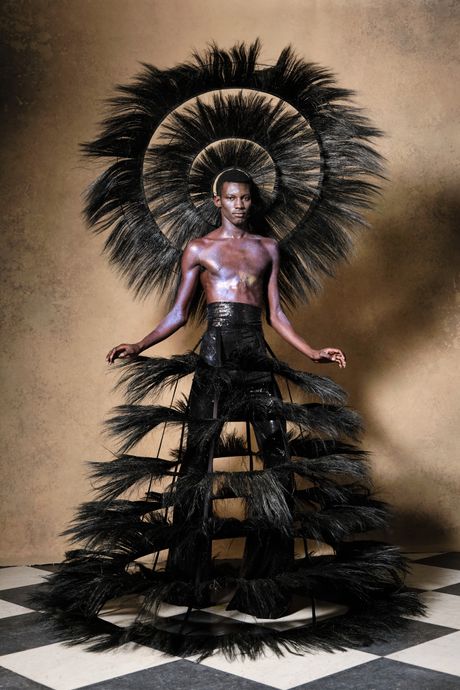 Now, not only does Reed have more resources at his disposal and better working conditions to make his second collection — his studio is still at the Standard, where he was the hotel's "designer in residence" during lockdown — but the world has also opened up again. "Everything just feels more refined and exciting and rich," said the designer before kicking off London Fashion Week earlier this month.
The space where Reed decided to show was a stunning London chapel, which he filled with 18-foot clouds illustrated by Lukas Palumbo. The sound was none other than Sam Smith, performing a live rendition of Desiree's "Kissing You," which brought members of the audience to tears. And the people involved included masterful milliners and mask makers — no more hot-glue guns and spray paint — as well as the Bussandri family, who donated vintage fabric for Reed to upcycle in the collection, which he describes as "demi-couture."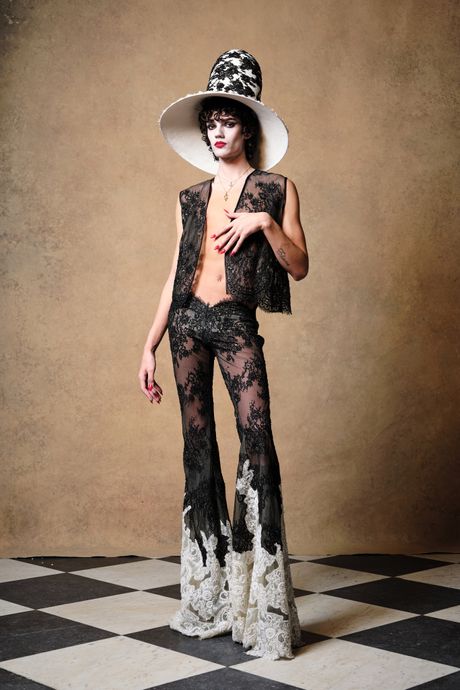 London is a particularly good place for a young designer to plant their flag, but Reed hails from Los Angeles, where he was born. His father worked as a talent agent and is now a film producer, and his mother, who is American, worked as a model in New York in the '80s. While visiting her in Italy, where she now lives, Reed happened to cross paths with a member of the Bussandri family at a café and complimented her brocade velvet bag. When he asked her where she got it, "She was like, 'Oh, we happen to be one of the oldest families of replica Italian furniture and have all these archives of fabric literally sitting in disarray in a basement,'" he said. They got to talking and clearly hit it off.
"It was an honor for me to work with fabrics that were, like, 100-year-old silk moiré that would have maybe been for a fabulous headboard," Reed said. "I loved it because the women really knew what it was going to be used for. They were like, 'Oh, that was going to be for a Russian oligarch. Oh, this was going to be for an amazing family in Dallas, Texas.'" Reed's last collection upcycled wedding gowns, but his budget was just £2,000.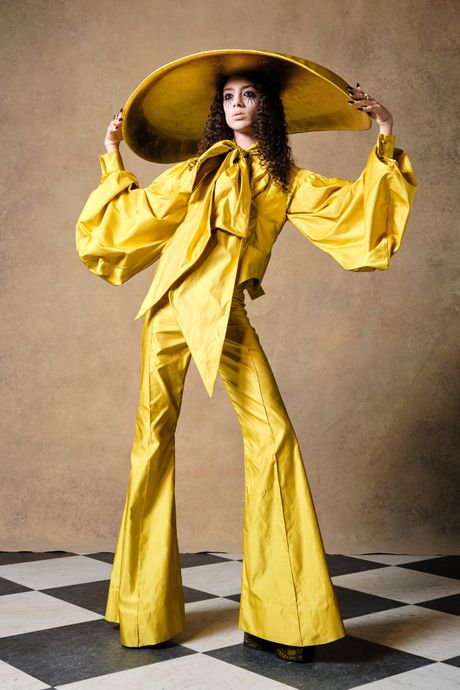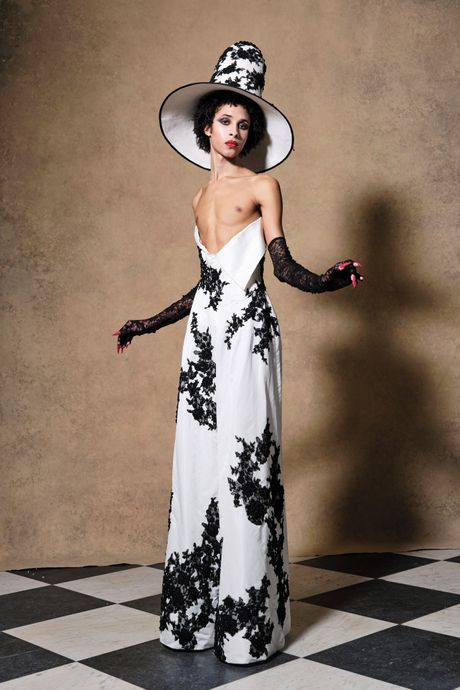 The fall 2022 collection, which is ten looks in total, was named after the book Sixty Years a Queen, which Reed stumbled upon at the CSM library one day. He found it on top of a photocopy of Mick Jagger and took it as a sign to combine the pageantry of Queen Victoria with that of the club "queens" of London in his work. A literal sculptural piece that blends together the bodies of a man and a woman acts as an anchor, but Reed's goal was to evolve his silhouette this season. "I feel like this collection is a bit more of a fluid hybrid," he said. "Whereas in the past, I've done more half-men's suiting with a debutante ball-gown skirt."
It may seem like a lot of good timing and luck, but Reed's larger-than-life theatrical designs clearly have an audience. He says he privately owns his company and recently hired another employee. The final look from his first collection sold for £10,000 the day Selfridges put it in the window last year, and British stars like Emma Watson and Adele are both paying customers.
"It shows that there's an appetite for stuff in that six-figure — wait," Reed paused to count on his fingers, laughing. "Money! People are spending money on things that are sustainable and beautiful and also things that can be passed down. It can be passed down to your trans child or your nonbinary child. It continues."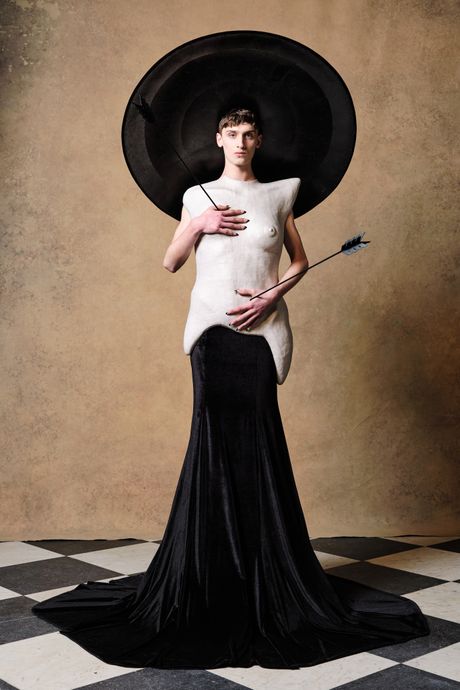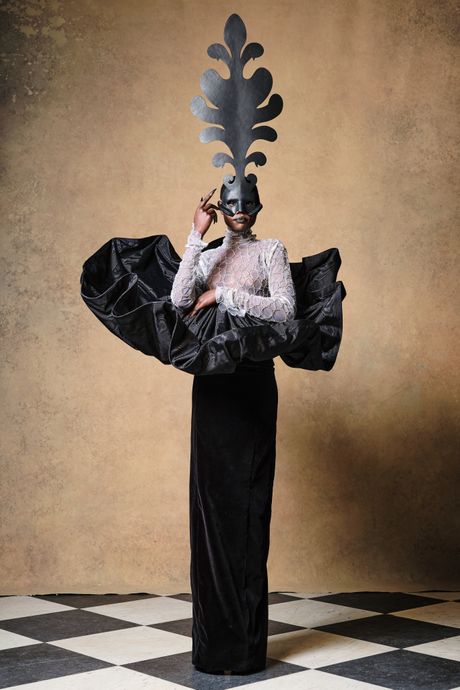 More From London Fashion Week