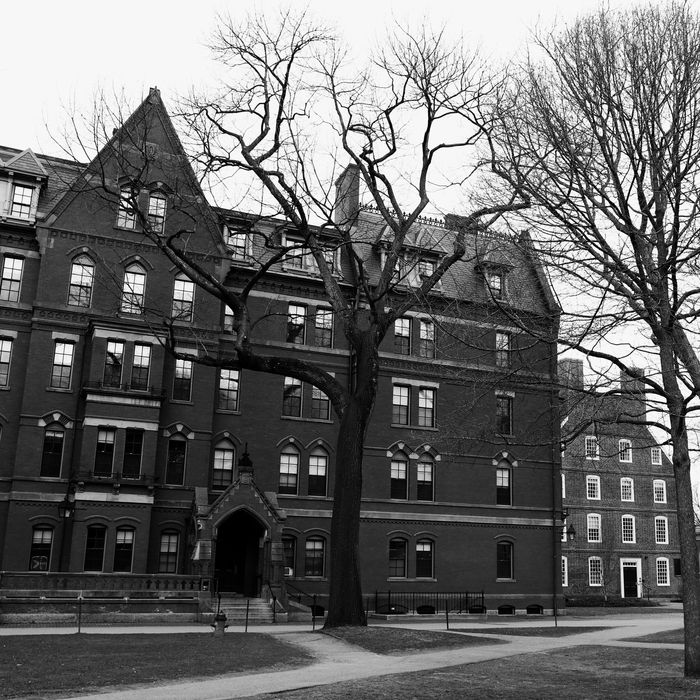 Harvard students say the university prioritized a professor's "tentacular influence in the field" of anthropology over students' well-being.
Photo: Maddie Meyer/Getty Images
On Tuesday, a trio of Harvard graduate students filed a lawsuit in Boston federal court alleging that the university tacitly allowed a big-name anthropology professor — John Comaroff, who specializes in African and African American studies — to sexually harass and assault women who studied under him and that it declined to act when he used his "tentacular influence in the field" to retaliate against them. Comaroff strenuously denies the allegations, but Margaret Czerwienski, Lilia Kilburn, and Amulya Mandava allege they either heard about or experienced predation by Comaroff and that when they brought it to Harvard's Title IX office, it waved them away before clearing Comaroff's name — prioritizing his reputation over his students' well-being.
"For years," the lawsuit alleges, Comaroff used his "power and his perch at Harvard to exploit aspiring scholars: he kissed and groped students without their consent, made unwelcome sexual advances, and threatened to sabotage students' careers if they complained." The filing also accuses school administrators of failing to take action when the complainants — and others — reported this behavior repeatedly, and of knowing that Comaroff had a history of alleged misconduct before arriving at Harvard. According to court documents, the university only acted when reports in the university's paper, the Harvard Crimson, and The Chronicle of Higher Education forced its hand in 2020, catalyzing an investigation that retraumatized students and ultimately cleared Comaroff's name. Last week, dozens of his colleagues sprang to his defense in an open letter, effectively demonstrating the magnitude of his authority in academia. After the lawsuit hit the news cycle, all but three of them retracted, saying they "failed to appreciate the impact that this would have on … students."
Czerwienski, Kilburn, and Mandava are now suing for alleged violations of Title IX policy — that retaliation, gender discrimination, and "deliberate indifference" to it created a "hostile educational environment" — and Massachusetts law as well as negligence in hiring, breach of contract, and invasion of privacy.
In a statement emailed after the publication of this article, Harvard defended its "thorough reviews" of the reports and said the allegations "are in no way a fair or accurate representation of the thoughtful steps taken by the University in response to concerns that were brought forward."
Below, everything we know about the lawsuit.
What does the complaint allege?
In short, that Comaroff repeatedly violated sexual-harassment laws and the school knowingly let him. The complaint nods to allegations from several unnamed students, noting that he allegedly commented on one woman's appearance in meetings and kissed her on the cheek. He similarly singled out another advisee — identified as Student 2 — according to the lawsuit, detailing his sexual history and hitting on her in class before eventually kissing and groping her during a brunch at his house in 2016. When she confronted him, the complaint says, "He responded with more: he knelt in front of her, laid his head on her breasts, and told her he was impotent." When he learned that this student told a postdoctoral student about his behavior, he allegedly threatened him with professional blacklisting. Comaroff also got his hands on Student 2's formal complaint, reading parts of it back to her in what the lawsuit deems an effective "intimidation tactic": She ultimately withdrew the report.
According to the lawsuit, Czerwienski and Mandava (who the complaint says received "unwanted sexual attention" from Comaroff as an undergrad at the University of Chicago) both tried to get Harvard to act on Student 2's complaint when she told them about her situation, encouraging her to go to the Title IX office and alerting faculty members along with other students. Around October 2017, Comaroff reportedly caught wind of their "nasty rumors," as he allegedly put it, and "threatened that if they continued" spreading them, "they would have 'trouble getting jobs,' as his detractors had in the past," per the court docs. The filing says Czerwienski told the Title IX office about this, too, but that she was discouraged from filing a formal complaint with the Office for Dispute Resolution.
Meanwhile, Kilburn says she experienced Comaroff's misconduct beginning on a visit to the school before she even accepted a spot in the anthropology program. While walking her to campus, the complaint contends, Comaroff "stepped in front of Ms. Kilburn, hugged her tightly — pressing the length of his body against hers — and kissed her on the lips without her consent." On her first day at Harvard, Kilburn says Comaroff spent five minutes listing (with "a tone of enjoyment," she told the New York Times) the locations and ways in which she might be raped and/or killed in South Africa while also flexing his power to make or break her career. When she attended his brunch in September 2017, Kilburn says he followed her around, touching her in ways that made her feel uncomfortable before finally forcibly kissing her on the mouth. When she alerted the department's graduate program coordinator, Kilburn says they dismissed her concerns as "nasty rumors," "mimicking the language used by Professor Comaroff," according to the complaint. Though she tried to avoid him, she says he became increasingly possessive, siloing her from other professors.
Ultimately, Kilburn disclosed Comaroff's behavior to two other faculty members, and in May 2019, the Title IX office. They acknowledged other similar reports against Comaroff, even putting her in contact with the second student. But ultimately, the lawsuit says, Harvard failed to act. The complaint summarizes: "Harvard's deliberate indifference allowed Professor Comaroff to repeatedly and forcibly kiss Ms. Kilburn, grope her in public, imagine aloud her rape and murder, cut her off from other professors, and derail her academic trajectory."
Now, all three women say their career prospects have drastically dimmed: "Anthropology is a small and tight-knit field," the filing explains. "There are seldom more than a handful of tenure-track positions available to graduating doctoral students. Each position receives hundreds of applications. And Professor Comaroff's influence permeates the field. His former students and acolytes sit on hiring committees in almost every major anthropology department across the globe. A down-vote from Professor Comaroff is thus the death knell of an anthropologist's career."
How long had this (allegedly) been going on?
Potentially for decades, according to the complaint: "Harvard has protected that asset despite a decades-long pattern of harassment and retaliation by Professor Comaroff — a pattern that was known to Harvard when it hired him in 2012. From 1979 to 2012, Professor Comaroff worked at the University of Chicago ('UChicago'). Graduate students and faculty there considered Professor Comaroff a 'predator' and a 'groomer.' At least one of them warned Harvard about Professor Comaroff while the University was considering Professor Comaroff's candidacy. But Harvard welcomed him anyway." The filing recaps an incident of alleged nonconsensual touching from 1979.
What was Harvard's response?
According to the lawsuit, it leaned on "an institutional policy of indifference: a system designed to protect the University, its reputation, and the faculty who sustain that reputation at the expense of its students." The filing suggests that after media attention forced the school to act, its Title IX office complicated the process — and that the administration shared Czerwienski's complaint with Comaroff, who then used it to silence witnesses with threats of professional consequences. With respect to Kilburn's report, Comaroff implicated three high-profile colleagues, who lacked any knowledge of the situation, and a member of her dissertation panel, all of whom (according to the suit) effectively "flatlined Ms. Kilburn's nascent career." The filing also says that Harvard got Kilburn's therapist's notes from their sessions and shared them with Comaroff, who then (allegedly) used them to argue she had imagined his transgressions. Though the Office of Dispute Resolution declined to interview two-thirds of Kilburn's witnesses, the lawsuit states, it cleared Comaroff of all bad behavior except for the rape advisory, which it designated "severe" harassment — if also a "one-off verbal incident."
With respect to Czerwienski and Mandava's reports, the suit says the ODR mostly waved aside their contents, recommending no discipline for Comaroff in all three cases. Their appeals upheld that conclusion, with the Title IX office ultimately informing them: "The findings and determinations reached in the course of [the ODR's] investigation are … final and cannot be re-visited." After the situation received media attention, the Faculty of Arts and Sciences reviewed the case and found that Comaroff "engaged in verbal conduct that violated the FAS Sexual and Gender-Based Harassment Policy and the FAS Professional Conduct Policy." Harvard placed him on leave for the spring 2022 semester and prohibited him from taking on new advisees and advisees without a co-adviser for the 2022 to 2023 academic year. For that same time period, Harvard has barred Comaroff from teaching required courses and chairing any dissertation committees. It also offered his current grad students the option of switching advisers.
Though a representative for the university initially told the Cut that the school had no comment, Harvard issued a statement on Wednesday night. "Harvard University acknowledged the complaints made by these three students regarding Professor John Comaroff, which is why thorough reviews were conducted by Harvard's Office of Dispute Resolution (ODR) and the Faculty of Arts and Sciences (FAS). The reviews concluded that Professor Comaroff engaged in verbal conduct that violated the FAS Sexual and Gender-Based Harassment Policy and the FAS Professional Conduct Policy," it read. Pointing to existing sanctions against Comaroff, the statement continued, "Harvard University disputes the allegations of the lawsuit."
The school also seemed to defend its handling of the therapist's notes, suggesting they couldn't have been obtained without consent. Its ODR policy does state that both parties involved in a complaint will have the chance to review all information collected during an investigation, though the lawsuit alleges that after Harvard obtained the notes, the school refused to tell Kilburn which would stay redacted during the process.
What about all those open letters?
Meanwhile, last month, Comaroff and his wife released a statement to his professional network denying all impropriety. Shortly thereafter, 38 other Harvard professors — including famous scholars like Henry Louis Gates Jr., Jill Lepore, and Stephen J. Greenblatt — signed on to a letter supporting their colleague. "We the undersigned know John Comaroff to be an excellent colleague, advisor and committed university citizen who has for five decades trained and advised hundreds of Ph.D. students of diverse backgrounds, who have subsequently become leaders in universities across the world," it read, in part. "We are dismayed by Harvard's sanctions against him and concerned about its effects on our ability to advise our own students."
That letter prompted another 73 faculty members to post a counterstatement of their own, expressing their dismay that their colleagues "would openly align themselves against students who have lodged complaints about a tenured professor." They continued:
As is evident from the letters written in his support, Professor Comaroff is a scholar with a powerful network of friends and colleagues. This raises the question of why three graduate students would go public with their complaints against him and willingly subject themselves to protracted, grueling, and potentially career-ending investigations. In lauding Professor Comaroff's reputation while failing to consider the complainants' perspectives, the signatories imply that the students have fabricated their accounts of harassment and retaliation.




… As faculty, we should be demanding better protections and more expedient, transparent, equitable, and independent investigative procedures. We must do so without presuming to know the full findings of confidential investigations or acting in ways that intimidate students and inhibit them from divulging experiences of harm.
After the lawsuit went public, 35 of the professors who'd publicly supported Comaroff retracted their signatures. "Our concerns were transparency, process and university procedures, which go beyond the merits of any individual case," they wrote. "We failed to appreciate the impact that this would have on our students, and we were lacking full information about the case. We are committed to all students experiencing Harvard as a safe and equitable institution for teaching and learning."
Has Comaroff acknowledged the suit?
In a statement to the New York Times, his attorneys said: "Professor Comaroff categorically denies ever harassing or retaliating against any student." His comments about rape — in a country far away from the one where Kilburn planned to study — were "motivated only by concern for Ms. Kilburn's well-being and had no romantic or sexual intention," they said, adding that "Professor Comaroff vehemently disputes" the school's conclusion that this incident amounted to sexual harassment, "which would cripple faculty members' ability to use their best academic judgment in advising students about essential safety issues." They emphasized that the school's investigations had otherwise cleared him of wrongdoing.
What are the women asking?
They are demanding a jury trial on grounds that Harvard engaged in illegal practices, policies, and procedures and an injunction to prevent them from operating the same way in the future. They are also seeking damages and reimbursement of legal fees.
This article has been updated.