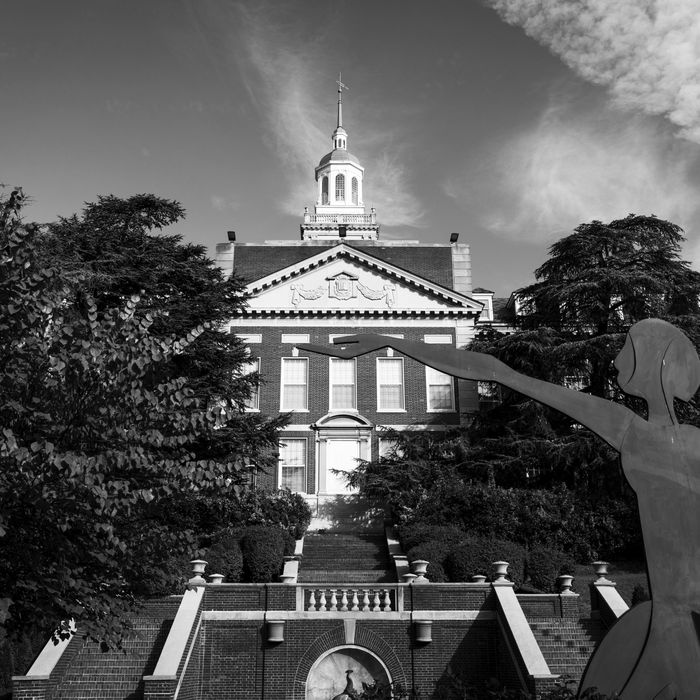 Howard University was among the 17 HBCUs targeted with bomb threats earlier this week.
Photo: Drew Angerer/Getty Images
Earlier this week, more than 20 historically Black colleges and universities locked down their campuses and, in some cases, canceled classes over a wave of bomb threats. At least six of those schools received threats on Monday, January 31, while many more were targeted the next day — the beginning of Black History Month. No explosives turned up at any of the institutions, and ultimately, law enforcement deemed the threats not credible, though they are being investigated as racially motivated hate crimes. But for many students and faculty on campus, they nonetheless had the predictable and intended effect: fear, confusion, anxiety, and exhaustion.
Now, information about some of the people responsible for the threats is coming to light. The New York Times reports that the FBI has identified six juveniles as persons of interest, and according to BuzzFeed, a neo-Nazi group may have been behind at least one of the scares. But even if this latest wave of threats did not end in a bombing, it's worth remembering that this is not an isolated incident. Per the Washington Post, this week marked the third time in a month that Howard University in Washington, D.C., has had to warn its students about the possibility of a bomb on campus. We are just over a month into 2022, and over two dozen schools have had to do the same. Given the long history of white supremacists using bombings and bomb threats to terrorize Black communities — the 1963 bombing of Birmingham's 16th Street Baptist Church, the KKK's bombings of civil rights leaders' homes, a bus blown up during the Freedom Rides, to name just a few examples — the message here feels clear.
"It makes me realize how there are still these terrorists that are trying to stop minorities from advancing or just getting a simple education from a predominantly Black institution," one Spelman student, Saigan Boyd, told CNN. "I'm just ultimately tired of dealing with this level of unsolicited hatred. I'm just tired of being terrorized like how my grandparents were."
Here's what we know so far.
Which schools were targeted?
Over the course of two days, at least 21 schools reported bomb threats. Most seem to have come via phone calls made early in the morning. Wayne A.I. Frederick, president of Howard University, told the New York Times that the messages "definitely included language that suggested it was motivated by hate." Another institution targeted told the Times that the caller identified himself as a member of a neo-Nazi group. According to The Guardian, these schools received threats on Monday:
Howard University in Washington, D.C.

Bethune–Cookman University in Daytona Beach, Florida

Southern University and A&M College in Baton Rouge, Louisiana

Albany State University in Albany, Georgia

Bowie State University in Bowie, Maryland

Delaware State University in Dover, Delaware
According to CNN and the Washington Post, the following schools received them on Tuesday:
Rust College in Holly, Mississippi

Coppin State University in Baltimore, Maryland

Jackson State University in Jackson, Mississippi

Mississippi Valley State University in Bena, Mississippi

Morgan State University in Baltimore, Maryland

Alcorn State University in Lorman, Mississippi

Tougaloo College in Tougaloo, Mississippi

Kentucky State University in Frankfort, Kentucky

Fort Valley State University in Fort Valley, Georgia

Howard University

Spelman College in Atlanta, Georgia

Xavier University in New Orleans, Louisiana

University of the District of Columbia in Washington, D.C.

Edward Waters University in Jacksonville, Florida

Harris–Stowe State University in St. Louis, Missouri

Philander Smith College in Little Rock, Arkansas
What was the response?
Most schools sent out campus-wide messages notifying students and staff of the threat, some announcing lockdowns and others encouraging everyone to shelter in place until police had swept the grounds for explosives and given the all clear. Others canceled classes for the day or moved them online. On Monday, after the first wave of threats came in, White House press secretary Jen Psaki addressed them in her briefing, calling the campaign "disturbing" and noting that the administration "is in touch with the interagency partners, including federal law enforcement leadership." The FBI's joint terrorism task force is now leading the investigation.
But again, these threats are part of a much larger pattern. Federal data for 2020 suggests hate crimes are at their highest point in more than a decade, most of them racially motivated. Increasingly, the right is pushing back, forcefully, against an educational narrative that asks for more honesty about the nation's history of systemic racism. And Howard, for example, is among the eight HBCUs that received bomb threats on January 5; it has historically been a target of racist attacks. This time around, the timing — on the eve and first day of Black History Month — feels impossible to overlook. Damon Hewitt, president and executive director of the Lawyers' Committee for Civil Rights Under Law, said in a statement that the incidents constituted "a fresh reminder of the ongoing threats to Black life and opportunity, and the continued presence of racist hate … designed to undermine the mission of HBCUs and to strike at the heart of the sense of pride they instill in the Black community."
Speaking to the Washington Post, Robert Mueck — director of public safety at St. John's College and a member of the International Association of Campus Law Enforcement Administrators' Domestic Preparedness Committee — put it this way: "It's almost like reaching out and saying, 'We can get you.'"
What do we know about the people behind the threats?
The FBI has reportedly identified six juvenile persons of interest located across the country. According to NBC, "They appear to be 'tech savvy,' using sophisticated methods to try to disguise the source of the threats, which appear to have a racist motivation." Meanwhile, BuzzFeed offers a little more information about the neo-Nazi connection at Bethune–Cookman University: According to Daytona Beach police chief Jakari Young, the caller apparently claimed membership with Atomwaffen, a hate group the Southern Poverty Law Center describes as "a series of terror cells that work toward civilizational collapse." In a 20-minute call, the person who made the bomb threat reportedly said he dropped duffel bags full of explosives around the edge of campus. After a search, authorities didn't find anything.
How are students feeling?
Many of those who have spoken to reporters expressed the range of emotions one would expect — fear, anger, confusion — after being threatened simply for existing. "My main concern is my students' mental health. As college students, we already have so much mentally to deal with," Jamera Forbes, Morgan State senior and the school's student body president, told the Washington Post. "We've tried to push through and overcome so much with COVID over the years, and we're just trying to get back to a norm."
"I'm uneasy," Calvert White, a junior at Jackson State, told CNN. "HBCUs have a long history of physical threats just because of our existence. I think that the threats aren't individual or coincidental — that it's a clear attack on Black students who choose to go to Black schools."
"A lot of us feel like this is political," Joyce Dihi, a Spelman freshman, told the Times. "There are people out there who don't like that HBCUs support the excellence of Black people," Dihi added. "But to threaten us is too much."