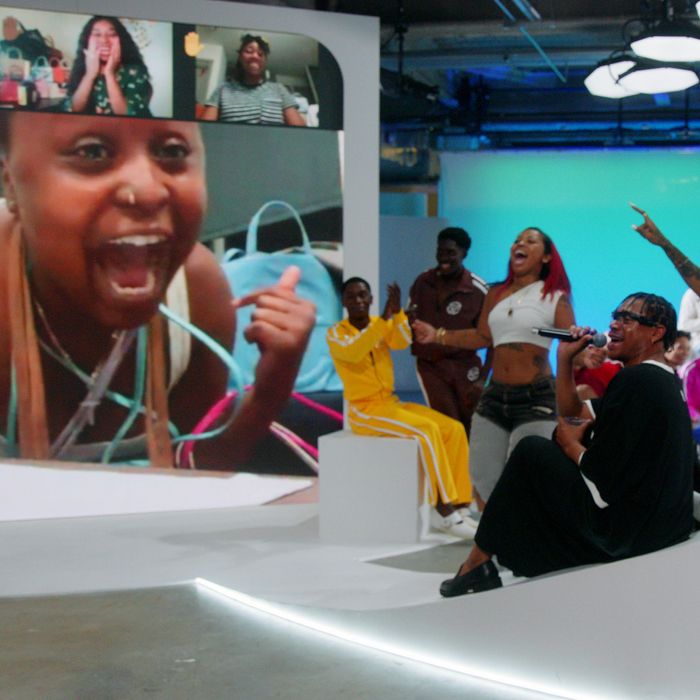 Last September, Telfar — the label known for its impossible-to-get shopping bag, a.k.a the Bushwick Birkin — held a press conference to announce the launch of TelfarTV, a 24-hour channel. The channel was to feature live performances; breaking news on upcoming merchandise drops' exclusive "drips" — which are randomly timed drops of limited products accessible for one minute through onscreen QR codes — and videos submitted by Telfar's community and supporters. Six months later, I am still wondering what TelfarTV is, how it works, and when I should be tuned in.
On Wednesday night, the brand answered some of those questions and presented even more. For one, it showed a collection consisting of athleticwear, workwear, denim, jersey, and fleece in an array of colors, which are expected to be rolled out weekly on TelfarTV starting in early March.
After sitting in my living room for hours with TelfarTV playing in the background, I saw music videos by artists like Butch Dawson; a brainstorming session with people sitting on the floor talking about who the "drip" is for; text on the screen that just said, "No One Is Watching"; and a "drip" alert for the black duffels. While the same videos were playing on a loop, I didn't want to turn it off. The concept is cool, experimental, and very Black.
"I wouldn't necessarily call it QVC," said designer Telfar Clemens. "This is the place where we can talk to people directly, rather than talking to people through an audience of mainstream media and whiteness. It's an ongoing thing. It's hard to pin down what it is because we are trying a lot of different experiments. It's the vehicle for me to express myself."
It's a place for people to collaborate with the brand off of social media. You can submit your videos online at Telfar.TV or download the app through a streaming device like Apple TV or Roku. You can then scan the QR codes that appear onscreen sporadically, and the links will take you directly to the site to buy products like the new duffel.
According to someone familiar with the brand, it also puts up QR codes that invite people watching to a private Zoom video call, allowing audience members to interact with Clemens and his co-hosts. "We'll be talking to one guest for like an hour," says Clemens.
Still confused? So are we. But, according to the brand, that is the point.
"It will happen organically," says artistic director Babak Radboy. "TelfarTV's actual magic is that it's happening slowly."