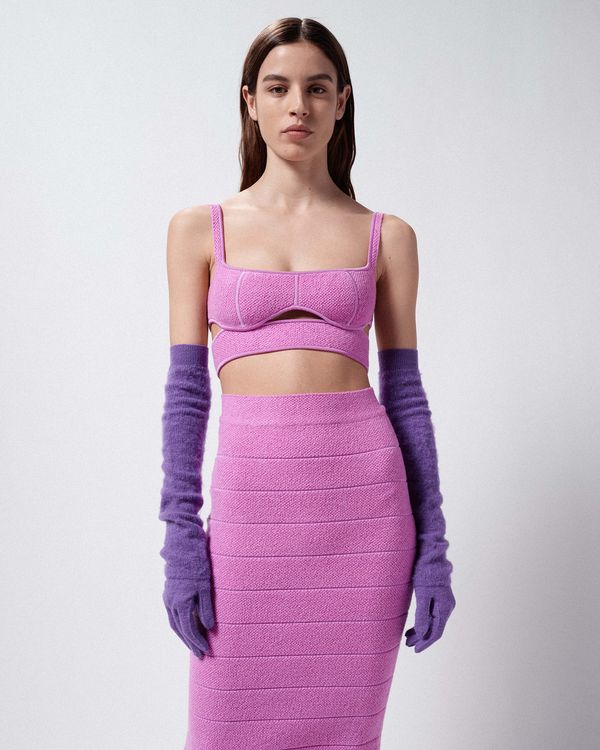 Photo: Courtesy of Hervé Léger
This article was featured in One Great Story, New York's reading recommendation newsletter. Sign up here to get it nightly.
Crossing Canal Street on my way to the Soho Grand during New York Fashion Week this month, I saw a crowd of colorful outfits surrounded by paparazzi and street-style photographers and thought to myself: No way.
There was no way all of these people were, like me, on their way to see the new Hervé Léger collection — a name I haven't uttered in earnest in well over a decade, since my days of proms and sweet 16s. Surely, they must be waiting for a celebrity staying at the hotel, I thought, or maybe there was something else going on. But no. Turns out, we were all there for the same reason: We'd heard that the certified "hot girl" brand we lusted after as teenagers was making a comeback, and so we flocked there in droves, as though a bandage-dress Bat-Signal had appeared in the sky.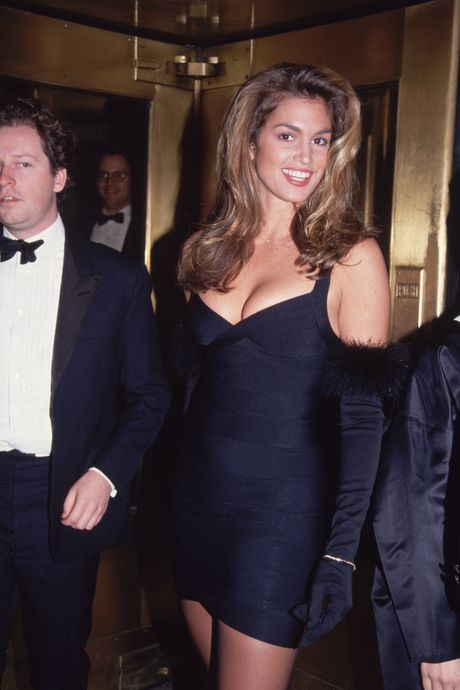 Hervé Léger was founded in 1985 by the designer Hervé Peugnet, who began his career working under Karl Lagerfeld. As Vogue writer and vintage expert Liana Satenstein recently explained in an episode of The Comeback, Peugnet, while working at at Fendi, saw how the brand used felt bands to construct its fur coats, and was inspired by this technique, knitting together strips of stretchy fabric to create a body-hugging "bandage" effect for his own collection. (In one review, Times critic Amy Spindler called it a "sexy mummy look.") When Peugnet went out on his own, Lagerfeld advised him to change his name so that Americans could more easily pronounce it, and Hervé Léger was born.
Although Peugnet sent other silhouettes down the runway, it was the bandage dress that became his legacy. Supermodels like Cindy Crawford made it a hot item in the mid-'90s — so hot, in fact, the brand was acquired by the BCBG Max Azria Group in 1998. (Peugnet departed shortly after.) It wasn't until American celebrities like Lindsay Lohan started wearing bandage dresses on red carpets and to clubs in the early 2000s that it became the go-to "going out" look. In 2007, the brand officially relaunched under Max Azria and made its New York Fashion Week debut the following year. By the time the bandage dress was worn in an episode of Gossip Girl, every aspiring Manhattan elite wanted to stuff themselves into one.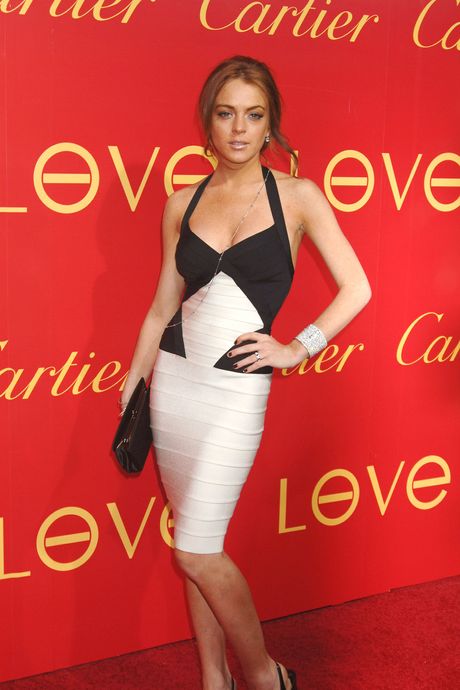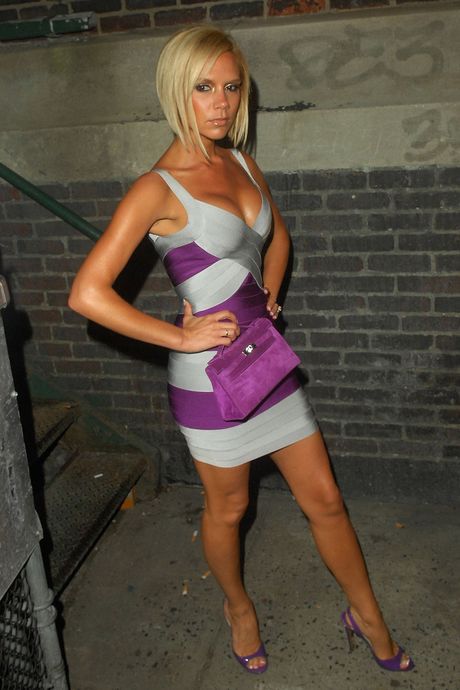 "I think I wore an Hervé Léger dress every single event that I had from like 18 until 21," said actress Lea Michele at the brand's presentation this year. She also worked at a bar-mitzvah dress shop growing up in New Jersey, and said she "definitely helped sell a few Hervé Léger dresses" there as well.
At a cost of over $500, the bandage dress in particular can be prohibitively expensive for adults, let alone teenagers, but its steep price tag helps make it a status item. I would have named my firstborn Hervé for the opportunity to wear one when I was in high school. Now, enough time has passed that used bandage dresses can be found on the RealReal for a fraction of the price, and as people are starting to go out again, body-con is coming back in style. When the Strategist polled 100 teens last year about what they were buying, the most popular style of top was a corset.
In the past year, the RealReal says it saw a 16 percent increase in people purchasing Hervé Léger, and demand is picking up in 2022 as well. In February, searches for the brand rose 119 percent, compared to the same time last year, and purchases were up 67 percent in the first two weeks of the month, compared to the last two weeks of January.
"People are rebelling against the practical comfort dressing that's been their uniform for the last few years," said Noelle Sciacca, head of women's editorial at the RealReal. "They're dressing up and going out, opting for both skin-baring and body-con styles. Couple this with the fact that iconic Y2K-era trends are at the height of popularity."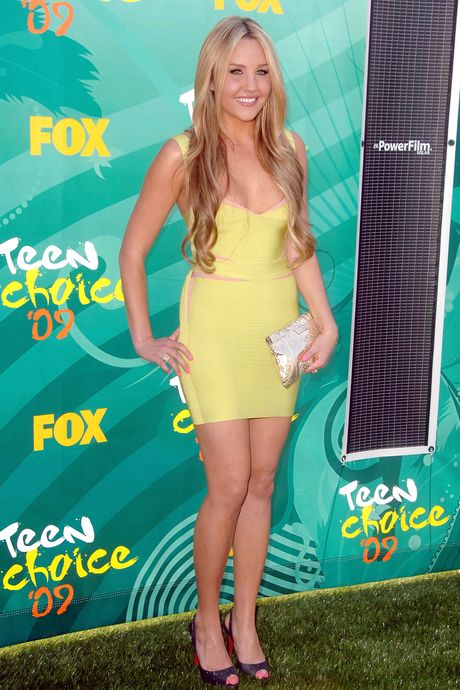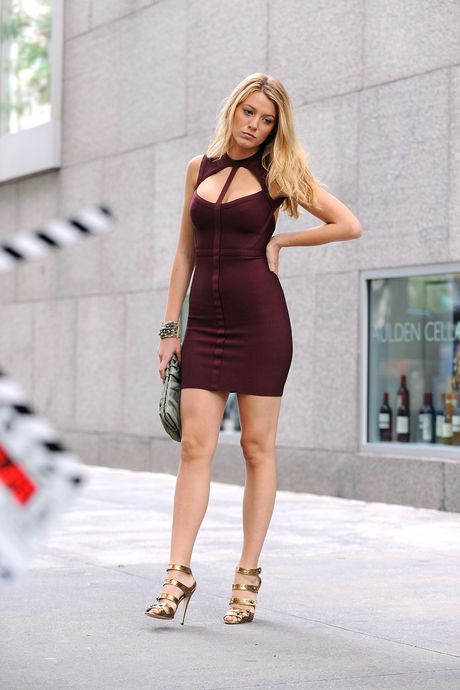 After its heyday in the early 2000s, the bandage dress went out of style along with trucker hats and low-rise jeans, and "going out" in general began to look more casual. In 2017, the BCBG Max Azria Group actually ended up filing for bankruptcy, and Hervé Léger was purchased by Authentic Brands, which fittingly also owns Juicy Couture and Aeropostale. Since then, the company has worked to bring the brand back to life (again), appointing designer Christian Juul Nielsen as creative director in 2018. His presentation during New York Fashion Week was his biggest yet.
"When Hervé Léger reached out to me, I was intrigued because it was a brand with a history," Nielsen told the Cut. "How can I update that? How can I go in and take something that's almost classic and make it into something new?"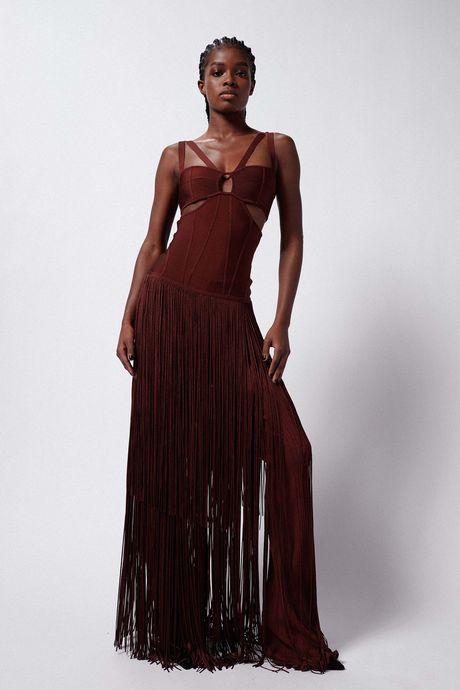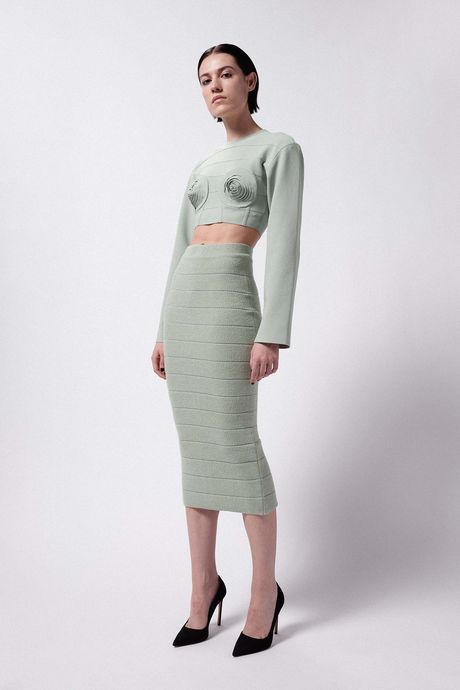 First, he started by looking at the archives. Photos from the '90s of Karen Mulder, Helena Christensen, and, of course, Cindy Crawford were all over his mood board. "That was really what I said yes to, because I can see that kind of style being relevant again — that mid-'90s style of miniskirts and healthy, beautiful girls," he said.
But he also wanted to update the brand's "sexy mummy" thing by using different fabrics and introducing new silhouettes. Some of the fall bandage-style looks, for example, were made with mohair instead of a viscose blend, giving them a more comfortable, luxurious feel. He also dabbled with nylon fringe, which allows more movement than the traditional bandage dress.
"When I work, I try to think about girls who I know, girls who I hang out with and socialize with," Nielsen explained. "I think about what they like to wear when they go out. Girls love fringe! It's fun! So, that's step one. But how can I make sure that she looks cool and relevant in a fringe dress, and not like a dated Boomerang shot on Instagram?"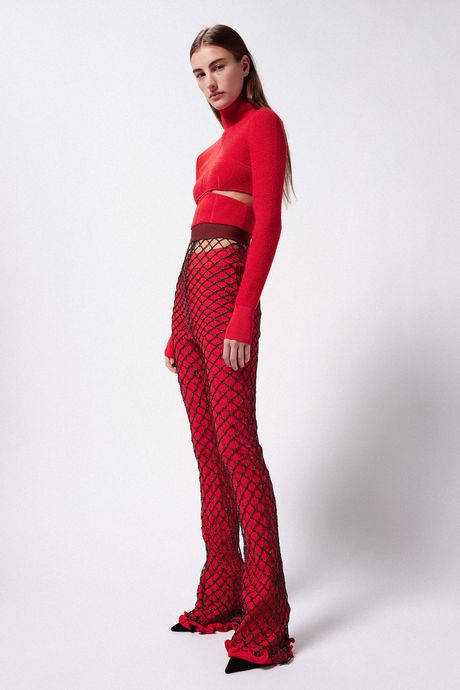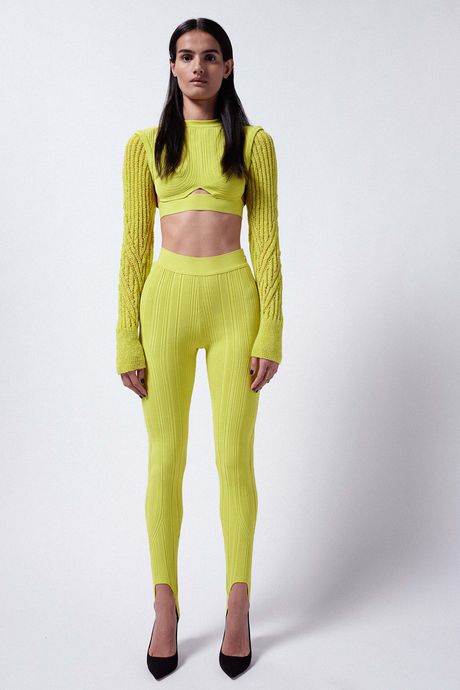 One way Nielsen has updated the Hervé Léger silhouette is with — gasp — pants! Really, really tight pants. (So, leggings.) He styled them as a layer underneath dresses and skirts, and designed some trendy bike shorts as well.
The collection certainly looks more modern, but can it compete with the hype of new body-conscious brands like Nensi Dojaka, which won the LVMH Young Designer prize last year? More importantly, can the modern woman actually live and breathe in an Hervé Léger today? Nielsen says his garments aren't as restricting as they may have been in the past. "I mean, I can squat down in this," said Sports Illustrated model Olivia Ponton, who wore green pants and a crop top, and demonstrated for me in case I didn't believe her. Lea Michele also said she wore Nielsen's bandage dresses when she was pregnant last year and found them to be supportive. But the brand's sizes only go up to an extra-large, and I'm not entirely convinced that even today's bandage dresses would allow me to properly digest a hamburger. When my friends got me a vintage, neon-green one from the RealReal as a birthday gag gift last year, I had to return it because I could hardly move.
Comfort has never really been the raison d'être of an Hervé Léger, though. The bandage dress is designed to make you look and feel hot, and for the five seconds I had a vintage one on, I felt like a very different, very sexy person. I took approximately one million selfies and posted one to my "Finstagram." And then I took it off and felt even better.