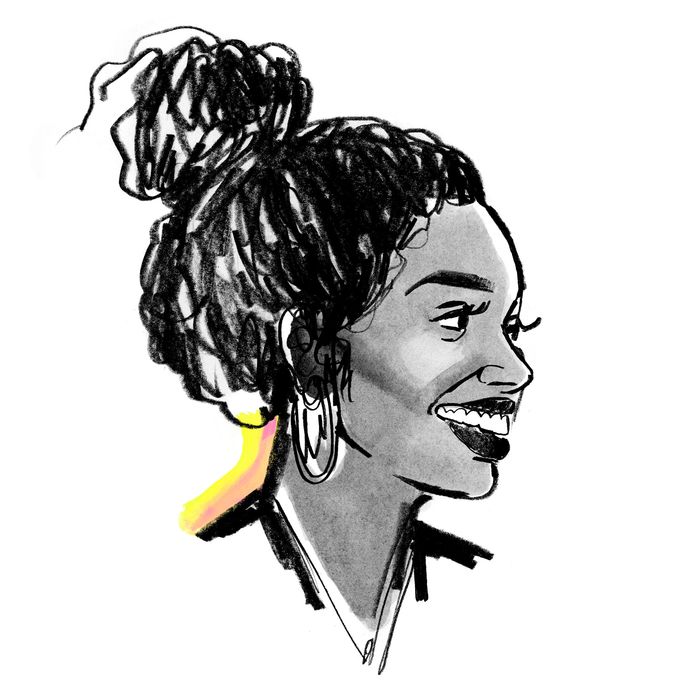 Illustration: Lauren Tamaki
While the value of venture-capital investments in the United States adds up to almost $548 billion dollars, Black women start-up founders receive less than a single percentage point of that funding. Arian Simone is looking to change that as the president and chief executive officer of the Fearless Fund, which is the first venture-capital fund built by women of color for women of color-led businesses that are looking for pre-seed, seed-level, or series A financing.   
An entrepreneur herself, as well as a philanthropist and author, Simone was pursuing an MBA at Florida A&M University when she decided to launch her first business. After graduation and a move to Los Angeles, she landed at Nelly's Apple Bottoms fashion brand, her first foray into the world of retail. But after the company was sold — which dried up Simone's funds since she lost her main source of income — she had to live in her car while working to find her next job. Though that hardship threw her off balance, she leaned on her business acumen and decided to launch her own marketing strategy and publicity firm, AR PR Marketing in 2016. And while starting to rub shoulders with people in the venture-capital space in 2016 and 2017, she was determined to become the investor she wished she'd had when she was younger, and launched Fearless Fund in 2019 with business partner Keshia Knight-Pulliam. Simone keeps a gratitude list on hand at all times to remind herself of all she's overcome and that nothing is impossible. 
Having just teamed up with Tory Burch Foundation and The Cru to launch a new program that will ​​award grants ranging from $10,000 to $20,000 to 150 women-led small businesses, 2022 is already off to a major start for Simone. She hails from Detroit, but now calls Atlanta home. Here's how Simone gets it done.
On her morning routine:
I usually wake up between 6 and 7 a.m. I am a woman of faith, so I spend my mornings with God by praying, reading scriptures in the Bible, and meditating. I am also working out most mornings. I believe you set the tone for the day when the sun comes up. I'm not a coffee person — I stopped drinking coffee when I was 19 and I just had my first cup again in 2021, believe it or not. I'm more of a tea person, but I don't have it every day. I do four cold breakfasts and three hot breakfasts a week. A hot breakfast is pancakes, bacon, and eggs and a cold breakfast is usually a yogurt parfait with granola and fruit.
On the work that keep her business running:
There's no typical workday for me, but there are some things we do every day. As we run a financial institution, I'm always checking on the money and I'm checking in with our team all the time. I'm overseeing the team leader who manages our entrepreneurs and seeing what resources are needed for them. I'm taking meetings with potential investors and taking pitch meetings with companies who are looking for funding from the firm. We also run a foundation, and I talk to our legal team every day about due diligence, fundraising, strategy, and so much more.
What she loves about her job:
We're making history here. We're the first venture-capital fund that is built by women of color for women of color. So I love that we're in the space of bridging the gap for Black and brown women founders. Women of color are the most entrepreneurial demographic, but they're the least funded. So taking a part in racial equity and making this world a better place is one of my favorite parts of my work.
On her work's biggest challenge: 
The challenge that comes with this industry is capacity, because there's always so much going on. The way funds work is there's a management fee, And with a smaller fund size, the management fee is also smaller. So you're trying to do as much as you can with a lean team. As we grow, that won't be an issue, but in the immediate it's definitely a concern. There's also racial bias and racial disparities in the industry as a whole. And even on the check-cutting side, the industry is 80 percent white men, so there are very few Black women who even do what I do. Coming up against the disparities is real and we're here to make change.
On how she staves off self-doubt:
I always keep my previous successes in mind. "If you did that, you can do this," is what I tell myself. I can remember all of the things I've overcome and I can go back and review them. I've come from a past when I've had to live in my car, so I've learned a lot in my life. I keep a gratitude list right next to me and I'm big on staying in that mindset.
On her motivations:
I am an ambitious person, but I'm also driven by purpose and legacy. So I always ask myself whether or not something is in alignment with my purpose before pursuing it. I do believe I've been placed on this earth to help others' dreams come true and be amplified, while also running a lucrative business. How this manifests has looked different in each season of my life, but that has been a consistent motivation. When I think about my evolution and growth, I'm very focused on what I want to be known as, what impact I'm having on people, and my influence. I'm a big believer that we are here to serve others.
On how she defines relaxation:
I love to watch a good movie or show and hang out with my friends to unwind and unplug. Our Kind Of People is a series I've been loving lately, and it just so happens that I'm reading the book at the same time. I have a very active social life and I don't believe in anything taking away from that. I recently hosted the prince and princess of Ethiopia here in Atlanta with a big party. I also take time out for myself. I'm not one of those "team no sleep" people: I don't think that's healthy. I get my rest and I travel. When I travel, it opens my mind up to so much creativity and new perspectives around life and experiences. That's truly a joy for me. I'm planning a big trip with my family to the Vineyard as we speak. And in my neighborhood on Tuesdays, we all eat dinner together and take turns cooking and hosting.
On advice for others that are looking to start their own VC fund:
Build from the top down if you're looking to create your own fund. Get your advisory council first, because you're going to need the guidance of others and someone to help you through the process if you're doing this for the first time. If you're looking to invest in businesses, you don't always have to go to the newest and hottest startup, because you probably already have a friend or relative who has a business, and you can be their angel investor. Also, make sure to get involved in some of the networks and associations that exist in the industry.
On what she'd tell her younger self:
To go with the flow. Me having that ambitious nature and running a business while in college, I didn't have to do that then. I could have waited until I graduated, even though it's true that some of the most amazing businesses come from college students. It would have been great for me to have given myself that grace though. I've always been an "I have to get this done" kind of person, but I realize now that I can just move completely in alignment with the universe. As long as you're moving forward, everything will come to you.
On her hopes for the future of venture capital: 
I desire to see more capital and more funds in the hands of Black and brown people. The more empowered check cutters we have, the diversification will change by default. People in the industry are networking and spending time with the people who they're already around the most. And if that environment is predominantly white men, then theirs will be the businesses that you hear about the most. It takes looking into other demographics intentionally to make change, which means going outside of your immediate environment.
On what she still would like to accomplish:
I still desire to get married and have babies. I want to build a family. And professionally, this is only the beginning. This is just the first fund and I hope to have many others down the line. I don't really measure things by years anymore, because I'm focusing on decades. That's in an effort to give myself grace. I do believe 2022 is going to be much bigger for me than 2021, but how that's going to look? I'm not sure, if I'm being truthful. I just know things are growing rapidly and I want to continue reaping the rewards and bearing witness to their existence.