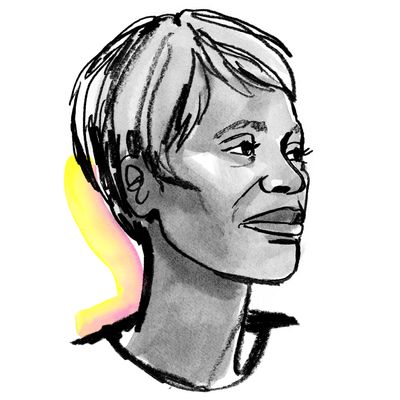 Illustration: Lauren Tamaki
Dawn Davis is the editor-in-chief of Bon Appétit and Epicurious. Born in Los Angeles, Davis started her career in investment banking before making the switch to publishing. Prior to joining Bon Appétit in 2020, she was the vice-president at Simon & Schuster, where she founded and published 37 Ink, an imprint focused on amplifying diverse voices. She is also the author of If You Can Stand the Heat: Tales From Chefs and Restaurateurs, featuring stories from Edna Lewis and Anthony Bourdain. Here's how she gets it done.
On her morning routine:
The first thing I do when I wake up is spend about five to ten minutes doing some kind of crossword puzzle. It can be Spelling Bee or the New York Times crossword puzzle (I am not into Wordle yet). It's to wake up the brain cells. Then I walk the dog and grab a triple latte somewhere. I have two teenage boys, so I manage all the chaos that can entail.
I do not eat breakfast. Every once in a while, I'll remember to get a banana. I'm just not hungry in the morning. In my dreams, I would be eating one of those delicious Scandinavian crackers from Fabrique with some cow's-milk cheese on top for breakfast, but that happens once every two months. By 1 p.m, I'm famished. I can eat a whole baguette with olive oil before the first course.
On her email strategy and boundaries:
I'll check emails en route to work. I prepare emails in the evenings. I'll finish a work day, go home, make dinner for the family, and then think through some additional solutions or have some questions. I'll compose those emails but have them send in the morning. I don't think that team members need to be hearing from me at eight o'clock at night.
I've never had a nine-to-five job. I feel like if you're counting the hours of your job, you're probably in the wrong job, right? You should love it so much you take breaks to live. I firmly believe you need the time to regenerate and to be creative. You need some downtime; that's where the ideas come from.
I'm not an inbox-zero person. I don't think there are enough hours in the day. I try to be a zero-Slack person every day with no un-responded-to Slack messages.
On how she manages her schedule:
I try to print it out every Friday to think about what's ahead and what I need to do to prepare. I run two brands, Epicurious and Bon Appétit. We have print for Bon Appétit as well as video and digital and podcasts, and Epicurious is video and digital. At any moment, one of these initiatives will have something that is a priority. I have a great team that helps me prioritize. At the end of every day, my assistant and I will go over the to-do list and figure out what things we can cross off and what things we need to carry on to the next day.
I like to have time on the calendar when people can see me on the immediate team. We call those my "office hours," and that's always free every day for half an hour. We also try to book at least an hour where I'm not responding to email and am actually generating ideas. Then we try to keep Fridays as a time when I can listen to outside pitches and outside collaborators. It's important because otherwise we can get in a loop of responding to each other.
On her after-work life:
After work, I go home, walk the dog, and hang out with family. But this job also requires a fair bit of being out and exploring what's new in the restaurant world. Whenever I can do it safely, I try to go out a couple of times a week and then on the weekend. It's a balancing act as all working moms know. Just the other day, I went to my old stomping grounds at Rockefeller Center, and I was so pleased to see all the transformation. I went to Lodi, and they have a great charcuterie and this delicious dish with ricotta, which was just perfect. Chef J.J. Johnson has opened up something called Field Trip, which he also has in Harlem.
On cooking and planning food for the week:
I particularly love to cook on Sunday. I like to not only make a big Sunday meal but something we can have midweek that makes it easy to come home after a day of work. I like to make pasta sauce or a pot of beans which can be used throughout the week. I'm a big soup person in the winter. I have a newsletter called You've Got Time for This where I search the archives of BA and Epicurious and look for recipes that don't require a lot of effort but the payoff is superbright and delicious. I may cook two or three recipes in a month to arrive at the right one for that column. Recently, Chris Morocco, director of our Test Kitchen, made a recipe for roast chicken with leeks. You just place it on top the bed of leeks and all the schmaltziness of the chicken really caramelizes them and makes it so delicious and easy. It's literally one pot. I made it the other day during football playoffs and it was so good that a friend asked if I could make it again.
On how she manages stress:
I love being out in nature, particularly when the weather is warm. But even the other day in the snowstorm, I went up to Central Park and walked through the park. I've been hiking all the different parks and land reserves in Martha's Vineyard. I also love playing tennis. I find it just so freeing to try to hit a little green ball.
I love reading, and I love listening to books on tape or podcasts. I've been listening to a lot of food podcasts since I started at Bon Appétit such as The Splendid Table and The Food That Built America. And I love listening to Toni Morrison read her own work on audio books, which has been really energizing.
I was a book editor for years, but now I'm reading more cookbooks. Right now, I'm reading a galley of Nicole Taylor's book on Juneteenth and other celebrations called Watermelon & Red Birds (that comes out in May). A former colleague sent me a book called Lessons in Chemistry about a woman chemist who stumbles upon a successful cooking show and becomes, without even trying, a wonderful host. I'm also reading Andy Baraghani's book, The Cook You Want to Be. Also Hanya Yanagihara's To Paradise. 
On when she felt like she made it:
I love it when I hear that the content is resonating whether that's a recipe or perspective on food or even a travel story. Or when people say, "Oh, I ate there. That restaurant was perfect." I feel like we are doing what we set out to do, which is to be a trustworthy source for information around food recipes and people in the restaurant industry.
This interview has been edited and condensed for length and clarity.