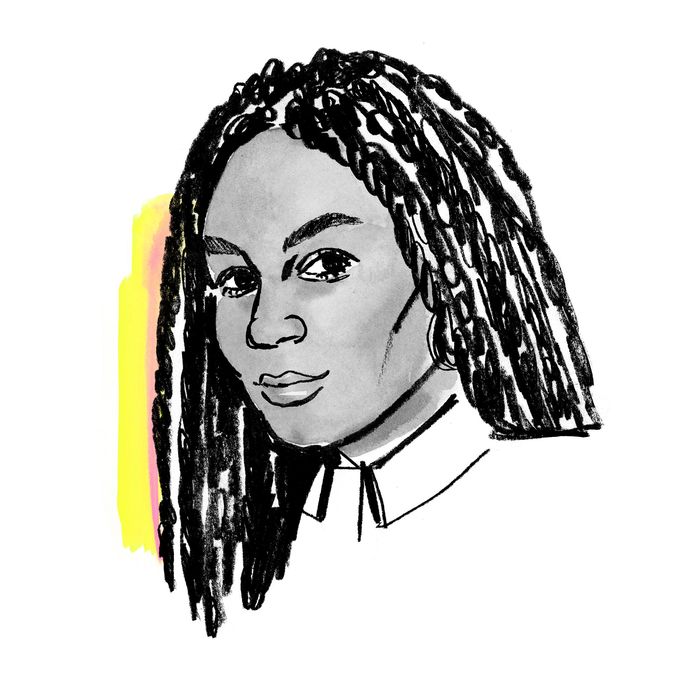 Illustration: Lauren Tamaki
You'd think that spearheading creative marketing campaigns for Netflix would leave a person with very little time to devote to their passion projects. Not so for Nia Lee, who in addition to leading 360-degree marketing campaigns at the mega-streamer is a chef and performance artist. There's Stormé Supper Club, a radical dinner series created and run by Lee, which centers Black queer women, femmes, and gender expansive folks. The Los Angeles-based club is named after Stormé DeLarverie, a queer trailblazer and drag king credited with throwing the first punch at Stonewall. Then there are projects like the "Black Joy Matters" billboards that emerged around L.A. in 2021, which Lee came up with to highlight Netflix's final season of its original series Dear White People while simultaneously sending love to Black folks in transit. Lee's plate may seem stacked to the point of exhaustion, but for her, these most fitting endeavors energize and nourish, rather than deplete. Here's how they (Lee uses they/them and she/her pronouns) get it done. 
On their morning routine:
I have a general flow and some non-negotiables that I always do. On a typical morning, I'll wake up around 6:45 a.m. and immediately chug a large glass of water. Then I do some sort of physical activity, like going for a short hike with my dog, Miles Davis, around Griffith Park, or some strength training. I love doing my dance/twerk workouts in the morning from these awesome twins on YouTube whose channel is called and8 Fitness. On a spiritual level, I think dancing wakes up your sacral chakra and gets you grounded for the day, so I really look forward to it. After the workout I do some sort of mindfulness practice.
After that I'll shower and get ready for work. I always listen to something while I shower. It's usually a food or culture podcast, but recently I've gotten into listening to old pieces from my favorite Black and brown creatives. There's something really powerful about listening to those archival recordings. It reminds me that I'm a part of a long, amazing lineage of creatives. I listen to Toni Morrison's old talks, and Maya [Angelou], Octavia Butler, James Baldwin, and others. There's so much there.
On advice she'd give her younger self: 
I would definitely tell my younger self to not internalize so much and to not take things personally. I really used to hold the criticism and marinate in it. I'd ask myself, How can I be perfect? But now I would tell my younger self, Nooo, just do the thing. Don't take it so personally, it'll all work out in the end. It always does. As I've gotten older, I see there's so much more power in just doing the thing instead of being perfect.
On staying present:
I did a ten-day silent meditation retreat in India the week before the pandemic started. It completely helped me reset into a true mindfulness practice, which now plays a big role in my daily life and creative practice. It's something I do every day and if I don't, my partner and my team probably feel it. The practice, called Vipassana, is a tradition focused on equanimity and finding your center. In our daily lives we have such high highs and low lows, but we should all be trying to stay more centered. I often think about how I can show up in a more balanced way. Ten days in silence and solitude does something to how you think about time. And I think that really helped me prepare for the pandemic. The lesson that came out of that experience was this idea that all of this is temporary and it will pass. When things are not feeling as great as you'd like them to, it'll pass, but also some of the really great things that you're experiencing will pass, and that's okay. Because the goal is truly to live in the present, and remember to take it all in.
On exploring a variety of creative practices: 
I think there's enough time for the right work, for the transformative work. These practices complement one another and ultimately ground and energize me. It's been difficult at some points, but I just remember that I am also doing this in service to my ancestors and the larger diaspora. I often think about who is coming up behind me and how they can look at this work and find inspiration. I'm always reminded that I am supported and that I am working towards something bigger than myself and hopefully towards something that will help future generations while also highlighting the past generations that got me here.
On coining "Black Food Futurism": 
I am a self-taught chef and artist, who studied Africana Studies and Gender Studies at Rutgers. I was thinking about all of my interests and wondering where I should focus my efforts. Instead of choosing one lane I decided to play in the intersection of these seemingly disparate areas of practice. I became really excited by this notion of combining historical Black food traditions, contemporary art, and culinary art, and I think that's ultimately where the future of food and art is going. I see a really important future there, and that's what birthed the term Black Food Futurism. This idea that all of these things are not separate, but are all in conversation with each other and can create really interesting experiences and spark important conversations for audiences and participants. I'm really thankful for this work, and really thankful I was recently awarded the University of Southern California Annenberg Civic Media Fellowship to continue it.
Ultimately, I see so much of my work as installation and am inspired by the likes of Rirkrit [Tiravanija], for example, whose piece titled "Untitled: Free" explored new ways for the viewer to interact with and create contemporary art by serving people rice and Thai vegetable curry in a gallery space. The experimental, installation dinners that I'm doing are directly tied back to my heritage as a Black American in this country and my identity as a queer person. I think there's so much to explore there. My work honors the past while inviting us to imagine and create what the future tastes like. What worlds will we introduce ourselves and our palette's to when we cook for a future that only exists in our dreams?
On setting work-life boundaries:
I really enjoy working from home. I think as a Black person it gives you a flexibility and a level of exhale that sometimes may be difficult to get at a large-scale office. Before the pandemic, I was always available and that meant that my calendars were always booked up. It was ridiculous. Blocking time off on my calendar and being able to step away and make lunch is a relatively new thing for me and it's completely changed my energy levels and how I engage with work.
I also will not sleep with my computer in the bedroom. I just feel like I feel the energy of the computer when it's there so I'll literally just stick it outside the door if I don't feel like taking it to the living room.
On their nighttime routine: 
One of my 2020 goals was to learn how to do a handstand and my partner was nice enough to buy me a handstand assistant. I'll do a handstand almost every day, and the more stressed I am the longer I'll stay in it. I've had full-on conversations and have even taken phone calls in a handstand!
I got really into skin care during the pandemic and always do my skin-care routine, usually while listening to something or watching something on my phone like Red Table Talk. I also always use a lavender-melatonin pillow spray. Sleep is super important and I love making bedtime feel as luxurious as possible.
And then, I always finish the night off with a book. I'm reading three books at a time. I love Dear Senthuran: A Black Spirit Memoir by Akwaeke Emezi and The Other Black Girl by Zakiya Dalila Harris. And then my friend, who is a dominatrix, just gifted me with Coming Out Like a Porn Star, an anthology edited by Jiz Lee. It's a wonderful anthology with different essays by sex workers. It touches so beautifully on different aspects of shame and how people have worked through it in their own lives.