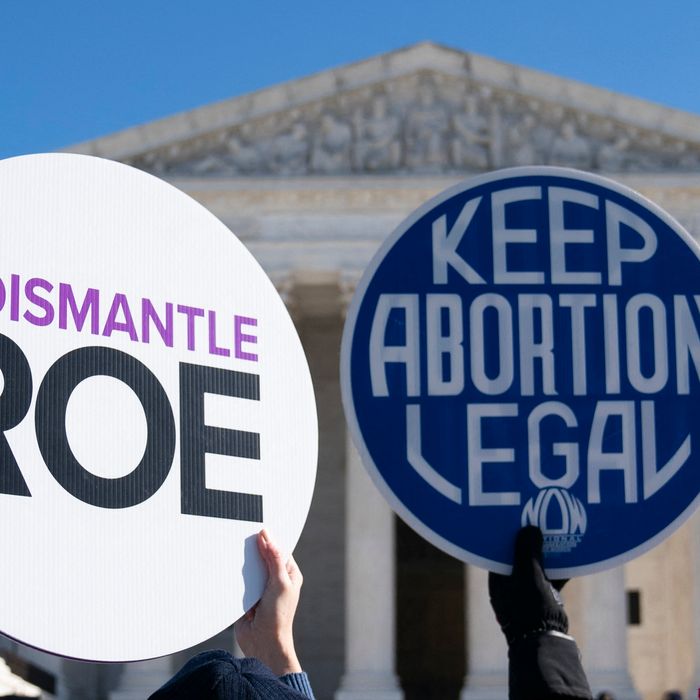 Photo: ALEX EDELMAN/AFP via Getty Images
As we wait for the Supreme Court to determine the future of Roe v. Wade, the 1973 decision that protected a woman's right to abortion access up to 23 to 24 weeks, states across the country are introducing alarming anti-abortion bills. The Washington Post reported in late January that, in 2022, at least 29 states had already started filling bills that would limit abortion access. Oklahoma is one such state.
The Oklahoma legislature is currently gearing up to consider a whole batch of anti-abortion bills, including one that would ban abortion after 30 days and another that would essentially track people in the state who consider getting an abortion. This surveillance attempt — Senate Bill 1167, introduced by Oklahoma state senator George Burns and called the Every Mother Matters Act — would reportedly create a government-run database that would track pregnant people looking into abortion.
According to the seven-page bill, EMMA would require pregnant people to call a hotline to receive counseling from a "pre-abortion resource." This "resource" would not be able to provide any information on abortion or refer the pregnant person to any abortion resources. However, they would be able to provide a pregnant person to a "pre-abortion resource access assistance offer." Per Senator Burns's official press release on the bill, this assistance offer would include "an assessment of eligibility and offer assistance in obtaining support services, other than abortion, for her or the unborn child's biological father." The services, per the release, include housing, health care, adoption services, and financial aid.
One thing Burns does not address in his press release, however, is the surveillance aspect of the bill. According to HuffPost, under EMMA, every person calling the hotline would be given an identification number, which would then have to be checked by any abortion-care provider. Though the number would, supposedly, not be linked to any other identifiable information in the database, the bill still requires that documentation detailing the receipt of access assistance be in a patient's file before the procedure. So, in a person's file — which would, one assumes, include their name and other personal information — would be documentation that identifies them via their EMMA number. The bill further requires that this documentation remain on file for seven years, thus potentially creating a database of women who receive legal abortion care.
To make matters even more complicated, Oklahoma recently saw a surge in people needing abortion care after Texas's restrictive anti-abortion law S.B. 8 was passed. As detailed in a September article from the New York Times, that Texas law has forced people seeking care to cross state lines, with many women going to Oklahoma. It's unclear how this law would affect people from out of state.