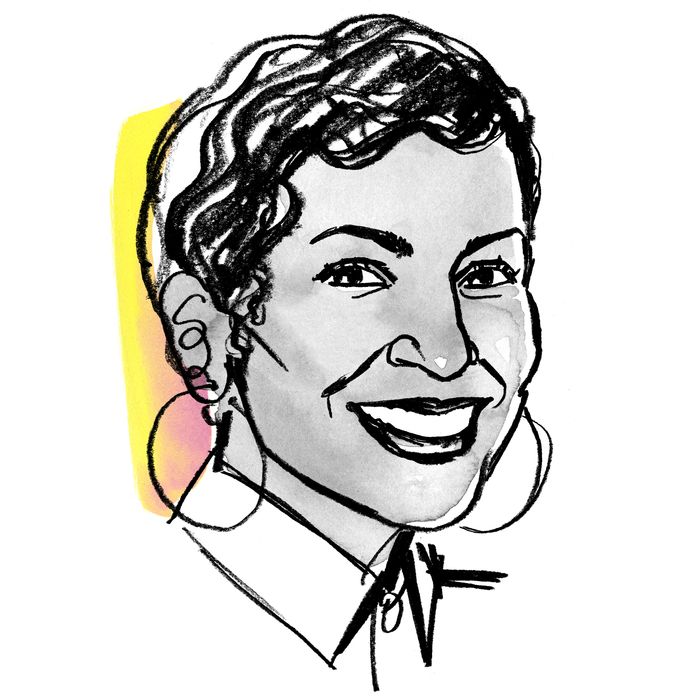 Illustration: Lauren Tamaki
It's not an exaggeration to call Talitha Watkins a powerhouse. Watkins currently serves as the President and Head of Management for Color Creative Management and Production, a standalone talent management company within Issa Rae's HOORAE Media Group. She began her career as a marketing executive, but when she beat out 700 applicants to be Universal Pictures' first-ever Multicultural Marketing Executive in 2010, her career trajectory took a turn — she found herself among the ranks of Hollywood's premier power players. 
Day-to-day, Watkins runs lead on deals that have created stars and produced projects you know and love, but more than that she is part of the elite executives who are influencing our culture. When we talk about "being in the room" and "having a seat at the table," Watkins, a Black woman of Jamaican descent, her mother a hardworking single parent, is in those rooms and at those tables advocating for Black narratives to be part of the universal canon of brilliant storytelling. 
Along the way she's learned imperative lessons on negotiating, setting boundaries, and how to wield the "unfair competitive advantage" that has given her power many can only dream of. She offers an insider's counsel that could one day fill the chapters of a book, a blueprint showing young women how to win big. Although Watkins is well on her way to becoming a seasoned Hollywood veteran, she still abides by a mantra she learned early in her career: "do no harm, but take no shit." She lives in Los Angeles with her daughter. Here's how she gets it done.
On a typical morning:
I've become pretty strict about my morning routine, and the only way to do that has been to get up earlier and earlier. Now I'm up at 5:30 a.m. I start by thanking God, praying. I do yoga, I meditate. Sometimes I'll go for a run if I don't have an early meeting. But pretty much that's it: pray, yoga, meditate. I don't do breakfast. I'll have a shake or a green juice.
On how she manages stress:
Through my spiritual practice. I'm always looking for ways to distract the mind from that self-talk. I've gotten into learning more about energy work and alignment. I'm curious about energy, because that's what stress is — it's holding energy. When I was growing up, my mom had an ulcer. She did a lot as a single mom and immigrant. I never saw her "sweat." I definitely saw her stress, but now I know she held it in, because she had an ulcer.
What she's reading right now: 
Save the Cat, one of the essential writer's guides. It's a book about screenwriting from a well-known screenwriter. I've read it once before, but I went back to it because I've been recommending it to a lot of clients. I'm also reading Will, Will Smith's book. I just love how intentional he is. It's interesting to see how he practices his life. I try not to follow too much of the drama of it all.
On a standard workday:
My day is really driven by my schedule. So if my assistant (they're the unsung heroes in our business, assistants) has worked hard to cultivate back-to-back conversations, that's when I know I'm jelling, because everything is flowing towards completion. I like to think of my week as a rollercoaster. Monday I'm like tick, tick, tick, tick, by Wednesday I'm at the top, and Friday I want to be getting offers in and closing deals.
On the challenges of her job:
I try to tell people: if you're uncomfortable with confrontation, this job is going to be hard. As a representative, we deal with hard conversations every single day. We often have to tell someone "No" or "We're sorry." We're oftentimes dealing with the bad news or the hairy parts of a deal that protect our clients from having to deal with it themselves. So we have hard conversations for a living. I'm a fixer.
On her career trajectory:
Most of my career I spent as a marketing executive, mostly in TV, then in film. My film experience at Universal coincided with a time when more producers were getting opportunities through companies like the American Black Film Festival. I was the very first Multicultural Marketing Executive at Universal Pictures. That gave me a very interesting purview. My job was literally to make sure Black people knew about our movies, but it became mission-oriented, which most of my work does, because I wondered, how do I empower Black media in this process? How do I empower Black creators as digital and social are getting bigger? So then I got more into the creator business. I ended up producing a film at Universal as a marketing executive. I wanted to do that more. So I went to the agencies to help producers get more films made that told our stories.
I loved it and probably wouldn't have left CAA, but there's something about Issa's focus. She never changed her story. It's evolved, but it's always been like I'm voting for everybody Black; that purity of mission, that really clear vision — it's inspiring. When we started working together, mostly I was advising her on this business. After several months of conversation she said, "Would you come and run this business?" It was after George Floyd, after Amy Cooper, after COVID. It was that if not now, when? moment.
On the moment she felt she'd "made it" professionally: 
When I got to be an Essence Black Woman in Hollywood. I was like, this is it. Essence, thank you so much for making that space for us. I knew not only people who were invited on my level, I knew the people putting it together, I knew the senior executives, I knew some of the talent being honored. I was like, oh, wow that's the feeling of when you belong in the room. I wasn't in that room thinking, I don't know who to talk to or what to do. I got so much business done on that day. I was like, I want to do this all the time.
On how being a Black woman has worked in her favor at work:
I came up in that time when they were looking for a translator. So being that double minority I think truly helped me become the first multicultural hire at Universal Pictures in the company's history. I think it did help that I was a woman. I busted my ass to get that job, so it wasn't just about that. Being able to be a translator, but you know, obviously translating too that we're not a monolith.
On circumventing micro- and macroaggressions: 
You can't. That's what I've learned and what we've learned collectively as a more woke industry: you can't avoid them, there's not a single solution to a deeply rooted systemic problem that's created microaggressions. The best way I've found to circumvent the microaggressions, to keep them from getting deeply rooted in me and affecting my work, is by calling it out immediately. I remember telling a senior colleague, "You can't call our client articulate, what are you doing?" He was like, "Why not?" And I had to explain to him the history behind it. I used to call it "the unfair competitive advantage," because it was unfair to a lot of people that I could talk to [someone so high-ranking] that way. But I'm the competitive advantage, because now he's not going to walk into a room and put his foot in his mouth.
On ambition:
I have so many big dreams and goals. And I don't want my ambition to crush me. You know how when a building is getting painted it has scaffolding around it? Sometimes I feel like I need scaffolding to hold me up. I call that scaffolding my friends and advisors.
On discussing money:
I've become way more comfortable talking about money. I have a Jamaican mother, she was a single mom; I grew up with a lot of "don't be a burden." For me that translated to "don't ask for what you need." When I got to CAA, they trained that the hell out of me right away. I knew how to communicate, but I didn't feel like I knew how to communicate the money thing. I ended up negotiating a lot of my first deals because I hadn't cultivated as many relationships yet. I also felt like there were things that I had to personally fight for. When you're representing Black women and you have to make a case for why they may need a wig for this role and that means that you need to hire a new technician specifically for them, that can't be communicated by someone who doesn't understand the microaggressions that happen when you're a Black woman.
On how she celebrates a win at work:
Loudly! I scream. I love to send gifts to everybody involved. I like to give praise to everybody who's in the process. I was told once that when you're climbing a mountain you have to celebrate at every summit. You can't just wait until you get to the top. So I have many celebrations along the way, so that when we come to the end we can recap and really revel in it.
On being a working parent:
[My daughter] was born during my first year as a marketing executive. She came into my life at an unexpected time, but she completely made me a better everything. Now I'm thinking about what the moms need. It opened my aperture. It requires a lot of balance, and she made me good at setting boundaries, because I co-parent with my ex-husband. In doing that, it required me to be like, when I have my time with her, I have to focus on that. But when she's with her dad, I can go hard in the paint.
On maternity leave and navigating the return to work:
It has not evolved since I was a new mom. I got lucky and I was very fortunate to work at Universal. We had a childcare facility on the lot. It was expensive, but it was subsidized, so every employee was able to get in at a certain level. I felt very grateful for it.
I found out I was pregnant six weeks after I took the job. So I was a newbie and here I am going out on maternity leave and how dare I and I should be grateful for this job. I felt 100 percent undermined, challenged, and pressured to get back. And completely isolated from the larger group. I was one of the first women in the group to have a child. So it was interesting to watch how, after me, the culture started to shift a little.
On winding down at the end of the day:
I try to watch new TV every week, because that's where I see what writers and directors are doing, because TV's such a collaborative sport. So it helps me keep up on what people are doing.
I always listen to The Daily and Up First podcasts. If I don't get to The Daily in the morning, then I'll listen to it later. I like Jon Stewart, so I'm watching his new show, The Problem with Jon Stewart. I'll watch ESPN, because I like sports highlights. And movies! I love movies. I love a beginning, middle, and end.