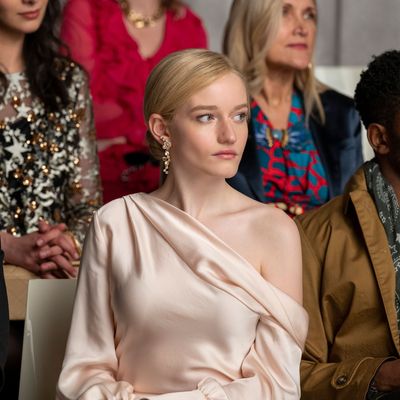 Julia Garner as Anna Delvey in
Inventing Anna.
Photo: DAVID GIESBRECHT/NETFLIX
Some wealth announces itself loudly with logos or the unmistakable shape of a Birkin bag. Some wealth slips past discreetly. Michal Kurtis, a luxury-fashion consultant, knows of shoppers who will spend $100,000 on clothing from the Row that's barely identifiable to the untrained eye. Clothes like these are a secret language, communicating wealth only to those in the know.
The project of appearing wealthy is at the heart of Inventing Anna, a new Netflix show based on Jessica Pressler's New York article about Anna Sorokin, who conned Manhattan's elite into believing she was a German heiress named Anna Delvey and landed in prison for grand larceny and theft of services. For Anna, an image-conscious con woman, high-end style is essential to securing that access.
Larry Curran, director of digital personal styling at Saks Fifth Avenue, is well versed in the art of outfitting the ultrawealthy. He fields requests from clients who want an item moments after seeing it on Instagram, and he knows their schedules months in advance, including what galas they'll be attending, what speaking engagements they've booked, and where their yachts will be docked. Some clients rely on him only for event dressing, while others talk to him daily, soliciting recommendations for toothpaste and home architects. During the couture shows in Paris, he accompanies his VIP clients to designers' runway presentations and later to the showrooms, where they examine the clothes up close and discuss fabrication options: which colors look best on the client, which colors won't appear in stores but are available to a few select individuals. Then they place an order, and roughly six months later, Curran's clients receive their made-to-measure designer creations.
Looking wealthy goes deeper than what you wear, he told me. It's in the details. It's about knowing a certain high-end papermaker in Venice. It's about not merely having a preferred bottle of wine but having been to the vineyard. It's about wearing a white silk suit on a rainy day in New York because you have a driver to ferry you through the gray slush. "It kind of permeates into every facet of your life," Curran said.
That includes grooming. "People who have a lot of money, they go to the good salon. They use the best skin care," said Brenna McGuire, the makeup department head on Inventing Anna. Her priority was making sure that star Julia Garner's skin looked flawless and glowing — she used Tatcha and Koh Gen Do products — especially later in the series as Anna hits her stride among the Wall Street bankers and old-money doyennes. "You don't need to wear a lot of foundation if you have a $600 facial every couple of weeks," noted McGuire.
Hair department head Esther Ahn created a variety of wigs for Garner that reflected Anna's upward swing and attending attention to hair quality. In a bid to be taken more seriously as a businesswoman, Anna dyes her youthful blonde hair a flat red shade, which Ahn upgraded over time, signaling the character's move from at-home dye jobs to professional treatments. Ahn added more subtlety and nuance to Anna's color while moving her styling in an increasingly undone, effortless direction. When Anna ends up in jail, of course, her red hair fades to a dull brown.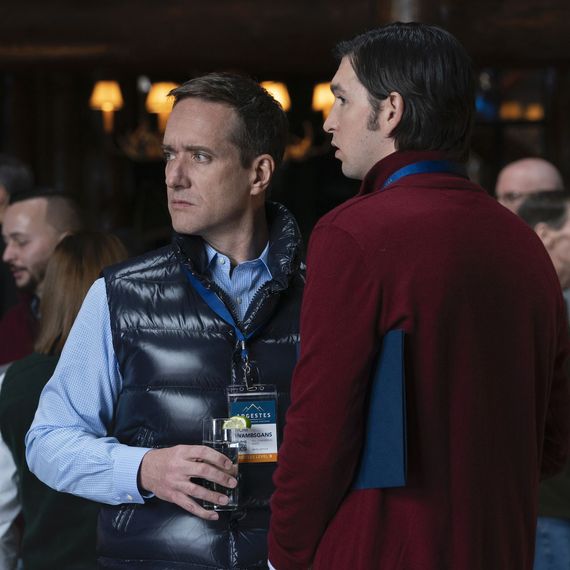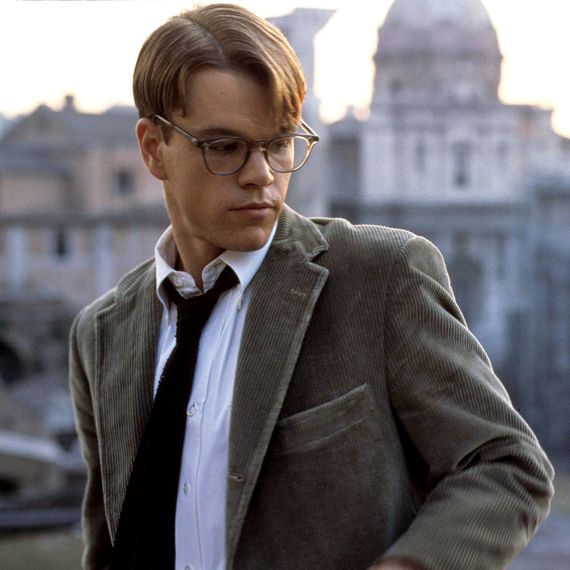 Clothes are where things get trickier. Film and television history is littered with strivers and scammers who use clothing to project the appearance of generational wealth and whose missteps reveal them as outsiders. Think of Tom Wambsgans on Succession, ridiculed by Roman Roy for his too-puffy Moncler vest, or Tom Ripley in The Talented Mr. Ripley, admitted to Dickie Greenleaf's circle of itinerant rich kids thanks to a borrowed Princeton blazer but later skewered for wearing a heavy corduroy jacket in the Italian heat.
Along with show creator Shonda Rhimes and her team, costume designers Lyn Paolo and Laura Frecon spent several months researching Sorokin, and what they turned up wasn't inspiring from a fashion standpoint. In fact, as Paolo said, she was "not that snappy a dresser, was she?" Delvey wore little black dresses with flared skirts and shrunken leather jackets, often with accessories that didn't quite match. It's a look the fashion writer Rachel Tashjian described as "the simple and safe clothing that people usually buy out of insecurity at Intermix."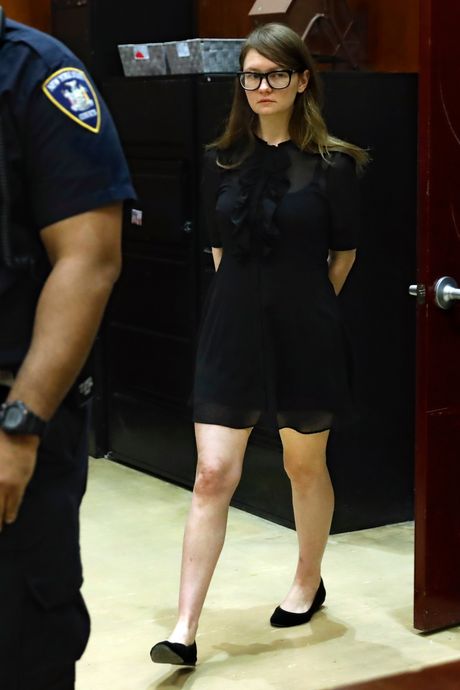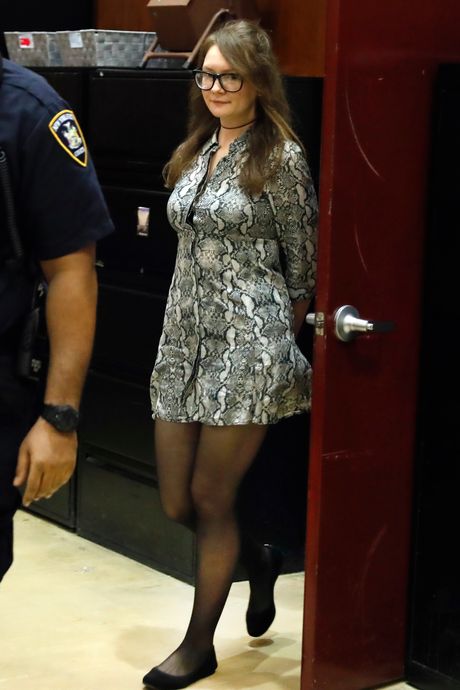 On Inventing Anna, some go as far as saying "she had trash taste," including the character Nora Radford, a wealthy older mentor to whose credit card Anna charges $400,000 in luxury purchases. "You know what really gets me? When Bergdorf's accepted all those purchases she made," Nora says. "I shop there constantly. I have a rack. They know my taste. Did they really think any of that was mine?"
For Inventing Anna, Paolo and Frecon chose to elevate Anna's fashion (because it's Hollywood), nodding to classic glamour in certain moments. For a scene on a speedboat, Paolo wanted to channel Grace Kelly in To Catch a Thief, styling Anna in a youthful red Alexander McQueen dress and Dior sunglasses with a custom-made silk scarf tied around her hair. When Anna gets locked out of a hotel room in Paris for not paying her bill, she's wearing a black Badgley Mischka coat dotted with pearls — a nod to Audrey Hepburn's sad elegance in Breakfast at Tiffany's. (In real life, Paolo has learned to clock a woman's jewelry, purse, and shoes. When it comes to money, she says, those are "the tells.")
The show is a kaleidoscopic portrait of Anna, whose style shifts with her surroundings. This is partly because each episode is told through the eyes of a different associate — the hotel concierge, the personal trainer, the defense attorney — but also because Anna adjusts her look to gain credibility in different circles. "I think she was a chameleon. I think she was an observer," said Paolo, who had shoppers scouring London, Paris, New York, and Los Angeles to keep up with the many costume changes in the show.
The version of Anna who looks aloof and untouchable while sitting front row at fashion shows goes for elegant off-the-shoulder looks like a silk blush dress from Jonathan Simkhai worn with long, sparkling Oscar de la Renta earrings. The version of Anna who vacations in Ibiza with the glamorous founder of a Goop-like business opts for a floaty Etro caftan in a painterly print. The version of Anna who bills herself as an art-world entrepreneur while cozying up to an older mentor wears a structured floral Dolce & Gabbana blazer to a party at Storm King.
Anna's struggle, if you want to call it that, is to be taken seriously by people who are more established and powerful than she is. When she misfires on her clothing, she risks being dismissed. At her first meeting with a high-powered lawyer whom she hopes will help raise tens of millions of dollars for her foundation, Anna turns up wearing Valentino pumps and a ruffled Saloni minidress in a metallic print. He quickly turns her down. So she gives herself a darker dye job, puts on her thick-framed glasses, and returns in a black suit dress from the Row with a gray Chanel tote — and sells it, of course.