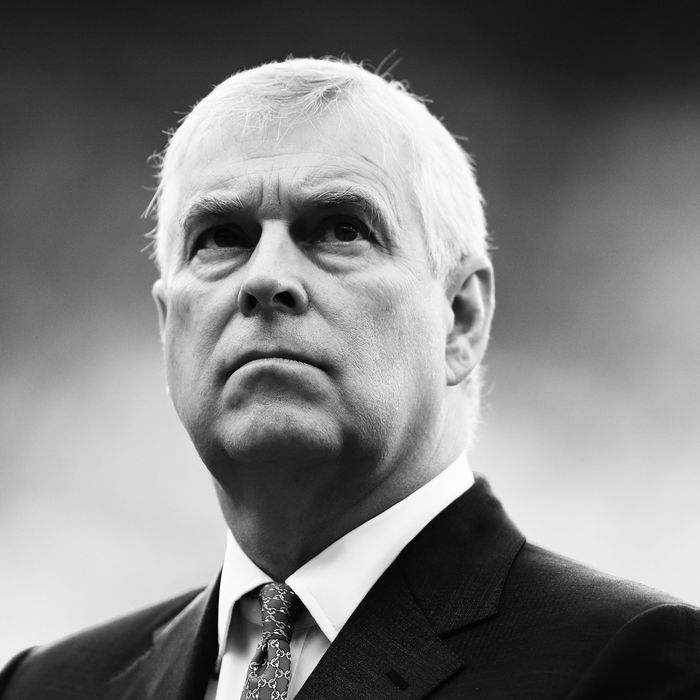 Photo: Richard Heathcote/Getty Images
After months of denials and (allegedly) dodging couriers who were attempting to serve him, Britain's Prince Andrew has agreed to settle the lawsuit that cemented his name as a tabloid headline. Last August, Virginia Roberts Giuffre sued the prince in U.S. federal court, accusing him of sexually abusing and raping her as a minor while she was caught up in Jeffrey Epstein and Ghislaine Maxwell's trafficking scheme. Giuffre's allegations were not new, but they were more difficult to shirk when formalized in court documents. Last month, the Duke of York was demanding a trial by jury; yesterday, he performed a 180-degree pivot, announcing that he and Giuffre had reached a settlement in the civil case. Although Andrew has not admitted any guilt, he did agree to pay Giuffre an undisclosed sum and to make a "substantial" donation to her organization supporting survivors of sex trafficking.
This settlement winds down the court proceedings but leaves a bunch of questions unanswered, including how much money Andrew is obligated to pay and exactly where those funds are coming from. The prince's finances have long been messy, and recent developments — the sale of a Swiss chalet, for example — suggest his situation has not improved while the legal bills stacked up. The duke's attorney, Andrew Brettler, did not respond to the Cut's request for comment and clarification on the settlement and its funding; those details are known only to the parties involved. Here's what we do know about the royal's financial situation as it stands.
How big is the settlement?
Even without certainty on the particulars, we can safely assume Andrew and Giuffre arrived at a massive sum. This year marks an unprecedented 70 years of queening for Andrew's mom, and none of the family wanted a media-circus trial to overshadow her Platinum Jubilee — excuse me, her Platinum Jubbly. So behind the scenes, the royals have reportedly pleaded with the duke to settle the case rather than stand trial.
Meanwhile, Giuffre's lawyer indicated as recently as last month that "a purely financial settlement is not anything" his client would be "interested in." According to attorney David Boies, Giuffre wanted to see the case "resolved in a way that vindicates her and vindicates the other victims." That appears to be where the big donation comes in, which adds to Andrew's overall tab. Mark Stephens, a U.K. solicitor in media law with the firm Howard Kennedy, broke it down for the BBC. "The money is being used in three ways. The first part is to pay compensation to Virginia Giuffre," he said. "The second is to pay off her lawyers' expenses and such like." And finally, "There's a large sum going to her personal charity to fight for the victims of sex trafficking and sexual abuse."
So how much does that come to? Again, no number has officially been confirmed, but seven-to-eight figures feels like a safe bet. Various tabloids and British news outlets have quoted a figure between £10 million and £12 million (or $13.5 million and $16.3 million), roughly the same amount that legal experts who spoke to the Washington Post projected last month.
How will Prince Andrew pay all that?
Difficult to say. Even before he agreed to settle, Andrew sold a Swiss chalet he had bought for about $29 million, according to the Washington Post — but the sale went through only after he paid off the final $8 million installment of the sum late last year, concluding a separate legal dispute. To many, the sale suggested the duke needed extra cash to cover his legal bills, his love of luxury having long ago outpaced his income.
What even is the duke's income?
According to the New York Times, the queen gives Andrew £250,000 (about $338,000) annually, which he has supplemented with an extra £20,000 ($27,066) from his Royal Navy pension. (He served as a pilot in the Falklands War.) He lives primarily at the Royal Lodge Windsor, where maintenance should be covered by the Crown. But the Epstein mess has affected his rank: In 2019, after a memorably horrible BBC interview, Andrew resigned his royal duties, and his mother stripped him of his HRH title last month. Given all that, it's unclear who is footing the bill for Andrew's residential upkeep, security, and staff. But an annual income of about $365,000 falls out of step with his preferences, according to the Post, for a $100,000 Range Rover, a multimillion-dollar vacation home, and expensive watches.
Then there are the notable transactions seemingly linked to the prince's old job: The sale of Sunninghill Park, an estate the queen gave him as a wedding present, to the Kazakh businessman Timur Kulibayev, in 2007. Andrew was a royal trade envoy at the time, and Kulibayev happened to be the son-in-law of Kazakhstan's then-president, Nursultan Nazarbayev. According to the Post, Kulibayev paid $30 million on a $24 million asking price, and now that he faces allegations of corruption, some members of Parliament are reportedly wondering if the transaction had something to do with money laundering. Andrew reportedly also received a sizable loan from David Rowland, a British banker and Conservative Party donor whose son–slash–business partner the prince took along on some envoy trips, which U.K. taxpayers might not have appreciated.
Anyway, Andrew has denied leveraging his royal role for personal gain and/or to clear his debts. But the Times notes that Rowland paid off a $2 million loan Andrew owed to a Luxembourg bank. And! Andrew's ex-wife, Sarah Ferguson, previously apologized for taking a £15,000 loan from Epstein, which both looks bad in this particular context and contributes to an overall picture of financial volatility. Long story short, many people are skeptical of Andrew's ability to come up with $13 to $16 million, plus the cost of his legal fees, all on his own, even if the chalet sale will help with some of it.
Will the queen have to pony up some pounds?
Many British outlets are reporting that she will help in some way. Court documents indicate that Andrew and Giuffre's agreement will be finalized when Giuffre receives the money; it's unclear how or when that may happen. The Telegraph speculates that the queen could make a contribution from her private wealth — specifically, from the Duchy of Lancaster, from which she, as the Duke of Lancaster, draws about $27 million per year. (Forbes estimates that she has about $500 million personally.) The Palace is, naturally, not saying whether the queen will get involved one way or another — it has "never commented on the financial aspects of the Duke's private legal affairs and won't be now," reads a stern statement given to People.
But the worry here is that public funds could enter the equation. In an email to the Cut, royal biographer Christopher Warwick pointed to concern around the Sovereign Grant, taxpayer money the government gives the queen in proportion to revenue from the Crown Estate. The grant was £51.5 million for the year 2020–21 and is earmarked for use only "by the royal household in support of Her Majesty's official duties," which include travel and residential upkeep. The grant conspicuously does not include payouts to people accusing a royal of sexual abuse, so, as Warwick summarized, relying on the Sovereign Grant "would not be a wise or popular move, since it would mean the British taxpayer would be paying" for a disgraced royal's legal bills. But for now, Warwick emphasized, no one knows who is paying the settlement or how. It's possible we'll never find out.