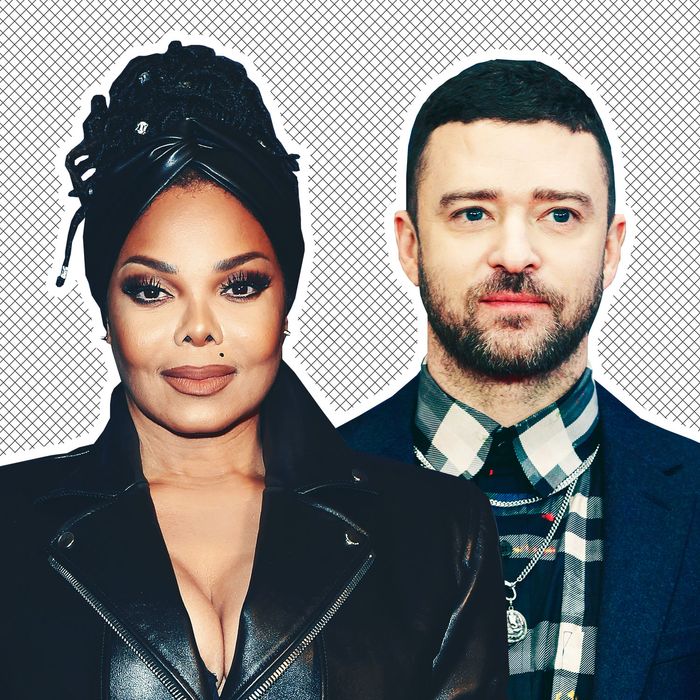 Photo-Illustration: The Cut; Photos: Getty Images
This weekend, A&E and Lifetime aired a new, four-part documentary about Janet Jackson. Unlike the recent New York Times Presents installment that focused largely on her 2004 Super Bowl performance, Jackson was involved in the making of Janet Jackson and narrates large pieces of it, commenting on the ups and downs of her career, her marriages, and her brother Michael Jackson, whom she maintains is innocent despite decades of sexual-abuse allegations (which, the documentary notes, had a more detrimental impact on her career than his).
Another person Jackson defends: Justin Timberlake. In the final episode of the series, she reflects on the Super Bowl performance that got her blackballed from the music industry, in which Timberlake accidentally exposed her breast to millions of viewers during their halftime show. While Jackson was subjected to vicious attacks in the press and a severely damaged career, with many stations banned from playing her music, Timberlake walked away pretty much unscathed.
Following the incident, Timberlake never spoke out against the racist, misogynistic attacks against Jackson, though last year, he publicly apologized for benefitting from "a system that condones misogyny and racism," as he wrote on Instagram. But Jackson reveals in the series that she spoke to Timberlake not long after the incident and advised him to steer clear of the scandal altogether. "He said, 'I don't know if I should come out and make a statement,'" she remembers, "and I said, 'Listen, I don't want any drama for you. They're aiming all of this at me. If I were you, I wouldn't say anything.'" I guess he listened?
Even more surprising: In a newer video she shot in January for the series, Jackson claims she and Timberlake are close friends:
The whole thing was blown way out of proportion. Of course it was an accident that should not have happened, but everyone is looking for someone to blame, and that's gotta stop. Justin and I are very good friends, and we will always be very good friends. We spoke just a few days ago. He and I have moved on, and it's time for everyone else to do the same.
Friends or not, footage from 2018 shows Jackson (understandably) passing on an invitation from Timberlake to join him for his Super Bowl performance that year. When her brother Randy tells her Timberlake's team has reached out with the invitation, she says, "We have history with CBS," presumably referring to the fact that the broadcast channel, along with MTV and other outlets owned by CBS's parent company Viacom, was banned from playing her music after the 2004 Super Bowl. If I were her, I, too, would draw the line at forgiving the execs who blacklisted my album.