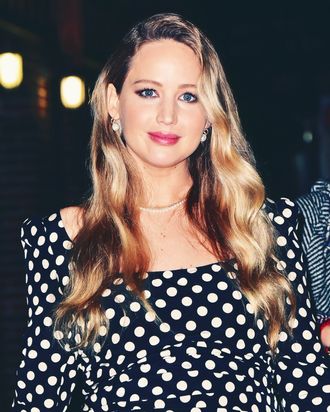 Mother!
Photo: James Devaney/GC Images
New celebrity baby alert! Maybe! Jennifer Lawrence may have had her first child with husband Cooke Maroney. According to TMZ, Lawrence recently gave birth in Los Angeles County. TMZ knows this because it scrounged up public records that say just that. No word on the baby's name, exact birth date, whether it's Team Peeta or Team Gale, etc. This concludes the information we know for sure.
It doesn't sound like we'll be finding out anything more about Lawrence's baby anytime soon. She recently told Vanity Fair that she intends to keep as much of her child's life private as possible. "If I was at a dinner party, and somebody was like, 'Oh my God, you're expecting a baby,' I wouldn't be like, 'God, I can't talk about that. Get away from me, you psycho!'" she said. "But every instinct in my body wants to protect their privacy for the rest of their lives as much as I can. I don't want anyone to feel welcome into their existence. And I feel like that just starts with not including them in this part of my work." Understandably so!
Lawrence has been quiet about her personal life for some time now. She and Maroney were first linked in 2018 and got married in 2019. While she did call him her "best friend" on a podcast — the most important relationship milestone — the two have remained mostly out of the public eye. To which I say … good for them. If I were rich and famous enough to stop posting dumb little updates on Instagram, I would.
Congratulations to the (alleged!) new family of three.