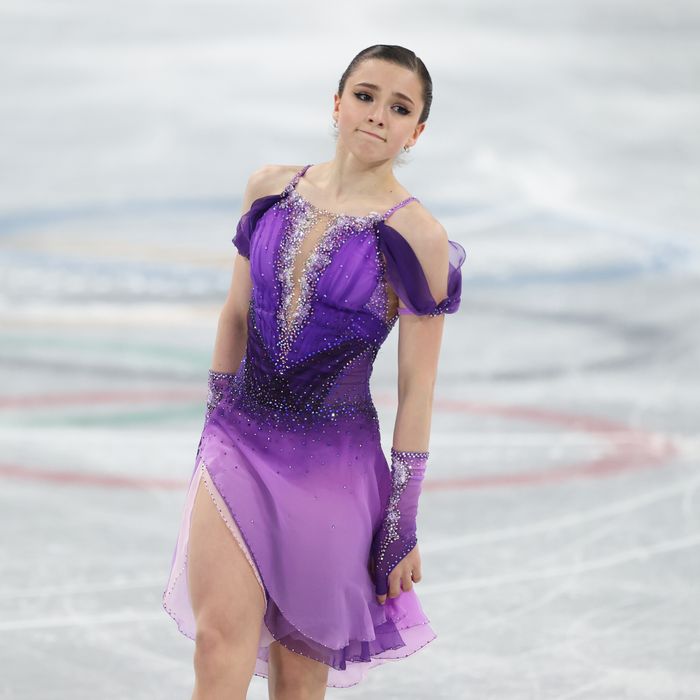 ROC's Kamila Valieva was allowed to compete amid a doping scandal.
Photo: Liu Lu/VCG via Getty Images
Johnny Weir and Tara Lipinski are not known for their subtlety. The former Olympic skaters and current NBC commentators are often as boisterous with their commentary as they are with their fashion. Thus, their silence during Kamila Valieva's short program on Tuesday was deafening.
Last week, Valieva tested positive for trimetazidine, a drug listed as a "metabolic modulator" by the World Anti-Doping Agency. While it's unclear whether the drug is technically performance enhancing, it potentially could have allowed Valieva to train longer. The doping scandal is especially upsetting given Valieva's status as one of the best skaters in the world. Lipinski previously called the 15-year-old representing the Russian Olympic Committee a "once-in-a-lifetime talent." However, her commentary during Tuesday's competition was significantly less celebratory.
Weir and Lipinski only spoke twice during Valieva's performance. "We should not have seen this skate," Lipinski said, reminding viewers of the skater's positive drug test. On Monday, Valieva was cleared to compete while the investigation into her positive drug test continues. The decision was made by the Court of Arbitration for Sport and goes against the wishes of both the IOC and the World Anti-Doping Agency, which said it was "disappointed" by the ruling. If Valieva medals in any of her events, the awards ceremony will be postponed. "All I feel like I can say is that was the short program of Kamila Valieva at the Olympics," Weir said at the end of Valieva's performance. "We are so sorry it is overshadowing your Olympics."
The two were equally open with their disappointment while Valieva was warming up before the competition. "Seeing her on the Olympic ice right now with everything we discovered over the last week, I didn't think it was going to happen," Lipinski said, per the New York Times. "And again I don't think it should be happening." Ahead of Tuesday's competition, Lipinski also tweeted about the doping scandal, expressing some sympathy for Valieva. "I've said this before, she's just 15. Please keep that in mind. This is a lot for a young person to handle," Lipinski wrote, adding that she hopes that the adults who "faulted her are held ACCOUNTABLE."
"This is the hardest event I've ever had to cover," Weir said in a video posted to Twitter after Valieva's short program. "I want to thank you all for supporting the skaters that should be in the competition whose life work is on the line."
Despite a stumble in her opening triple axel, Valieva received the highest score of the event, winning the women's short program. She's expected to compete again in the women's free skate on Thursday.