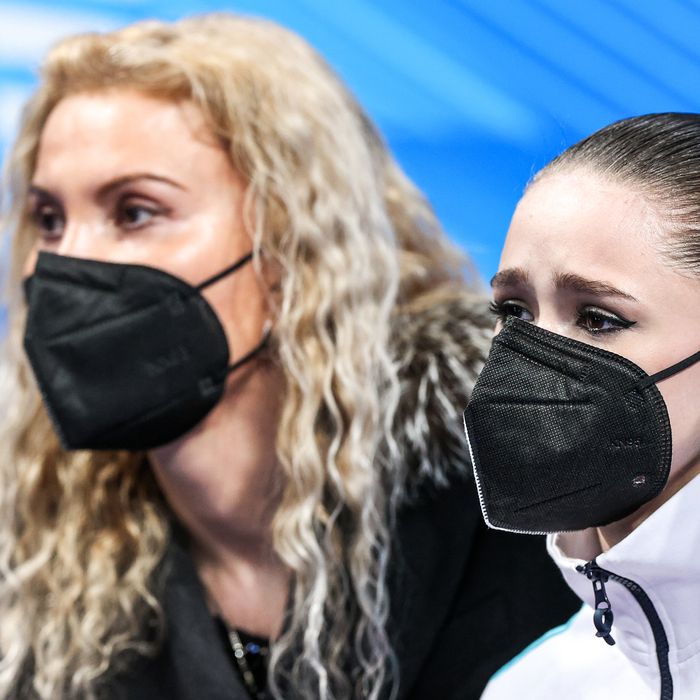 Kamila Valieva (right) and her coach, Eteri Tutberidze.
Photo: Sergei Bobylev/Sergei Bobylev/TASS
Kamila Valieva's Olympic journey has been heartbreaking to watch. The 15-year-old's doping scandal has resurfaced questions about the treatment of Russian skaters, many of whom are minors. More specifically, it has highlighted the questionable behavior of Valieva's coach, Eteri Tutberidze.
On Thursday, Valieva did not medal in the women's figure-skating competition. (If she had, the awards ceremony would have been postponed, per stipulations surrounding her positive drug test.) Valieva fell multiple times during her performance, a rarity for the skater who has been revered as among the best in the world. When she finished, visibly upset as she left the ice, Valieva and her coach did not hug. "Why did you let it go?" Tutberidze asked Valieva in Russian once the skater returned to the bench, per the New York Times. "Why did you stop fighting? Explain it to me. Why? You let it go after that axel."
Thomas Bach, the president of the International Olympic Committee, called Valieva's treatment by her coaching team "chilling." "I was very, very disturbed yesterday when I watched the competition on TV," Bach said, according to the Times. "You could feel that this is an immense, immense mental stress and maybe she would have preferred to leave the ice and to leave this story behind her." Bach added that Tutberidze's comments captured by Russian television broadcast didn't give him "confidence in this entourage of Kamila, neither with regard to what happened in the past nor as far as it concerns the future."
Dmitry Chernyshenko, Russia's deputy prime minister, told the Times that Bach's comments were "inappropriate and wrong." He said he was "deeply disappointed" to see Bach "weave his own fictional narrative on the feelings of our athletes and then present these publicly as the voice of IOC."
Despite two of Valieva's teammates placing first and second, there was little celebration among the ROC athletes. "I hate it!" Alexandra Trusova, who got silver, was captured saying. "I don't want to do anything in figure skating ever in my life! Everyone has a gold medal, and I don't!" Even gold medalist Anna Shcherbakova didn't seem very excited by her win. "I was feeling a lot of pleasure because I happened to be in the right time and the right place and did the right things," Shcherbakova said, per the Times. "On the other hand, I feel this emptiness inside."
Bronze medalist Kaori Sakamoto of Japan appeared to be the only athlete celebrating. "This is the culmination of four years in which I've felt a lot of frustration," Sakamoto said. "I've had a lot of regrets, but I'm glad my hard work has been rewarded. I didn't expect to win a medal in individual competition."
Ahead of Tuesday's competition, Tara Lipinski, former Olympic skater and current NBC Olympic commentator, expressed sympathy for Valieva. "I've said this before, she's just 15. Please keep that in mind. This is a lot for a young person to deal with," Lipinski tweeted, adding that she hopes "whichever adults faulted her" are held accountable. She concluded, "This is heartbreaking."