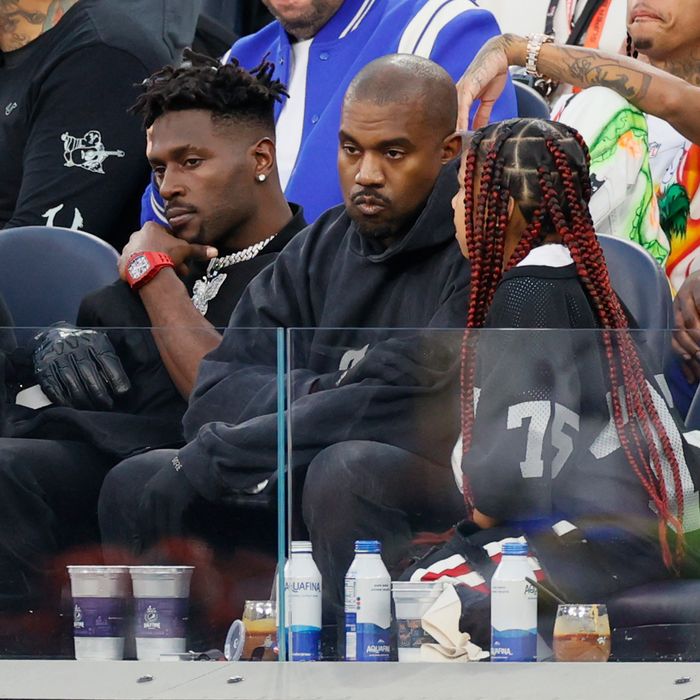 Photo: Steph Chambers/Getty Images
Need proof Ye's Insta hasn't been hacked? You got it.
Fans worried Ye was hacked after the rapper formally known as Kanye West posted a surprising nine images to his profile — most including unsolicited commentary on Pete Davidson, who is currently dating Ye's estranged wife, Kim Kardashian. This volume of social-media activity was unusual for Ye, who previously only updated sporadically and recently deleted all previous posts form his Instagram profile. Needless to say, people were concerned. So, Ye did what anybody would do. He posted a hostage-style photo of himself holding up a notepad with the words "My account is not hacked" and the date clearly visible. "MY ACCOUNT IS NOT HACKED I WILL BE AT SUNDAY SERVICE AT NOON AND WILL ME TAKING NORTH AND SAINT TO THE SUPERBOWL SHORTLY AFTER," he wrote. And, lo and behold, a mere five hours and seven posts later, Ye followed up on his plans, sharing a video of him, North, and Saint at the Super Bowl.
In the video, Ye can be heard cheering on Odell Beckham Jr. before the game. He then turns the camera on North and Saint. "Yo, we got good seats, Northie?" he asks. When North doesn't respond, he moves over to Saint, who is busy putting on a glove Ye says is from Beckham Jr. "Did Odell give you some gloves?" Ye asks as North quickly hides hers under her shirt.
Despite all the drama going on on his Instagram, there's something oddly comforting of seeing Ye just being a dad desperately trying to get his kids on camera telling him he's cool. Celebrities, they're just like us!