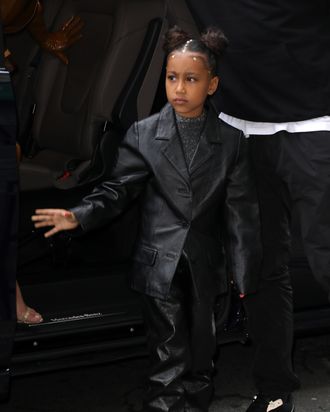 Photo: Pierre Suu/GC Images
North West's Goth phase has officially made it into the pages of Vogue. Or at least, the magazine's website. Kim Kardashian's eldest daughter appeared in the magazine for Kardashian's latest cover story — she also styled her three younger siblings for the family photo shoot — but it's in the accompanying video interview that her dark side really shined.
In an installment of Vogue's "Objects of Affection" series, Kardashian welcomed the magazine into her cavernous, cream-colored home (a.k.a. the haunted mansion) to share some of her most prized possessions, including North's very emo art work.
"The first object of my affection is my daughter North's paintings," Kim says in the video, showing off some of North's canvases, including the landscape from 2021 that sparked an online debate about the artistic talent of the (then) 7-year-old. Some of the art, like that landscape, features pastel colors and bright flowers, but the true standout is the charcoal drawing Kim proudly holds up at the end. "Recently, North stayed home and had COVID, so this is her drawing that she did in her room," Kim says.
The drawing features a floating head with dead, empty eyes, space buns, and a long, serpent-like tongue sticking out of her mouth. "Maybe that was just her emo mood," Kardashian says before swiftly moving on. If "emo" means "nightmare-inducing" then, yes, it is some very emo artwork.
North's "emo mood" art quickly made the rounds on social media, and while some might say this is all the proof needed to confirm that Kim's house is, indeed, haunted, to me this looks exactly how I imagine COVID feels. Plus, North has been going Goth for at least a year now, so is it really surprising that she would draw a demonic head in charcoal?
At least North's "emo mood" drawing matches the rest of Kardashian's muted home. Her walls and furniture may be "cream," but her basketball court and cars are all a muted gray, almost a shade of charcoal. Kim says these tones are "calming," but, I don't know, her whole house seems pretty emo to me. North has to get it from somewhere, right?