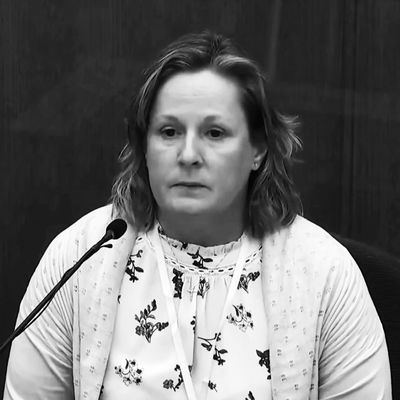 Kim Potter
Photo: Uncredited/AP/Shutterstock
Kimberly Potter, the former Minnesota police officer who fatally shot Daunte Wright, may serve up to two years in prison for first- and second-degree manslaughter. Her sentencing comes nearly two months after a 12-person jury delivered its verdict, and it requires her to remain behind bars at least two-thirds of the total time, with eligibility for supervised release after 16 months. On top of that, she faces a $1,000 fine, though she can appeal both the sentence and the conviction.
Two years falls far short of the maximum penalty for Potter's conviction: as many as 15 years in prison for first-degree manslaughter, plus a $30,000 fine, and up to ten years for second-degree manslaughter, with a $20,000 fine. Before Judge Regina Chu announced her decision, Wright's family asked her to adhere to those maximums. Even that would be "incomparable to the life sentence we have been given because of her negligence," Arbuey Wright, Daunte's father, said at the hearing. "My son Daunte's life was taken away, way too soon, and he's never coming back, and it has affected my whole family." Now, he added, "Nothing will ever be the same. Everything we do as a family ends in tears." Daunte's mother, Katie Ann Wright, agreed. "My life and my world will never be the same," she said, addressing Potter. "I will never be able to forgive you for what you have stolen from us. You took his future."
Potter fatally shot Wright, a 20-year-old Black man, during an April 2021 traffic stop. At the time, the Brooklyn Center police chief claimed that officers pulled over Wright for driving with an expired vehicle registration and because he had an air-freshener dangling from his rearview mirror, in violation of Minnesota law. They then noticed a "gross misdemeanor warrant" for Wright, the police chief said. Officers allegedly attempted to arrest Wright, who got back into his car. That's when Potter shot him: In body-cam footage from the arrest, she can be heard yelling, "Taser! Taser! Taser!" before firing one shot from her Glock. "Holy shit, I just shot him," Potter says in the footage.
Immediately after the shooting — which occurred as ex-Minneapolis police officer Derek Chauvin stood trial for the murder of George Floyd — the Brooklyn Center Police Department said Potter had reached for her Taser but grabbed her gun by mistake. Nonetheless, the Hennepin County Medical Examiner's Office ruled Wright's death a homicide, and Potter resigned two days later. Then came the second-degree manslaughter charge, with the first-degree count added in September, after Minnesota attorney general Keith Ellison took over the case. Whereas second-degree manslaughter alleges "culpable negligence" in Wright's death, first-degree manslaughter indicates the "reckless handling or use of a firearm so as to endanger the safety of another with such force and violence that death or great bodily harm to any person was reasonably foreseeable."
At trial, prosecutors framed the shooting as an accident, but leaned heavily on the negligence aspect. "Accidents can still be crimes," attorney Erin Eldridge said in closing arguments. According to the New York Times, Eldridge described the incident as "a colossal screw-up" and "a blunder of epic proportions." The defense, meanwhile, tried to pin blame on Wright for attempting to evade arrest — though as the ACLU of Minnesota pointed out in the immediate aftermath of the stop, police often pull Black people over on the pretext of a minor infraction, with the intention of conducting a more serious search or investigation.
Testifying in her own defense in December, Potter broke down on the stand, sobbing her apology and insisting she "didn't want to hurt anybody." But though Potter recalled a "look of fear" on her colleague's face as he tried to handcuff Wright, she also granted that Wright had not threatened any of the officers, nor attempted to hurt them, nor given them reason to believe he had a weapon.
Speaking at Potter's sentencing, Damik Bryant observed that his brother was "killed by the same people we were supposed to trust, who was supposed to serve and protect," and he asked Judge Chu to "give a strong sentence that accounts for the severe pain and loss that our family has experienced." But Judge Chu called Potter's "one of the saddest cases" she has seen in her 20-year career. "Officer Potter made a mistake that ended tragically, but she never intended to hurt anyone," she said. Her sentence came in well under the maximum and the 86 months (just over seven years) that Minnesota attorney general Keith Ellison's office requested earlier this week. Chu explained her reasoning thusly: "I look to the purposes of incarceration. There are four: retribution, incapacitation, deterrence, and rehabilitation. Three of the four would not be served in this case."
For her part, Potter apologized to Wright's family. "I am so sorry that I brought the death of your son, father, brother, uncle, grandson, nephew, and the rest of your family to your home," she said, and addressed Katie Ann Wright directly: "I am sorry I broke your heart. My heart is broken for all of you."
This article has been updated.