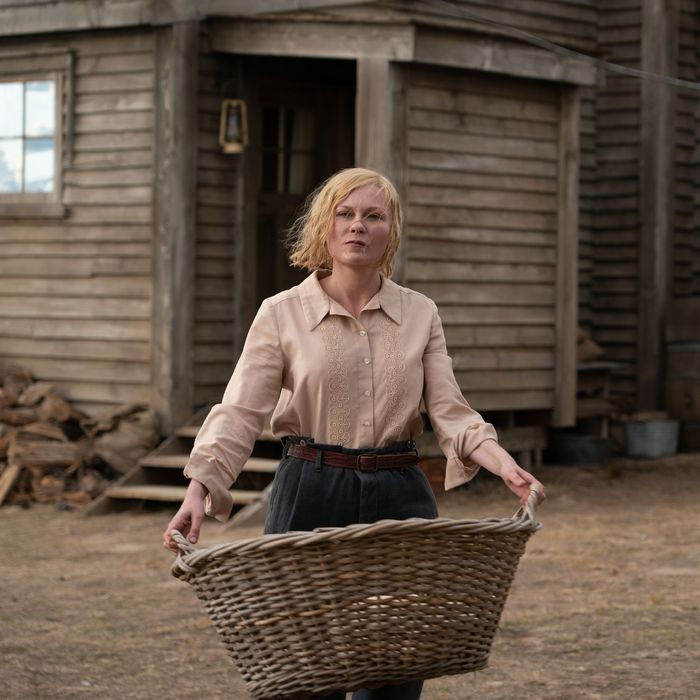 Photo: Kirsty Griffin/Netflix
Is it me, or has it been an especially strange awards season? Between the COVID postponements, the boycotts, and the un-televised awards show that released a SparkNotes list of winners the next morning, it's hard not to find yourself wondering: What's the point?
But sometimes the answer is Kirsten Dunst — and that is a very good answer. This morning, the Academy announced its 2022 Oscar nominees. The category for Best Supporting Actress includes Jessie Buckley (The Lost Daughter), Ariana DeBose (West Side Story), Judie Dench (Belfast), Aunjanue Ellis (King Richard), and Dunst, for her role as Rose Gordon in Jane Campion's The Power of the Dog. 
After 32 years in the industry, this is Dunst's first Oscar nomination, which is pretty wild. Remember when she brought The Virgin Suicides to life as Lux Lisbon? Or when she played a cake-eating, pink-converse-wearing Marie Antoinette in the Sofia Coppola–directed biopic? Not to mention her countless other roles, including in Fargo, Melancholia, and more.
Dunst's The Power of the Dog co-star and real-life partner, Jesse Plemons, has also been nominated for an Oscar in the Best Supporting Actor Category, for his role as rancher George Burbank.
How sweet. Unless Omicron wrecks everything, the Oscars are scheduled to take place on March 27, at the Dolby Theater in Los Angeles. Congratulations to all, and especially Kirsten.