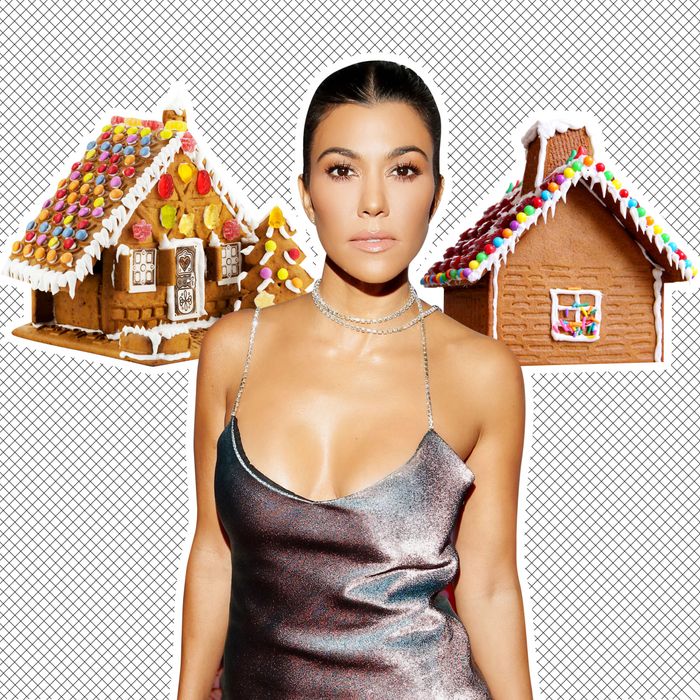 Photo-Illustration: by The Cut; Photos: Getty Images
Roses are red / Violets are blue / Gingerbread is for Christmas / Isn't that true? This is what I have always known to be true: A gingerbread house is the thing you assemble, decorate, and munch on for a few weeks in December, before throwing the stale walls that remain in the compost. But now everything I thought I knew about gingerbread houses is changing, and it's all because of the Kardashian-Jenners.
This year, a few of the Kardashian family members are taking a step back from the floors covered in roses and the inexplicable Kenny G appearances and instead celebrating with the Valentine's Day–classic … gingerbread houses. Gone are the traditional V-Day treats. Chocolate? We don't know her! Conversation hearts? Buh-bye. This year, it's all about personalized gingerbread houses. To what end? I'm not sure.
Kris Jenner, Kylie Jenner, and Kourtney Kardashian have all shared their decked-out gingerbread houses on Instagram. They each feature little gingerbread men, women, and kids (including a baby for newborn Wolf Webster), tailor-made for each family unit. Kardashian's, for example, features figures of her and fiancé Travis Barker along with their kids: Mason, Penelope, and Reign Disick and Atiana De La Hoya, Landon Barker, and Alabama Barker. Their names were iced onto big heart-shaped shingles fixed to the roof. Meanwhile, Kylie got one for her, Travis Scott, and their children: Stormi and Wolf Webster. (Both sisters also shared footage of their homes covered in giant bouquets of roses, because of course.) Kris's, meanwhile, featured all of her grandchildren.
The houses appear to be from the Solvang Bakery, which has been making elaborate, custom gingerbread houses for years. (Khloé Kardashian even seems to have gifted one to Kim Zolciak-Biermann in 2017.) And they don't just stop at Valentine's Day. The Solvang Bakery also sells Hanukkah gingerbread houses, Easter gingerbread houses, birthday gingerbread houses, and even Halloween-themed gingerbread. And it does all kinds of sizes, ranging from giant "manors" that can cost up to $1,450 to small "cottages," priced from $225 to $275. You can't put a price on love, but you sure can put one on a personalized gingerbread house.
I'm not sure I'm here for the gingerbread house as a Valentine's Day dessert-decoration, but if it's good enough for the Kardashians, it's good enough for me.