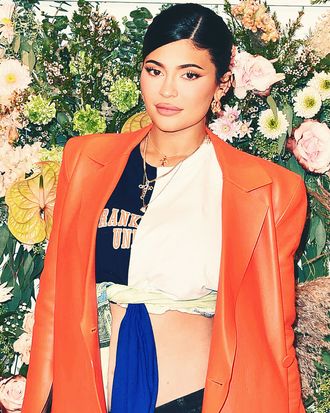 Photo: Bryan Bedder/Getty Images for REVOLVE
The ever-growing Kardashian-Jenner clan has welcomed its newest member. On Sunday night Kylie Jenner and Travis Scott announced the birth of their second child on Instagram. Kylie shared a picture of an itty-bitty baby hand being held by a slightly bigger hand, presumably Stormi's. The caption reads "2/2/22," implying that baby No. 2 was born the day after Stormi's fourth birthday, which was on February 1.
Neither Kylie nor Travis has revealed the name of their newborn son just yet. Thus it is my duty to present some guesses. Maybe they chose another weather name, like Cloud or Windy (Windi?) or Cumulonimbus. Perhaps it's Travis Jr. or Stormy with a y. I would love nothing more than a very regular-sounding Jenner baby — maybe William or Steven or even, like, Noah. I also think "Lip Kit" is a gorgeous gender-neutral name.
There was speculation that Kylie gave birth over the holidays after Travis Barker, who is engaged to Kourtney Kardashian, posted a picture with what appeared to be a full baby bottle. However, E! News is convinced Kylie hinted at the baby's actual birth date back in September when she wore a "222" necklace during her 73-question interview with Vogue. (It's still not clear what the baby bottle was for. Perhaps Stormi's new kitten? My money is still on Kravis sex stuff.)
Congrats to the Kardashian-Jenner family on their newest member, and most importantly, congrats to Stormi on the arrival of her personal assistant.