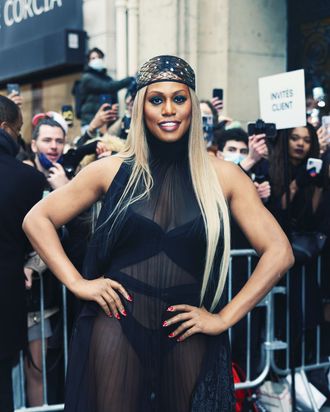 Photo: Arnold Jerocki/Getty Images
Almost everyone has lied about their age at one time or another, but Laverne Cox is especially experienced. The Inventing Anna actor, who is getting ready to celebrate turning 50 in May, recently revealed that she's been lying about her age since the year 2000. So, since she was 28 years old. Um, I'm 31, should I have been lying about my age this whole time?
"I was 28 years old and I was dating a guy that was 21 and he broke up with me because he said I was too old. And I was like, 'Oh, if I'm too old, I'll just be 22,'" Cox said during an appearance on The Ellen Show. Apparently, the actor remained "22" for the next few years, but eventually grew tired of lying so she came up with a new solution. "'Over 21' became my age. And so I was 'Over 21' from like 2002 to 2019." Honestly, a brilliant move. I will now be telling anybody that asks my age that I am "over 21."
Things changed, however, when IMDb published Cox's real age. "I was having such anxiety, and so I started talking to my therapist about it," she said, adding that she worried it would mean she "wasn't hirable" or "wasn't datable." The first time she publicly said her real age, Cox revealed, was at a speaking engagement in January of 2019. "I thought the sky was going to fall," she said, "But it was like nothing. And it was a reminder that in our heads, we might have shame about something … and no one really cares." Now, she said, she's "proudly 49, about to turn 50."
I'm very glad Cox can be proud and confident in owning her age, despite the very real threat of Hollywood ageism. But, if you're still lying about your age, I say we've been stuck in a pandemic for two years. At the very least, you deserve to shave two years off, should you so choose. We all do.