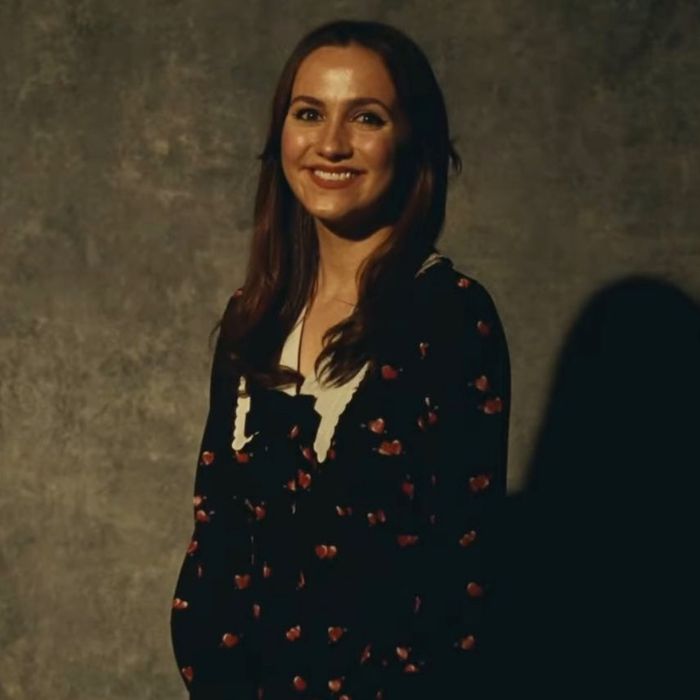 We all knew that the play Lexi (Maude Apatow) has spent much of this season of Euphoria working on was going to cause some drama. After all, it is a play about Lexi's life. And even though Fez continues to be sweet and supportive, telling her that as long as her intentions are good, she'll have nothing to worry about when all her friends and family see the final product, I couldn't help but feel there were going to be some upset feelings.
Euphoria's seventh episode — part one of our season two finale — is all about Lexi's play. Starting off with the awkward tension of watching the Euphoria cast watch a version of their life play out via a version of themselves on stage, we get a sliver of second-hand embarrassment. Is she really doing this, I thought to myself, as Maddy turns to Kat and says, "Wait, is this a play about us?" That feeling quickly morphs into a standing ovation by the end of Lexi's play, leaving everyone that's watching smiling, except for Nate.
"She's a genius. Lexi is a genius," Bobbi, the soft-spoken stagehand, says, and I couldn't agree more. I am now a theater girl.
As the most relatable character on the show, Lexi has had an ample amount of well-deserved screen time this season. After the last two episodes, which were some of the darkest ones we've seen, Lexi finally putting on her play is a welcome breath of fresh air. Though we don't know how much time has passed since Rue's intervention, or even if she's currently clean, we see a smile come over Rue's face as she watches moments from her and Lexi's friendship play out on stage. Beginning with a flashback of Lexi and Rue (Jade, in the play) smoking weed for the first time and sitting on top of Fez's gas station talking about their lack of social status. "Jade was the first person that made me feel okay with not being cool," Lexi says on stage. "We talked and laughed for hours that night. I miss those days. It was before my dad left and before Jade's dad died. Before Jade got into heavy drugs and before I got inside my head. It was before we grew apart."
As she continues to reflect on her relationship with those around her as the play's narrator, Lexi talks about how close her sister and Maddy (respectively, Hallie and Marta in the play) became when they entered high school. "They became inseparable," she says, as Maddy and Cassie sit far apart in the auditorium, unable to even look at each other. When Cassie leaves the theater during a scene, Maddy looks back at her, and it seems like Cassie might finally realize the mess she's made. But all of that goes out the window once the play gets to a boisterous locker room scene, and Nate, played by Ethan in the production, declares, "let's pump some iron, boys!"
All hell breaks loose as "I Need A Hero" kicks off a whole, fully wild dance number that includes boys in shiny gold pants thrusting their pelvises and spraying water bottles, spanking, and lots of booty shaking. Leading the charge is Ethan. Who knew he had it in him?
As Nate watches, clenching his fists, the rest of the audience is screaming and clapping. "Lexi, you're a fucking G," Maddy yells. As the audience stands, Nate rushes out, telling Cassie to pack her bags. "She's your fucking sister. Get the fuck out of my house. I'm done." Cassie slowly makes her way back to the auditorium with crazy eyes. As much as I hate to say it, you can't put on a good show without hurting a few feelings.
Throughout it all, this season and before it, Lexi has had a front row seat to the mistakes, the betrayals, the drama and has had to process it all alone. Well, not anymore.
Brava, Lexi.