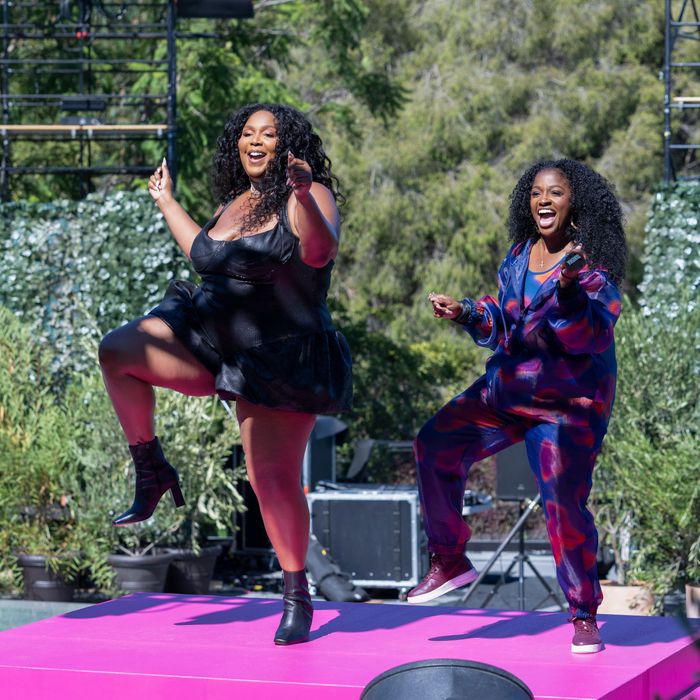 Photo: James Clark/Amazon Prime Video
Prepare to shake thine ass! Lizzo has released the trailer for her forthcoming reality competition, Watch Out for the Big Grrrls. The show follows Lizzo on her search for "confident, badass women" to join her dance crew. "Girls that look like me don't get representation," Lizzo says in the trailer. "Time to pull up my sleeves and find them myself."
It's no secret that the entertainment industry — and fashion industry, and just about every other industry — has little body diversity. So Lizzo has taken it upon herself to showcase plus-size dancers who have been too often overlooked. "This is the greatest moment of my career yet," Lizzo wrote on Instagram alongside the trailer. "Y'all know how hard it's been finding dancers that look like me. But if I gotta get a TV show to get the world to see the value in us big grrrls BITCH IMMA DO IT." Inspiration and ass-shaking ensue.
Lizzo is something of a twerk connoisseur, an ass-focused academic, if you will. Last year, she gave a literal TED Talk on twerking, talking about the history of the dance move and the way it's been commodified and disassociated from Black culture. "For me, twerking ain't a trend," Lizzo said in her talk. "My body ain't a trend." In addition to Lizzo herself, the show's judges include industry experts Tanisha Scott, Chawnta' Marie Van, Shirlene Quigley, and Grace Holden. The series will also feature special guests like choreographer Charm La'Donna and SZA. And maybe … Chris Evans? Ha-ha, just kidding. Unless …
Watch Out for the Big Grrrls premieres on Amazon Prime on March 25, which gives you plenty of time to stretch lest you pull an ass cheek while watching this program.