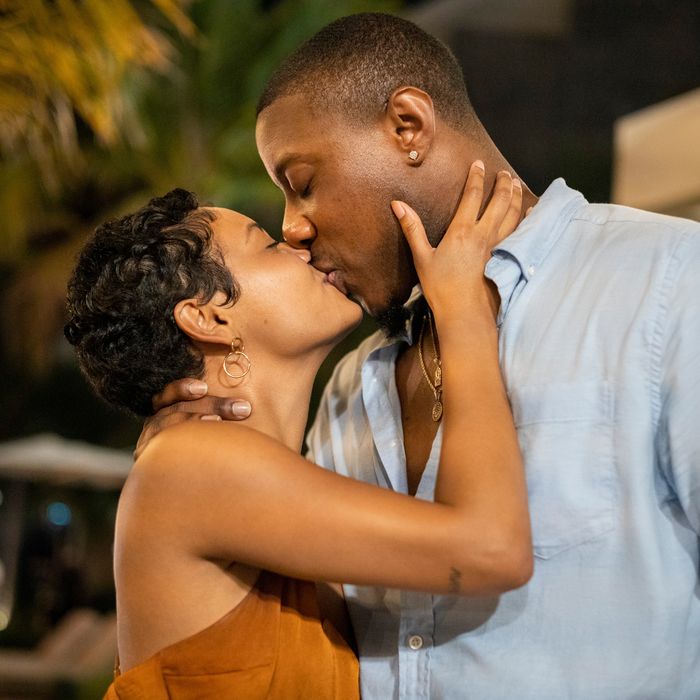 Photo: AARÓN ORTEGA/NETFLIX
Netflix's Love Is Blind, currently dropping its second season, might be the only reality dating competition (sorry, Bachelor) formatted to actually create real relationships — or, dare we say, help people find "the one." Yeah, I know. Hear me out, though.
In recent years, dating-show contestants have seemed less interested in an earnest search for "the one" and more interested in the screen time necessary to garner enough followers to become full-time influencers. It's the Rose Ceremony to the FabFitFun Box sponsorship pipeline. It seems, however, Love Is Blind contestants are there for the right reasons — or at least rightish reasons. (They did sign up for a reality-TV show, after all.)
For starters, airtime is not guaranteed. We are not even introduced to all the contestants — if the pod experience ends with an engagement, Netflix might not even show it! This season, two more couples got engaged in the pods and their love stories, due to production constraints, didn't make the final cut. And contestants like Trisha — you know her as the girl who said, "I have a lot of Instagram followers" to every man she spoke to — didn't get enough airtime to grow a fan base. And to answer your question, she had 9,003 followers before the show started.
Reality dating shows usually depend on gimmicks because they deliver great footage. MTV's Are You the One? claims expert matchmakers find the "perfect match" for contestants who "suck at dating" — they're serial cheaters, can't commit, etc. — and then it is up to the contestants to figure out who that perfect match is. But who these matchmakers are and how they determine the contestants' compatibility is never revealed. And the setup of 20 hot and horny people who "suck at dating" partying in a house together day after day is rather incongruous with the show's claim that it's helping reform these bad daters.
The Bachelor would like us to believe that its format is designed to find lasting love, but its dates would say otherwise. We've watched women ski in bikinis, go zombie paintballing (whatever that is), and do dozens of other inane activities on "group dates," a term coined by the franchise. But no matter the activity, the group-date format results in the male or female contestants spending hours talking to each other, as the lead attempts to split their time with all their dates. A front-runner or villain, perhaps prompted by producers, may spend a few extra minutes with the lead by interrupting a conversation using the now-infamous line: "Can I steal you away?"
On Love Is Blind, there are no expert matchmakers or group dates — only countless hours of awkward and mundane conversations, which the editors must scour (bless 'em) to create entertaining footage. And contestants on Love Is Blind cannot conspire together to go further like they might on, say, Love Island, where a pair could strategize their advancement as a duo in a few whispered conversations that producers might miss. But as Love Is Blind couples only meet in the pods, this type of scheming is impossible.
And the thing is, the blind-dating format is a legitimate way to build a connection or to learn quickly that there isn't one. The hours Love Is Blind contestants spend talking seem to truly accelerate getting to know each other on a deeper level. Every engaged couple on season two has remarked how long they feel like they've known each other, even though it's been a matter of days or weeks.
Even better,  unlike other reality dating shows, villains don't prosper. Villains make great TV, historically. In most, if not all, other reality dating competitions, producers ensure baddies stay around long enough to create drama. It's to the point where many dating-show contestants strategically play the villain role for screen time. It's why season after season of The Bachelor viewers find themselves yelling at the TV, "What do they see in her/him?" when a seemingly bad person is given a rose while people who seem interested in finding love are sent home.
Take, for instance, Too Hot to Handle, another popular Netflix dating show where a group of very attractive people look for love — or so they say. The couples who make it to the end split a cash prize. But there is a catch: The purse shrinks every time contestants are physically intimate. You would think those who break the rules and lose everyone money would be sent home, right? Nope. They are kept around, as the drama created by these villains is half the fun.
But the villain strategy simply doesn't work on Love Is Blind. Since screen time is not guaranteed and moving forward on the show hinges on a proposal being made and accepted, it does not behoove a thirsty contestant to make waves for the sake of drama.
Just ask Shaina, this season's resident villain, who prioritized heavy flirting and throwing Natalie under the bus over opening up to her first choice, Shayne. Shaina was flabbergasted when Shayne chose Natalie over her. But viewers saw Shaina use her time with Shayne in the pods to describe how her body looked in her many crop tops and not to actually get to know him.
(Shaina did still receive a proposal from Kyle — whom she likely only said yes to in an attempt to extend her time on the show and to possibly get between Shayne and his chosen fiancée, Natalie. But these tactics only garnered her a few extra minutes on air.)
After the pods and a romantic trip to Mexico, the couples return home. And here lies yet another crucial formatting choice that creates the opportunity to build lasting love: Netflix casts from a single city.
In the first season, all the contestants lived in Atlanta. And in season two, everyone resides in Chicago. The cast's lives, jobs, and homes are all in the same city. This ensures success outside the pods is based on the couple's compatibility, not other factors like distance or careers.
But where Love Is Blind truly stands apart from its competitors is the show's ending: a wedding. Sure, The Bachelor franchise is designed to end in a proposal, but, well, so? It's not legally binding like, say, a marriage license, is it? And in recent seasons, even proposals happen less and less. But on Love Is Blind, the couple walks down the aisle in front of their friends and family, and they don't know if the other person will say "I do" or walk away. No other dating show has stakes this high! Saying yes to marriage is a much bigger risk than saying yes to a Neil Lane engagement ring that neither of you paid for.
While other dating shows have successful couples they show off to demonstrate the format works, the overall success rates are very low. Two couples from Love Is Blind season one are still married, and, no spoilers, but season two possibly has a few marriages sealed as well. While reality dating shows are entertainment first and foremost, the creators of Love Is Blind may have cracked the code to entertaining the audience and creating a scenario where real, lasting love can be found.