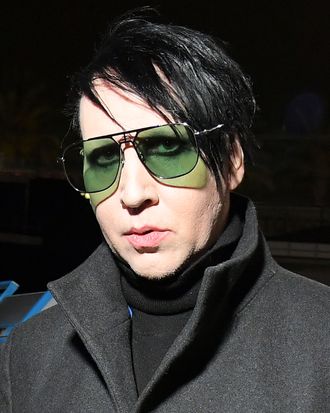 Photo: Charley Gallay/Getty Images for iHeartMedia
Marilyn Manson, who is currently facing three lawsuits for sexual assault, appeared onstage in Miami on Tuesday night at a listening party for Donda 2, the sequel to Kanye West's recent album Donda. Manson took the stage alongside West, who is now known legally as Ye, and rapper DaBaby, who's been embroiled in his own controversy over homophobic remarks he made last July.
It's no surprise this trio is reuniting: Manson and DaBaby previously appeared at a listening event for Donda over the summer and were nominated for Grammys for their contributions to the album. Manson is reportedly even more involved in Donda 2, and he's appeared publicly in connection with Ye several times over the past six months.
Tuesday's performance happened hours after Evan Rachel Wood released the trailer for Phoenix Rising, a forthcoming documentary following her mission to lift the statute of limitations on the violent abuse she and other women allegedly suffered at the hands of Manson. In the year since Wood publicly named Manson as her abuser, more than a dozen women have come forward with horrifying accounts of physical, sexual, and emotional abuse, including beating, branding, rape, torture, human trafficking, and various forms of psychological terror largely connected to Nazi paraphernalia. Manson continues to deny all the claims, and his lawyers said last month after Phoenix Rising premiered at Sundance that Wood's allegations were "brazen" and "easy to disprove."
Ye offered something resembling an explanation for his choice to collaborate with Manson on a podcast in November, where he said, "When I sit next to Marilyn Manson and DaBaby, right after both of them got canceled, for five songs, it's like, they can't cancel us all." Though he's currently the most explicit and outspoken supporter of Manson's, he's certainly not the only artist willing to share a stage with the alleged rapist and abuser. In October, Justin Bieber joined Ye and Manson onstage at a Sunday Service event, and several other artists featured on Ye's tracks — Alicia Keys, Migos, Pusha T, Fivio Foreign, the Game, and Jack Harlow — reportedly also performed at the Donda 2 party on Tuesday.
Several of Manson's alleged victims have responded to his return to the stage: After the first Donda listening party, Evan Rachel Wood posted a clip of her singing "You Get What You Give" with the caption, "For my fellow survivors who got slapped in the face this week. I love you. Don't give up." Ashley Morgan Smithline, a model who came forward with allegations of "abuse, sexual violence, physical violence, and coercion" shortly after Wood, told People that seeing Manson perform at October's Sunday Service event is "like being retraumatized."