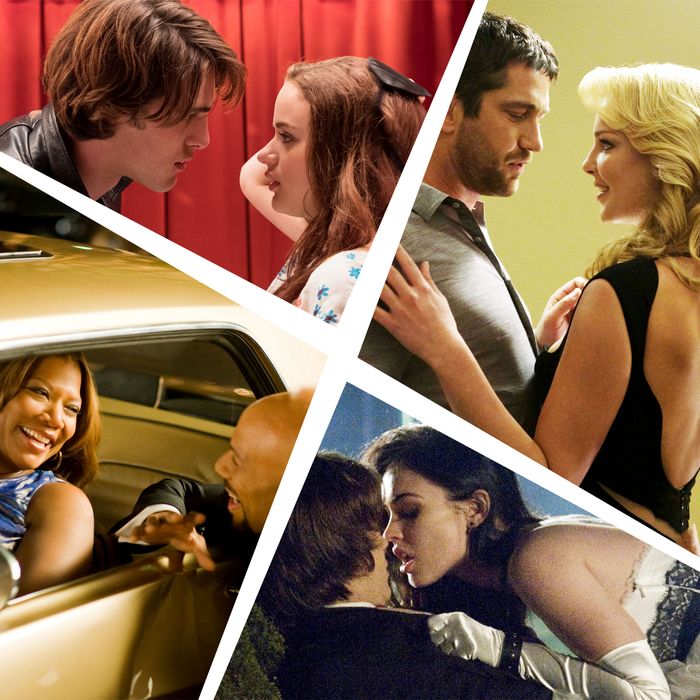 Photo-Illustration: by The Cut; Photos: Netflix, Shutterstock
I am not someone who takes Valentine's Day seriously. If you are, may I suggest screening a classically classic romantic movie like A Walk to Remember or The Notebook while enjoying some chocolate-covered strawberries and champagne?
Now I am all for a silly little holiday like National Pizza Day or Groundhog Day, but I believe Valentine's Day deserves to be celebrated only if you're making fun of it. For one, not only does it feel like a commercial scam, but it's actually a commercial scam that's bad for the environment. You do care about climate change, don't you?
Beyond that, the reality is you can (and should) of course celebrate love without spending money on heart-shaped jewelry and boxes of chocolate! And celebrate it everyday, not just one day a year when there is too much (artificial) pressure for everything to be perfect. Plus I'd much rather be surprised with flowers on a random day just because. That is romantic.
Anyway, if you are like me, may I suggest a "bad" movie. Watching a meh, not-classic love story is the perfect antidote to this saccharine "holiday" — no need for too-high expectations, leaving your couch, or comparing your own love life to the movie's dumb happy ending because you're too busy laughing at it. Plus this year's V-Day falls on the least romantic day of the week. Who is in the mood for a candlelit dinner and Casablanca on a Monday?
A "bad" movie is a movie that will make you cringe enjoyably. A movie, like those listed below, that falls under a 50 percent rating on Rotten Tomatoes. A movie in which you will be able to guess what's going to happen next throughout the entire running time. But sometimes that's all you want from a movie. Especially on a day like today.
The Kissing Booth
I'd argue that the first of this trilogy is a must-watch for anyone who spent their adolescence reading fanfiction — I mean, it's based on a book that was literally written by a 15-year-old. The Kissing Booth follows the classic "in love with my best friend's brother" story line and centers around, you guessed it, a high-school kissing booth. You can tell a teenager came up with the plot, but I feel like that's what makes it the masterpiece it is. Plus the cast is pretty sturdy with Joey King and Jacob Elordi (yep, Nate from Euphoria) playing the leads. Stream it on Netflix.
Just Wright
Remember when the Brooklyn Nets were the New Jersey Nets? That's the main thing you need to know in Just Wright. Queen Latifah plays a physical therapist who gets to work with handsome NBA star Scott McKnight (Common) and realizes she's falling in love with him. "Are Queen Latifah and Common a believable couple? Eh. But that's not why I love it. There's something so comforting about watching a romance about a woman who isn't a skinny, typical lead learning to feel deserving of love without having to change herself," explains Cut night blogger Olivia Truffaut-Wong. All the while, Queen Latifah's best friend is pursuing him in the hopes of becoming an NBA trophy wife, which sounds like my own personal dream. Stream it on Hulu.
Valentine's Day
A classic movie that features an iconic ensemble cast navigating New Year's Eve in Manhattan — no, sorry, that was New Year's Eve, the movie. This one is the same exact thing but on Valentine's Day. The 2010 film has some meme-able moments that everyone should see at least once, like Taylor Swift and Taylor Lautner's track scene, which sent my preteen heart into a frenzy when I first saw it. If you can't decide what you're in the mood for, this movie has a little bit of everything (i.e., basically every famous person) for everyone (as in, it can make basically everyone cringe). Stream it on HBO Max.
Jennifer's Body
A.k.a. the bloodiest, campiest movie I could watch every day that also happens to star real-life blood-drinker Megan Fox. Here, she's eating men. How romantic! When a failed satanic sacrifice goes wrong, a demon takes over Fox, and the only way it is satisfied is when it is fed men, which makes total sense and is especially perfect if you're getting over a breakup. As she consumes some high-school boys, her nerdy best friend, played by Amanda Seyfried, figures out what's happening and tries to put a stop to it. Rude! Rent it from Amazon Prime or Apple TV for $3.99.
The Decoy Bride
You know that sneaking suspicion you have about every single celeb couple being a PR stunt? This is sort of that. Also remember when paparazzi were the worst and seemingly everywhere and not every living person had a cell phone? Can't imagine. Anyway, in The Decoy Bride, a famous actress decides to hire a local Scottish girl to pretend to be her to keep the paparazzi from finding out about her secret wedding. Realistic, right? Basically, if you're in the mood for accents, this is your movie. Rent it from Amazon Prime or Apple TV for $3.99.
The Accidental Husband
When relationship expert and radio host Emma Lloyd (Uma Thurman) gives advice on air to end a wedding, the man involved decides to take revenge. Terrifying! His idea involves hacking into the website that creates marriage licenses (getting worse!) and deciding that if he marries Emma first (SOS!), it would ruin her upcoming wedding and teach her a thing or two about love. Is this a horror movie? Nah, just an overly complicated plot, but it's fun. Especially if you like Colin Firth and/or firemen. Stream on Peacock or Amazon Prime.
She's the Man
Like all Channing Tatum movies, this one is loosely based on a Shakespeare play. (Don't Google that.) Specifically, Twelfth Night. The early-aughts classic follows Amanda Bynes as she pretends to be her twin brother at his boarding school after they take away female soccer at hers. Does that make any sense at all? No. Is this maybe my favorite movie on the list? I don't have to answer that. If you've ever used a tampon to stop a nosebleed, thank this movie right here. Rent on Amazon Prime or Apple TV for $3.99.
The Ugly Truth
When hopeless romantic Abby (Katherine Heigl) gets teamed up with sexist and irritable Mike (Gerard Butler) on the job, the two fight over what men really want. (The job is a morning-show segment about relationships hosted by a man you would never take relationship advice from, so it makes sense, I guess?) Mike says the answer is sex, but Abby thinks there is more to it — groundbreaking, I know. The two obviously go on to battle it out and, even as Abby tries to win over another man, fall for each other. If you're a fan of the classic "enemies to lovers" arc and predictable plots, you're in for a treat with this one. Stream on Netflix.
This Means War
If a movie stars Reese Witherspoon, count me in. When two hunky CIA agents and best friends (Chris Pine and Tom Hardy) realize they're dating the same girl, they decide to step back and "let the best man win." But of course they can't help but sabotage the other with their fancy CIA gadgets as they try to win over Lauren (Witherspoon). Is Lauren a living, breathing adult woman who can make decisions for herself without needing to be tricked into them? Sure, but where's the fun in that? Stream on Peacock or rent from Amazon Prime for $3.99.
The Sweetest Thing
This is the sort of movie that is so bad, so corny, so "Wait, what?" it's actually really, really good. Like stinky-cheese-level cheesy. The plot: Christina Walters (Cameron Diaz) can't focus on meeting the man of her dreams, instead focusing only on the men in front of her. Trust issues, commitment issues, etc., etc. But when she meets a guy she later realizes is Mr. Right, she and her bestie (Christina Applegate) set off on a road trip to find him. According to our Snapchat editor Katja Vujić, "Watching it is like an out-of-body experience. Nothing about it makes sense, and there's a scene that turns musical for no apparent reason." That scene involves a blowjob gone horribly wrong, by the way. Stream on Netflix.