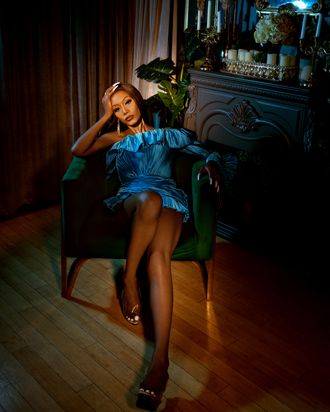 It's hard to scroll on TikTok without encountering Muni Long's "Hrs and Hrs." The song, a love ballad dedicated to indulging your partner, sparked a viral challenge focused around the lyrics "yours, mine, ours."
Muni Long is more than a viral TikTok sensation. Up until most recently she was a songwriter for Rihanna and Ariana Grande and co-wrote songs with Madonna and Mary J. Blige. Today, she is taking full control of her reinvention, changing her name from Priscilla Renea to Muni Long; changing her style to be edgy yet glam and singing her own songs. The Cut spoke to the singer and songwriter on what's changed in the TikTok era of creating music and what this next chapter looks like for her.
Congrats on your latest album, Public Displays of Affection. It's seen tremendous success on social media, especially TikTok. There have been so many videos made to your songs. Do you have a favorite TikTok video? 
My favorite video right now is a little boy singing "Hrs and Hrs." He can't be any more than 6 years old, but he knows all the words. It's gotten almost 10 million hits on my TikTok. It's hilarious, but definitely my favorite.
In the TikTok era, songs can make or break if they are part of a viral challenges or even dance challenges like when Megan Thee Stallion's "Savage." Do you make songs with TikTok in mind? 
No, I definitely don't write songs for TikTok. I don't really know how to do that. I just make songs I enjoy and I think about how I can use them in that space. With "Time Machine" I made a funny video and then all of a sudden everybody else started doing the same thing.
You've written songs with people like Ariana Grande, Rihanna, and Kesha — what is the single most important thing when collaborating with big names?
When I worked with other people, it was all about them. There was no such thing as conflict because I was there to serve them. It's just all about flow and synergy. I don't do anything that's not in alignment, everything in my life is just very easy. You can't just fake it, it's something that I've been working on for about six years: unlearning bad habits, meditation, studying, reprogramming my mind, being patient.
You said before that you feel like the music industry pigeonholes songwriters. What did you mean by that? 
As a songwriter I had to really play myself down. You can't show up to the studio with too much personality or dressing a certain way because it's distracting. It doesn't benefit you to be bright and loud and after a while you stop getting requested. The name change was more for me stepping into a different character.
And part of stepping into a different character for you was changing how you dress, with the help of stylist Jason Rembert. What does that look like? 
Everything I used to wear I would never wear now. I used to wear bunny ears and capes and stupid shit. I was very clear on everyone I wanted on my team for this identity, just the best people. When working with a stylist they're just like any other creators, I let them listen to the music and let them go from there. I've known Jason for ten years, so he knows me pretty well and we just create together. We don't really do mood boards or anything. Everybody who I'm working with on the fashion side and even my hair and makeup, they are superstars. We have a vision, I sit in the chair and ta-da!
Bonus question: Who would you be in Euphoria High? 
In high school I was nerdy, I probably was like Cassie's sister, but all my friends were doing drugs. I had a lot of friends like Rue, I had no desire to do drugs. I was like, "Okay, call me when you're finished." That's why when I'm watching the show I'm like, "This shit is real." I really grew up like that and it's crazy. Honestly though, today I think I'd be Maddy.