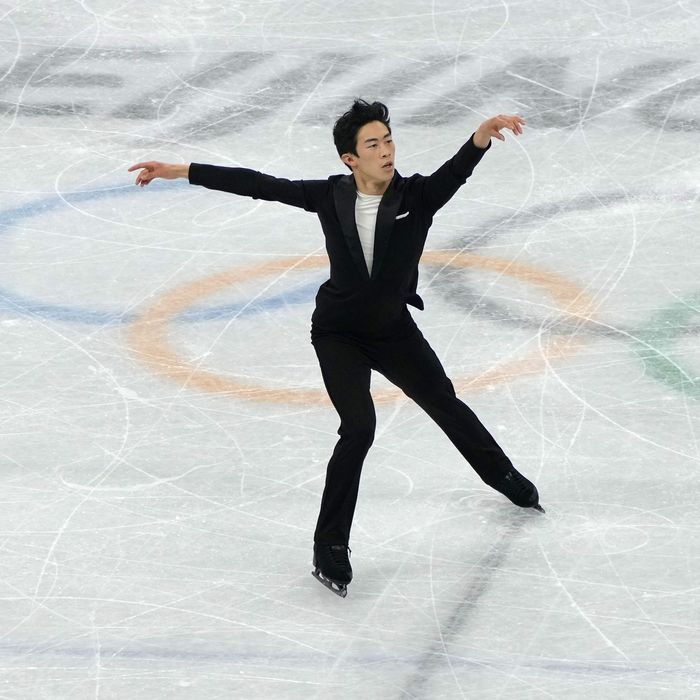 Photo: Natacha Pisarenko/AP/Shutterstock
We are less than a week into the Beijing Winter Olympics, and already I have lost count of the number of times NBC has felt compelled to show footage of U.S. figure skater Nathan Chen falling at the last Olympics. Pretty rude, if you ask me, especially considering that since his disappointing Olympic debut four years ago, Chen has been practically undefeated.
Well, after a record-setting short performance to "La Boheme" and a flawless long program to a medley of songs, including "Rocket Man," Chen really showed them. On Thursday, Nathan Chen won his much-deserved gold, making him the first American to win a men's figure-skating gold since Evan Lysacek in 2010. He also got a shout-out from Elton John, an equally impressive feat. "It means the world. I'm just so happy," Chen said, per CNN, adding that he had "too many emotions to process." Same, Nathan. Same.
Even before he took the ice, Chen was the clear favorite to win gold. In last week's team competition, he set the tone with a cool, calm confidence. He skated flawlessly, earning his season's best score. It was thrilling to watch, not just because his jumps — two quads and a triple axel — were perfect (they were). Even among the world's best skaters, Chen's grace and precision set him apart.
On Tuesday, he did it all again, but was somehow even better. His short-program score set a world record, and he finished leagues ahead of his competitors, Japan's Yuma Kagiyama and Shoma Uno. In an unexpected twist, their teammate, Yuzuru Hanyu — the defending Olympic champion and Chen's primary rival — missed a quad in his program, and he finished eighth. Meanwhile, U.S. skater Jason Brown made a very strong showing despite not including a quad in his program, and he ended up sixth. (Sadly, American skater Vincent Zhou was unable to compete after testing positive for COVID-19.)
After his first performance last week, he told the New York Times that he was "very, very happy," adding, "I might not be the most emotive person, but deep down I'm genuinely very happy." I'm very happy for him too.
This post has been updated.