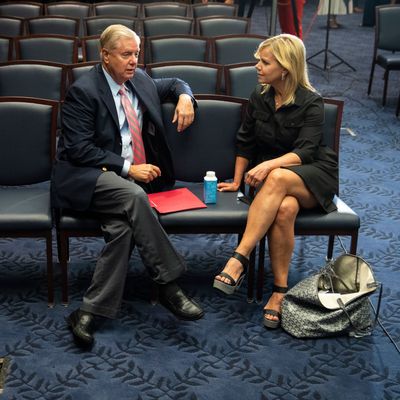 Senator Lindsey Graham and ex-Fox News host Gretchen Carlson.
Photo: Drew Angerer/Getty Images
The Senate passed legislation multiple outlets are describing as a "landmark #MeToo bill" on Thursday, blocking companies from defaulting to forced third-party arbitration for sexual harassment and assault complaints. The policy would allow employees to take those claims to court, ideally cutting back on corporate cover-ups of misconduct. President Joe Biden has already said he plans to sign the bill, which passed a House vote on February 7 and enjoys support from lawmakers in both parties. Indeed, its co-sponsors include Democratic senators Chuck Schumer and Kirsten Gillibrand, Representative Cheri Bustos, along with … Republican senator Lindsey Graham, who declared an end to "the days of sexual harassment and sexual assault cases being buried in unfair arbitration clauses" shortly after the Senate vote.
NBC reports that some 60 million U.S. workers operate under contracts that include forced arbitration clauses, meaning that complaints go to a private arbiter to be settled behind closed doors. Often the language in these clauses obligates complainants to remain silent about the dispute, making it easier for their employers to keep bad behavior quiet. Forced arbitration heavily favors companies, too, with the American Association for Justice reporting that, in 2020, the process ended in a monetary award for just 82 employees nationwide.
The new legislation gives workers the choice between arbitration and public courts. It goes into effect as soon as Biden signs it and will also apply to old claims — even those that were resolved — unless they're still pending. In a statement, Bustos said she hoped the change would "let survivors' voices be heard." And indeed, it represents progress. As Cliff Palefsky, an employment lawyer and a longtime advocate for similar legislation in California, told Axios: "Civil rights groups and even presidents weren't able to get this done." So maybe you are wondering: What finally moved the needle?
Seemingly it was the involvement of former Fox News host Gretchen Carlson that wooed Republicans. In 2016, Carlson routed around the company's forced arbitration clause by suing the network's CEO, Roger Ailes, for sexual harassment and retaliation directly. Sharing her experience, Carlson inspired more than two dozen other women — including Megyn Kelly — to air their own complaints, culminating in Ailes's ouster and giving the public a much more detailed picture of Fox News' corporate environment. Turns out the network had paid out $45 million to settle sexual-harassment claims by 2017.
In pushing for legislation around forced arbitration, Carlson met with Senator Graham, a man who simply loves making Fox News appearances. Maybe the personal connection helped bring things home for him; anyway, his conversation with Carlson "was something very important to him," Senator Gillibrand told Axios. The outlet reports that Carlson played a critical role in winning support from ten Republican lawmakers, who knew her from her anchor days. In a press conference following the vote, Carlson called the bill "historic" and thanked Congress "on behalf of all American workers." Still, it's worth noting that the legislation applies only to sexual-harassment and assault claims — other forms of discrimination are not covered.